Time at Caulfield Grammar
Ian Polmear attended Caulfield Grammar School from 1940 to 1945. A member of Barnett House, he gained house colours in athletics, swimming, football and cricket. In his final year he was a School Officer (Library) and Secretary of Barnett House. He was also awarded School Colours for athletics, finishing second in the open 120 yards hurdles in the AGSV Combined Sports. Ian's main academic interests were mathematics and chemistry and he was awarded a Free Place to study metallurgical engineering at the University of Melbourne, graduating with a BMetE degree in 1949.
Pursuing athletics
Ian lived in Sandringham where he joined the local Amateur Athletic Club as a hurdler in 1946. In the years that followed he enjoyed the weekly interclub meetings at what was then Olympic Park in Richmond. Later his specialties became the long and triple jumps in which he competed in the State and National Championships. Then in 1950 he was surprised to be selected to represent Australia at the British Empire and Commonwealth Games that were held in Auckland, New Zealand. For most members of the team it was their first experience of international competition.
Ian still remembers the excitement of taking off from Sydney Harbour at midnight for the eight-hour journey in a flying boat.
In the competition he finished third in the triple jump gaining a bronze medal. The following year he was Victorian triple jump champion.
Discovering a passion for research
After working briefly in the local paper and automotive industries, Ian decided to apply for a position in the Commonwealth Department of Supply which was recruiting research staff for the defence laboratories in Melbourne and Adelaide. He says: "the carrot was to be sent to England for two years to gain research experience". Months passed before he was called in for an interview during which the usual question was asked:
"What are you interested in"? Ian says he looked up at the ceiling and thought athletics? girls? but eventually answered "aluminium metallurgy".
Some weeks later he came home to find a letter waiting that offered him the position of Experimental Officer Grade 1 at the Aeronautical Research Laboratories at Fisherman's Bend. The letter also said that, if he accepted, he was expected to depart for overseas within three months. Having recently become engaged he soon found himself married and on an old P&O ship for a 40-day voyage to England.
Ian obtained excellent research experience at the Fulmer Research Institute, located in an old manor house 25 miles west of London in what were then semi-rural surroundings. It was there that he became involved in studies of precipitation phenomena in age-hardened aluminium alloys that was to become a lifelong research interest. It was also during this time, while coaxing along an old Hillman car, that he developed an abiding joy for motoring in Europe.
Thriving in an engineering career
On returning to Melbourne late in 1953, Ian and his first wife settled in what was then sparsely populated Mont Albert North, where their three children were raised, and he and his second wife Margaret still reside. At ARL he initiated research programs concerned with the development of strong aluminum alloys for possible use in modern aircraft and investigated service problems such as metal fatigue, creep at elevated temperatures, and stress-corrosion cracking. Some of this work led to joint projects with the British Ministry of Aviation and he visited England on several occasions. In 1963 he was appointed a Principal Research Scientist and Leader of the Aircraft Materials Group at ARL. It was on the basis of work published during this time that he was awarded the degree of Doctor of Engineering by his Alma Mater in 1965.
Teaching others
Ian had a mid-career change in 1967 when he was appointed to the Chair of Materials Science in the Faculty of Engineering at the recently opened Monash University in Clayton. These were exciting times; he and his colleagues gained approval to establish a Department of Materials Engineering in 1970 and develop the curriculum for an undergraduate degree course in this discipline, both being new ventures for an Australian university. Ian enjoyed the combination of teaching and research, and subsequently chaired the Department for the next 17 years. It was during this time that his family was able to accompany him to England for two periods of sabbatical leave spent at Cambridge and Manchester universities. He was also invited to write a book entitled Light Alloys: Metallurgy of the Light Metals which is now in its fifth edition, the last three being produced after he retired. From 1987 to 1990 he served as Deputy Vice-Chancellor at Monash and was made an Emeritus Professor when he took slightly early retirement in December 1991.
Maintaining his engineering connections
Since then Ian has retained his connection with Monash and, for much of the time, has enjoyed the privilege of continuing some of his research interests in collaboration with colleagues and students. One highlight was his appointment as a part-time visiting professor at Tohoku University in Sendai, Japan, from 1993 to 1995. He also worked a day a week as a consultant at the CSIRO Division of Materials Science and Technology at Clayton from 1992 to 2010 and has served as a member or chair of several government committees concerned with materials and energy.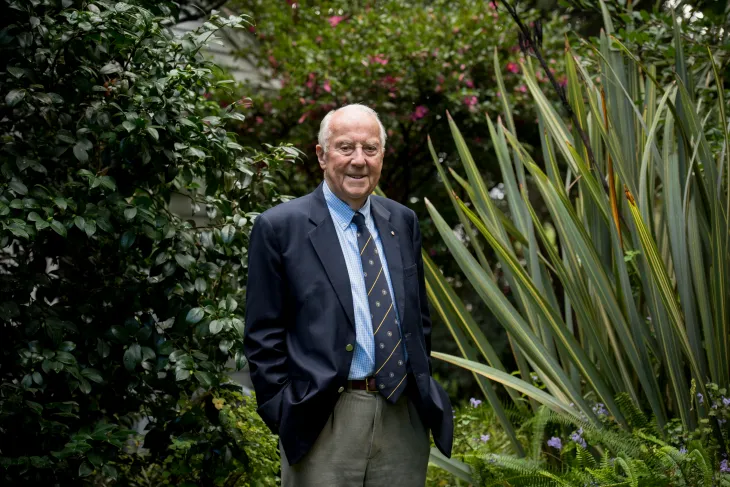 Ian in his garden at home.
Other interests in retirement have been travelling with Margaret often combining conferences with motoring or walking holidays in Europe and North America and, more recently, cruising holidays in the Mediterranean. Locally he has enjoyed family pursuits, playing veterans tennis, home gardening, and serving as a voluntary guide in the Royal Botanic Gardens for the last 20 years.
Ian was elected a Fellow of the Australian Academy of Technology and Engineering in 1978 and in 1993 was appointed an Officer of the Order of Australia (AO) for services to materials science and to engineering. He was awarded a Centenary Medal in 2003 and in 2008 received a 50thAnniversary Research Award from Monash University.
Ian has been an active member of the CGA's Archer Chapter since its establishment in 1992 and was guest speaker at one of its early luncheons at which he talked about his career and his interest in light alloys.
Read more about our Golden Alumni, such as rower and surgeon Bruce Waxman.