The artwork of Eva Abbinga (1995-99) featured in the Melbourne's Next Wave Festival in May.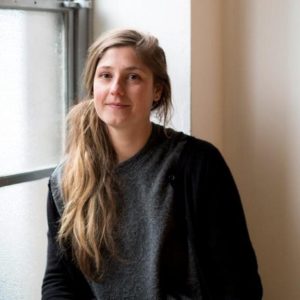 Presented in association with Abbotsford Convent Foundation as part of the festival, Arrival of the Rajah is a seven-metre wide sculpture paying homage to one of Australia's most precious artworks, The Rajah Quilt. Originally quilted by some of the 180 convicts on-board the Rajah Ship during their three-month journey from England to Van Diemen's Land in 1841, The Rajah Quilt was lost in an attic in Scotland until 1987 and is now held at the National Gallery of Australia. It will be on display in the National Gallery of Victoria from July this year.
As lead artist Eva, collaborated with over 60 colleagues from across Australia to create Arrival of the Rajah. It acts as a temporary memorial to the 19th century convict women driven into punishing conditions by the forces of imperialism. The work invites the audience to consider their own relationship to the history and colonisation of the land upon which they stand. It was commissioned and developed through Next Wave's Kickstart program for this year's festival.
Eva came to Caulfield Campus in 1995 in Year 8 and joined the group of girls who were the first to graduate from the campus after starting in Year 7 (in 1994). She considers herself very fortunate to have been taught by Mrs Ann De Pettri. Eva won the school art award in Years 9, 10, 11 and 12 and is proud that she still uses the paintbrushes her teachers gave her at school.
After graduating from Caulfield, Eva completed a Bachelor of Urban and Environmental Planning at the University of Melbourne. Eva went on to work as an urban planner from 2002 to 2008 before following her artistic passion, completing an internship with Preston art gallery Gertrude Contemporary. In 2013 Eva completed a Bachelor of Fine Arts Degree from RMIT University (Expanded Studio Practice). She participated in numerous group exhibitions during her time at University including Collective Wanderings, Hot Mess and Bah Humbug and also had several solo exhibitions.
In 2016 Eva was an Artist in Residence at the Australian Tapestry Workshop.
Eva is a cross-disciplinary visual artist motivated by an interest in the complexities of place, identity and sustainability. Through installation, sculpture, painting and photography she explores issues of social, environmental and economic concern and aims to create a dialogue with the viewer that questions existing notions of the urban ideal. Her practice is informed by her Dutch and Ukrainian heritage as well as her experience in urban planning and design. She embraces collaborative partnerships with other artists, community groups and craftspeople. Eva's next major work is titled Waggababa; she can be contacted on LinkedIn and Twitter.
Feature photo courtesy of Eva Heiky Olga Abbinga.