Our school magazine, Labora, showcases so much that is special about the spirit and achievements of our school community. In a school committed both to valuing our heritage and inspiring our future, Labora reflects connection and engagement.
Labora magazine has informed our School and alumni community since March 1957. It began as a four-page newsletter of the Caulfield Grammarians' Association, developed by then President, Russ Mathews (1926-29). It was modelled on the successful monthly bulletins written by staff member, Hugh Gemmell Lamb-Smith (1913-15).
In his first editorial Russ outlined his desire for 'La Bora' to "provide a galaxy of news on old boys, notes on coming events, post mortems on past ones, and news of the School". He recruited an enthusiastic editorial team of Alan Hicks (1938-46), Claude Ullin (1945-54) and John Halliday (1944-45) and sought advice from kindred alumni associations.
The first issue was lively and topical, sharing details of forthcoming CGA functions, school news and match results of the Caulfield Grammarians' Football Club. The column, 'Between Ourselves', shared alumni news including careers and 'hatches, matches and dispatches'.
Alumni were encouraged to send personal updates such as the 1957 old Boys' Luncheon with guest speaker, Jack Dyer, of football fame. Major School developments such as the construction of the War Memorial Hall were publicised. Following affiliation between Caulfield Grammar School and Malvern Memorial Grammar School, contributions of news were sought from Malvern Old Boys.
One eye-catching headline from 1964 was "Shock Announcement by Rev. Kurrle. Head resigns will go to Kings" and smaller by-line, "Bloomers, Bloomers!", reminding alumni of the memorable day when the Headmaster, Rev. Stan W Kurrle (1955-64) was seen on the school oval wearing the "latest English soccer bloomer-type shorts, which dangled around his knees".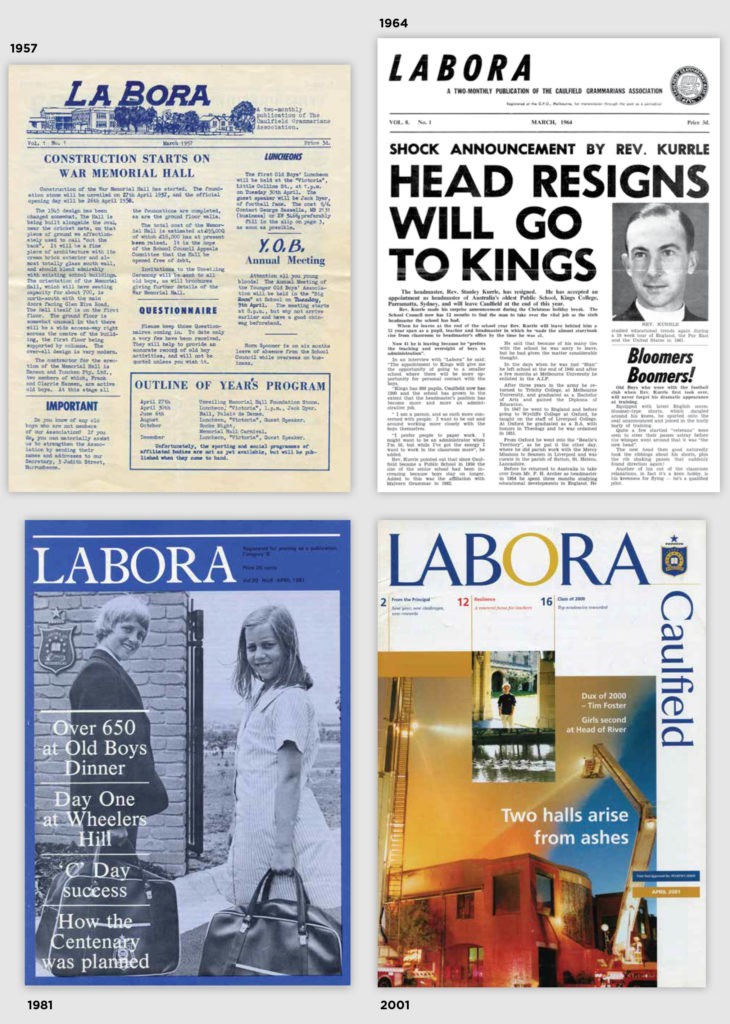 Editors from the 1960s-80s included Fulton Muir AO (1944-48), Ian McDonald (1945-49), Tony Boothroyd (1957-64), Graham Hoult (1959-66), Ken Barrett (1943-52), Dean Felthensal (1969-72), Geoff Curran (1961-64) and CGA Executive Staff, Gerry Gerrand and Bill Sayers (1938-44).
A noteworthy edition from August 1970 encouraged past students to be "Proud of the Past, Sure of the Future", publicising a special School Dinner on 7 September 1970 hosted by then Headmaster, Bruce C Lumsden (1965-77), to share a five-year major development plan.
While most readers were pleased with the newsletter, an occasional letter to The Editor acknowledged a disgruntled reader suggesting the content could be improved!
In April 1981, then Headmaster, Rev. A S Holmes (1977-92), launched the new look Labora as a news magazine for the whole Caulfield Grammar family. The revision was timely as 1981 was a significant year, marking the School Centenary and opening of the Wheelers Hill Campus, with diverse localities and interests.
Editorial preparation reverted to school staff with a new editor, Development Officer, Michael Thornton. Colour enhanced the Labora cover from 1990, overseen by the new editor from 1990-1998, Development Officer, John Blewonski. From August 1999 it was overseen by Andrew Pelgrim, Head of Marketing and Public Relations. The first full colour edition commenced in April 2001. Online digital access started in 2011, which widened Labora's readership potential.
As Labora evolves to two semester editions a year, let's not forget the value of this magazine. The reports and stories chronicle our rich history, values and achievements and allow us to be part of the Caulfield Grammar School community. Whether you read the back pages first or cover to cover, happy reading!
If you have any questions or can help to grow the Heritage Collection and Archive of Caulfield Grammar and Malvern Memorial Grammar School, please contact Judith Gibson, School Archivist – [email protected]
Judith Gibson, School Archivist