Peta Krahn is no stranger to working in a male-dominated environment. She's been involved in the Australian construction industry across the building, oil and gas, mining and infrastructure sectors for approximately 18 years. With such a wealth of knowledge, Peta was a perfect candidate to speak at a recent International Women's Day Assembly at Wheelers Hill Campus. Peta was a student at the Wheelers Hill Campus from 1989 (Year 5) to 1996 (Year 12).
Peta highlighted the fact that career paths aren't always straightforward, telling students:
"For as long I can remember I always wanted to be architect. When I got uni however I asked too many questions along the lines of, 'How much does that cost?' 'How long will that take,' and 'How will the building stand up?' I therefore ended up where I was probably meant to, in Construction Management."
Following the completion of her double degree in construction management, Peta commenced her working life as a quantity surveyor in Melbourne. In 2006 Peta decided to move to sunny Brisbane. Peta worked on some interesting construction projects during her time there including the Queensland Children's Hospital, a $1b 560km long gas pipeline through the outback, an underground mine expansion, a crematorium and a chicken farm to name a few.
After 10 years in Queensland, Peta returned home to Melbourne to work with Leighton Contractors on the CityLink /Tullamarine Freeway Widening project. After that, she spent some time at Lendlease on the new Joan Kirner Women's & Children's Hospital. Now at Hansen Yuncken as a contracts manager, Peta is heavily involved with the expansion and upgrade works at Melbourne's only women's prison, the Dame Phyllis Frost Centre in Ravenhall. In 2016 Peta was proud to become a Fellow of the Australian Institute of Quantity Surveyors.
Peta loves the variety of work involved in the construction of large, complex and challenging projects, managing relationships with colleagues, clients, designers, engineers, subcontractors and authorities. She is thankful for the chance she's had to work with amazing people from all walks of life. "No matter who you are dealing with, from the project owner to the 'tradie', you should always treat everyone the same."
When asked about the toughest part of working with mostly 'blokes' Peta's mindset is one of determination and focus. "If you take the perspective of I'm just doing a job and are inquisitive and ask lots of questions you will find support", she says.
She offers the following additional advice for those wanting to get into the industry: "consider doing a general construction management course, working in a small company to get a broad range of skills and experience, and then specialising from there. While construction management might not be as glamorous or as well-known as architecture there are lots of opportunities and so many different things you can do with it."
Peta admits "it's taken me twenty years in the industry to find the right place. I've had to try a variety of things; working with different companies, different sized organisations and in different locations. But everyone has a place where they fit the best."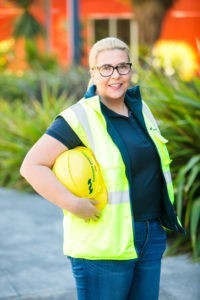 Peta Krahn Construction Management
5 Minutes with Peta Krahn
Best memory of CGS & CGA?
There are too many to list, but the highlights to date have been captaining the Firsts tennis team, making lifelong friendships that continue to this day, Yarra Junction was always a blast, my first OS trip to the US, coming back to coach tennis after I'd finished school and helping with the CGA Reunions when I lived in Queensland.
What inspires you?
Not what but who, two people actually:
My Nan, who instilled in us the importance of education and lifelong learning and;
The first mentor in my career Bill Frost, who showed me how to be authentic, work hard and have a laugh along the way.
What do you do for fun?
Spending time with family and friends is important to me and love going out for a nice meal or cooking with/ for them, but I'm equally happy at home curled up with a book (Time permitting!)
I also still play competitive sports and took up hockey in my twenties after being encouraged by friends who play. It's something I did while I lived away from Melbourne and have re-joined my old club now that I'm home. I've made some awesome mates through sport.
What would you tell your 17-year-old self?
Always be grateful and kind to yourself, but most importantly, know and always be yourself!
What's one thing you wish other people knew about Caulfield?
How innovative we've been over the years, from the establishment of YJ, being at the forefront of private co-education and being one of the first schools to have an overseas campus in Nanjing. Stephen Newton was Principal for much of my time at school and following association with the CGA. He made an unbelievable contribution to the development of the school.
Want to connect with Peta? You can find her on LinkedIn.
Keep reading to find out about Grammarian Jessica Coldrey, an engineer and artist.