Joe McClelland(Captain- Left), Jack Ellwood(Deputy Vice Captain-Middle), Harry Schaffer(Vice Captain-Right) Absent: Jack Webster(Deputy Vice Captain)
As the 2023 VAFA season kicked off on Saturday the 15th of April, the Caulfield Grammarians Football Club were led by a stellar leadership group. Both the Women's and Men's teams have welcomed a new leadership group who will steer the club towards the ultimate goal of a premiership. 
Men's Captain: Joe McClelland
Joe McClelland will become the 44th Men's Captain of the Fields joining some famous names to lead the club over 100 years. Joe joined the Fields in 2016 after spending a year in China after graduating from Caulfield Grammar. He was announced as U/19's Captain but after only 7 games was promoted to the Seniors and has been a stalwart ever since. A tough nosed utility Joe has spent most of his career in the backline, however is primed to move into a midfield role. He played a leading role in our 2019 B Grade Premiership side and received some media attention in 2021 when he was part of our first win in A Grade in 24 years as his father Mark (1987 B&F) was part of the previous A Grade win. He has played 71 games for CGFC.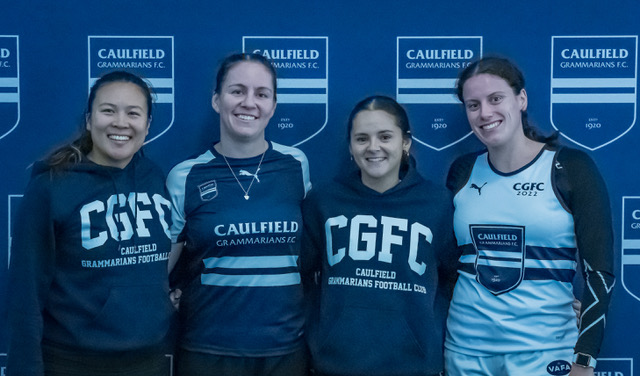 Serena Kuo(Vice Captain-left), Cheree Peters(Captain-middle left), Isabelle Tomas(Captain-middle right) Ella Baxter(Leader-right)
Women's Captains: Cheree Peters and Isabelle Tomas
Cheree "Books" Peters (Middle left)– A talented and powerful player who can play almost any role on the field. She returns to the role she performed brilliantly in 2021, the same year in which she was named in the VAFA Premier Team of the Year. She rounded out 2021 by also winning the Liz Wilson Medal as our Best & Fairest. She famously kicked a goal after the siren to defeated Old Xavs and book our place in the finals in 2021. In her professional life Cheree is a Production/Talent Coordinator bringing major events to life on TV. Cheree has played over 50 games in the VAFA after crossing from South Melbourne Districts.
Isabelle "Daisy" Tomas(Middle right)– An immensely talented and hard working running machine, Daisy joined the Fields from Ajax in 2019. A Caulfield Grammarian, she has been a stalwart senior player and crucial in leading us into the Premier finals in 2021 and 2022. In her professional life Daisy is a marketing professional and is currently the Head of Production at Chocolate Studios.
We wish all our leaders the best in leading the teams for the 2023 season.