Caulfield Campus days
Mark Frater attended Caulfield Campus from 1989 (Year 9) to 1992 (Year 12). After completing his VCE he trained to be a physical education teacher and he has been on the staff at Wesley College since 1997. He is currently Head of Physical Education Year 7 to 12 at Wesley. 
Mark says that when he was growing up he wanted to be a physiotherapist, a spy or a PE teacher, so at least one of those came true! 
He was a member of Caulfield's first eighteen in 1991 and 1992, captaining the side and winning the W S Morcom Medal in his final year at school. One of his best memories from school is "playing football on the Alf Mills Oval in front of a boisterous crowd all standing behind the goals". 
Mark believes the unseen magic of schools (including Caulfield) "happens through relationships within the collective community". "Hats off to those staff who connected with me. It was much appreciated!"
After leaving school Mark played for both Sandringham and Frankston in the Victorian Football League (formerly the Victorian Football Association) before joining the Caulfield Grammarians' Football Club in the VAFA. He enjoyed his time playing amateur football for Caulfield and thanks then President Matthew Scholten for getting him to the club. 
Finding the Caulfield Grammarians' Athletics Association
When the Caulfield Grammarians' Athletics Association was formed in 2015 Mark Frater joined part way through its first full season and has since been an outstanding individual and team performer, winning the title of Athlete of the Year in the Men's 40+ Division in the APSOC cross country competition on more than one occasion.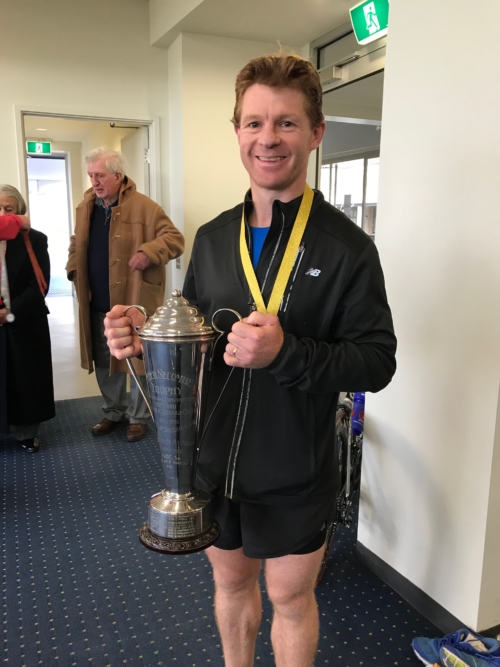 Mark Frater is pleased to be back competing for CGS! "The club environment is family friendly, and the club members are welcoming no matter your fitness level. The club continues to grow due to this supportive culture. If you're out for a Saturday afternoon jog or aiming for a personal best it's always fun connecting post run for afternoon tea and a yarn with the team." 
He says that APSOC offers a high standard of competition for those runners who want it and he hopes that Caulfield can attract more high-level athletes in the future. "We have a good level of social runners. It would be great to see a stronger connection with school leavers and the school cross country team, so we could encourage underage people to participate in events when they are available."
The joy of teaching
Mark is passionate about teaching. He comments: "As a teacher I'm motivated and passionate about supporting young people to reach their potential. Each year is different, there are new challenges, which always teaches me something new. These experiences help me to foster opportunities for young people to grow further as learners and continue to develop as active respectful members of the community."
As his is a very practical subject he has found the online environment required during COVID somewhat frustrating.
Mark loves being with family but hopes that an end to lockdown will allow him to catch up with mates, play golf and see some live bands. His aim is to retire at 55 so that he can run more and play more golf but he thinks that the mortgage and school fees might thwart this dream.
Mark says that he is inspired by "people who experience trauma or grief, yet, have the courage to persevere and challenge their own attitudes and beliefs". His advice to his 17-year-old self would have been to: "Be respectful, humble, show gratitude and value the people in your life. The next 17 years will fly by."
We wish Mark Frater and all the members of the Caulfield Grammarians' Athletics Association a full and enjoyable 2022 season.
Keen to hear about our other affiliate clubs? Mark Upton, current surveyor, loves the camaraderie he finds in the Caulfield Grammarians' Rowing Club.