Lindsay Cuming attended Caulfield Grammar from 1936 to 1947. He gained his matriculation certificate in 1946. In that year he was a school officer (School Liaison), house secretary of Archer House, a member of the first eleven (premiers) and first eighteen, and a sergeant in the cadet corps. He returned to school in 1947 to complete matriculation Latin so that he could undertake a law degree at university. In 1947 he was a prefect, vice-captain of Archer House, won school colours for cricket, was a member of the premiership-winning first eleven, first eighteen and first tennis teams, and was made a cadet lieutenant in the cadet corps.
After completing his schooling Lindsay's involvement with Caulfield continued. He was a member of the Caulfield Grammarians' Football Club under-19 team in 1948 and 1949, and played in the club's senior team in 1950, being placed second in the best and fairest award. He joined the committee of the Caulfield Grammarians' Association (CGA) in 1954 and was treasurer of the Association from 1955 to 1957. He also served on the Football Club Committee in 1955. After four years at the University of Melbourne in residence at Trinity College he graduated with a law degree in 1951 and subsequently gained accountancy qualifications. He was articled to another distinguished Caulfield Grammarian — Sir James Forrest — at Hedderwick, Fookes and Alston, which later merged with Arthur Robinson and Co. to become part of the Allens Arthur Robinson Group (now the Allens Group).
Lindsay joined the Nicholas organization in 1954 and began a distinguished career with the firm that included postings in different parts of the world. He returned to Melbourne in 1972 with his wife Val and three children as President and Chief Executive Officer of Nicholas International. He went on to serve as Chief Executive of Nicholas Kiwi following the merger of the Nicholas and Kiwi organizations. His many subsequent appointments have included: Chairman of McPherson Limited, Applied Chemicals Propriety Ltd, Sirotech Limited (the commercial arm of the CSIRO), President of the Epworth Hospital, Chairman of the Management and Investment Companies Licensing Board, Deputy Chairman of Datacraft Limited, Deputy Chairman of Tower Limited, and Chairman of Tower Risk and Investment Management Limited. He is a Fellow of the Australian Institute of Management and was Chairman of the World Federation Proprietary Medicine in 1979-80.
Lindsay was awarded an AM (Member of the Order of Australia in the General Division) in the 1996 Queen's Birthday Honours List "in recognition of service to business and commerce, particularly the Management and Investment Companies Licensing Board, Epworth Hospital and Medical Foundation and to the community".
He has been a keen yachtsman, winning the Australian off-shore multihulled championship in 1982 and the multihull division of the Melbourne to Hobart race in 1988 and 1989.
Lindsay's return to Melbourne in the early 1970s made it possible for him to accept election to the Caulfield Grammar School Council in 1976 and when Herb Shaw retired as President in 1978, Lindsay succeeded him in this role. Together with Deputy Chairman Robin Jones and the members of Council he oversaw tremendous developments at the School during the principalships of Angas Holmes and Stephen Newton. These included the opening of the Wheelers Hill Campus in 1981, the introduction of co-education first at Wheelers Hill and later school-wide and the establishment of the Nanjing Campus in China in 1998.
Lindsay retired as President of Council in 2002 and was made Emeritus President. Although he no longer attends Council meetings he continues to take a strong interest in the School and is an active member of the CGA's Archer Chapter, which includes all past students who attended the School during the headmastership of Frank Archer (1932-54). Lindsay was made a Fellow of the Caulfield Grammarians' Association in 1994 for outstanding service to the Association and the school community.
Lindsay's father David served as a member of School Council and School Treasurer in the 1940s and 1950s, and through his shared vision with Frank Archer regarding the importance of outdoor education, was instrumental in the establishment of the School's Yarra Junction Campus in 1947. Lindsay's brothers Brian (Dux of the School in 1943 and School Captain in 1944) and Bob (prefect, prominent sportsman and cadet lieutenant) also attended the School in the 1940s and, more recently, three of his grandchildren have been enrolled at the School.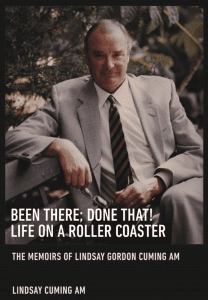 In November 2023, The CGA held a book launch for Lindsay's new book "Been There; Done That! Life On A Roller Coaster".  This is a reflection of Lindsay's extraordinary life and the impact he has had on so many people. 
Should you be interested in reading more, "Been There; Done That! Life On A Roller Coaster" can be purchased now here.