Beginnings
Lucy McRae was born in London in 1979 but later moved to Melbourne. There she attended Caulfield Grammar School, where both of her parents, Tony and Wendy McRae, were long-serving teachers. From a young age Lucy studied classical ballet and later competed in netball and athletics (running 100 metre hurdles). At the 1996 Speech Night Lucy was awarded the Benjamin Robert Maresh Prize for Three-Dimensional Art and the 'Dougie' Rankin Prize for Progress in Studies and Success in Sport. These pursuits, which pushed her physically and mentally, formed some of her earliest experiences of the body and what it means to be human. This fascination with the body has permeated her working career as a science fiction artist, filmmaker, and inventor.
Wearable technology
Lucy's background in fashion, architecture and interior design (which she studied at RMIT University) plays a pivotal role in her practice. A self-described 'Body Architect', Lucy reenvisages and redesigns the body to challenge our assumptions about the relationship between it and the environment. The title is one she invented while interviewing for her dream job at Philips Design's Far Future Design research lab. She spent four years there as a Senior Consultant developing wearable technologies such as electronic tattoos and dresses that could sense the wearer's emotions. Their Bubelle Blush dress was recognised by Time magazine's best inventions of 2007.
At Phillips Lucy also became friends with Dutch designer Bart Hess, who she collaborated with on "LucyandBart", a photographic series exploring the possible evolution of the human silhouette.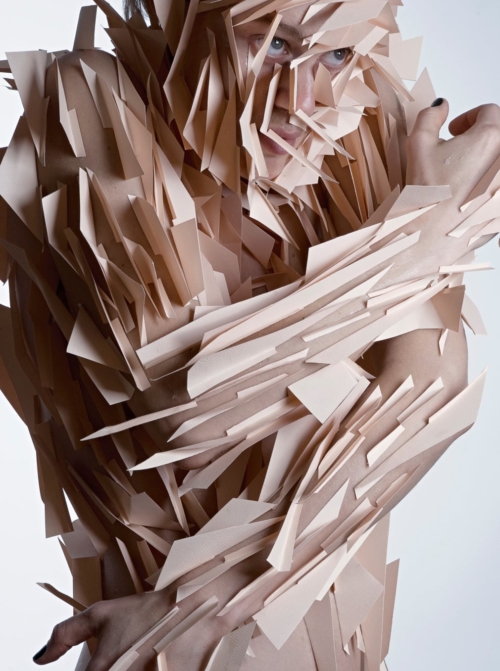 "I became obsessed with this idea of blurring the perimeter of the body, so you couldn't see where the skin ended and the near environment started".
These photographic experiments were often conducted on a weekly basis and became a challenge to use different materials to question the future of beauty.
Crossing boundaries
In 2011 Lucy issued another challenge to the billion-dollar beauty industry by working with Sheref Mansy to create Swallowable Parfum: "a cosmetic pill that works from the inside, emitting fragrance through the skin's surface when you perspire". This project disrupted the idea of what perfume is by turning the body into an atomizer. It illustrated how scientific intervention in the body can change our understanding of what the body is.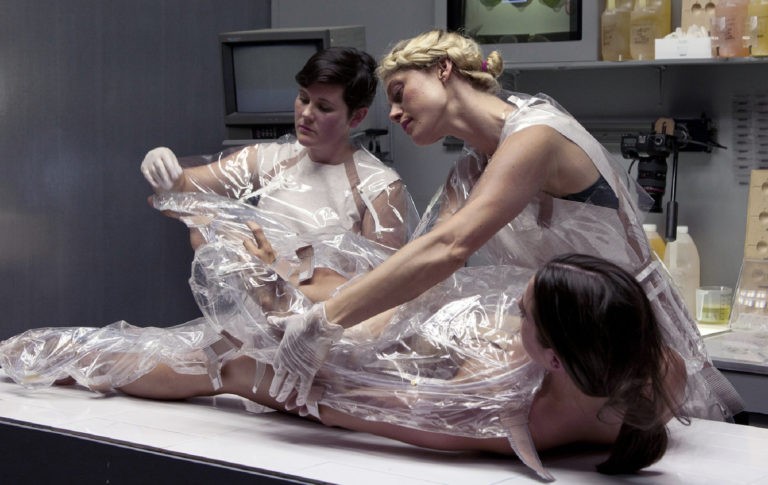 Continuing to blur the boundaries between biology and technology, Lucy exhibited 'Future Day Spa' at the London Design Festival where she investigated machines replacing human touch. Visitors were shrink wrapped in a vacuum chamber and monitored to map changes to their bodies. Lucy uses performances such as this to speculate on the body and develop prototypes for what the future might look like. She challenges whether we really want certain technologies such as genetic engineering and artificial intelligence in our lives rather than just blindly submitting to such interventions.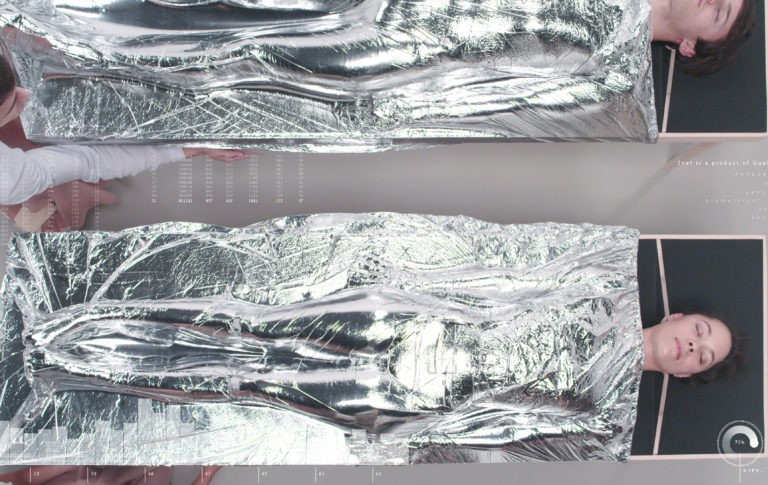 "I'm very interested in human performance, the human condition and looking at it through a science fiction lens of how we may evolve as humans in the future," says Lucy. "I start to think about all of the potential problems that may arise, and from the point of view of an artist, how can I interpret those stories and invent solutions?"
The mind and the body
In addition to training the body, Lucy is also fascinated with how we can condition the mind. Her "Institute of Isolation" questioned how space travel and isolation could build resilience. By playing the protagonist in this piece, Lucy is able to act out worlds and insert a feminine point of view in a very male dominated sphere. Her rejection of the masculine, mechanical, clunky aesthetic in favour of the fleshy, visceral and imperfect is further evidence of her desire to give science fiction an overdue sex change.
It is an approach that is in high demand. Lucy is a TED (Technology, Entertainment, Design) Fellow and has spoken at high profile venues and events such as the Royal Albert Hall, Tribeca Film Festival, RMIT, Royal College of Art, Central St Martins and MIT Media Lab. She has also worked and consulted with NASA, Procter & Gamble, Unilever, Intel, Mini Cooper and Swarovski. Lucy's artwork has been exhibited at the London Science Museum, Royal Academy of Arts, Centre Pompidou and Venice Biennale.
Touch and the body
In 2019 a retrospective of Lucy's work was exhibited at the National Gallery of Victoria (NGV). Presenting 13 years of her art, this exhibition was designed to make audiences question how technology has changed our bodies over time. Most recently Lucy has developed 'Compression Cradle' and 'Future Survival Kit'. Her 'Compression Cradle' gently squeezes the body using a series of aerated volumes. The choreographed embraces question how "if we slowly de-evolve from physical touch wanting beings then potentially that could change species as we know it".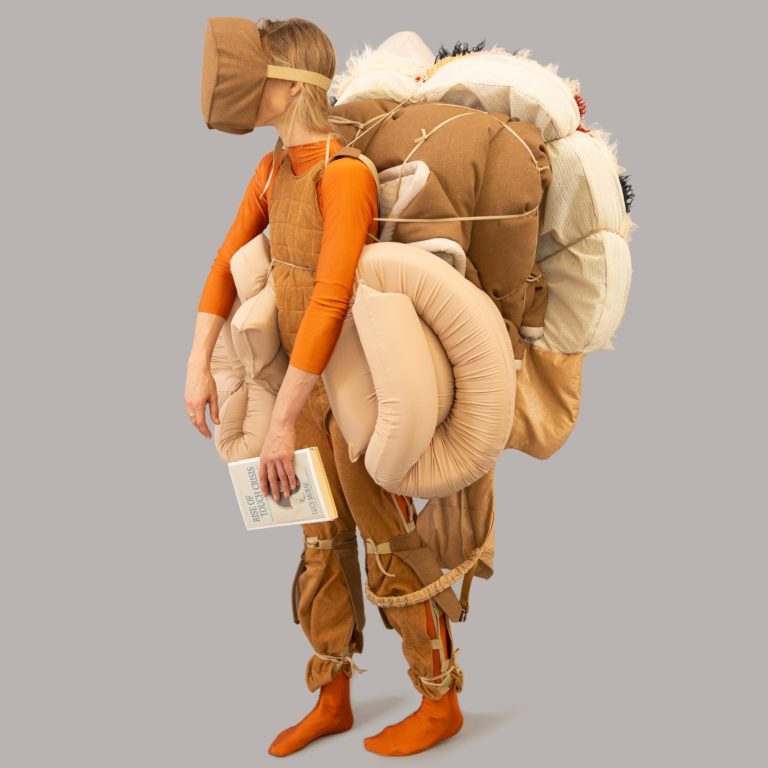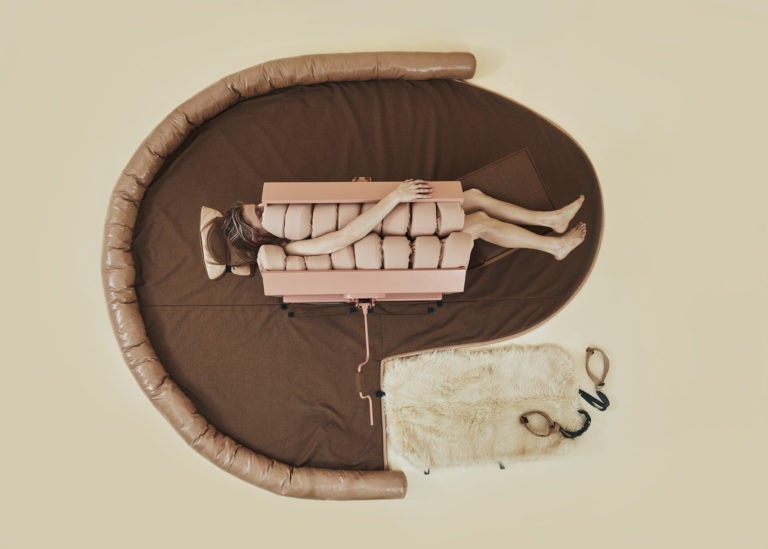 Following on from this work is 'Compression Carpet' – a low-tech cushioned machine that hugs you when a second person turns a crank. It forms part of Lucy's "Future Survival Kit' which is designed to help humans navigate a 'post-touch' world by meeting their physical and emotional needs.
Lucy takes this idea even further with 'Solitary Survival Raft' which cocoons a "single body as they drift into the unknown". These apocalyptic projects have significant implications in a post Covid world where social distancing has created a very real crisis of touch and uncertainty. "Living through a pandemic…we are tossed around by right and wrong, truth and story".
Such dilemmas have resonated with Lucy leading her to create biometric mirror. "A spongy temple of tech where…an algorithm measures emotional stability, kindness levels and your so-called beauty". In this work Lucy explores the intersection of science and biology, weighing up the ethics of AI and facial recognition technology. She asks "how can we reconcile the human urge to explore new frontiers, while tending to fear?"
Lucy's role as an interpreter urges us to seek the edges/truth, rather than just focusing on our innate desire for stability. Now more than ever her insightful commentary on humanity is vital in challenging what's to come.
Read more stories about Caulfield alumni doing great things creatively such as performance artist Eva Abbinga.
Images and quotes courtesy of Lucy McRae.