High school life 
Persephone Waxman spent many formative years at Caulfield, attending from kindergarten until graduation in 2015. During their time at school Persephone was heavily involved in the music program and participated in orchestras, stage bands, and the Battle of the Bands. Persephone also played in the brass quintet at St Paul's Cathedral in the city, performed O Fortuna at Speech Night and in several Ballarat Music Eisteddfods.  
As one of the few Tuba players in the school, Persephone was often seen carrying their instrument around. One of her favourite memories was playing the bass in Seven Nation Army by the White Stripes on her Tuba in front of the entire school in Year 7. In their final year, Persephone excelled in English and enjoyed History: Revolutions, PE, and German. 
While Persephone's time at school brings back many fond memories, they feel it would be remiss of them not to acknowledge how difficult it was being a closeted queer person. Not being able to express her true self, during what is often a key period of self-discovery, added to the already demanding nature of school life. 
University and Radio 
In 2016 Persephone stepped into the "real world" which was a bit of an overwhelming and nerve-wracking experience. Although they found it challenging to adjust to life outside the school bubble, they were fortunate enough to make friends quickly. Initially Persephone also had some difficulty finding work but by pursuing further education, she was able to take the first steps towards building a career and achieving her goals. 
Persephone launched their radio and media career at Radio Monash, which is a student radio station located at Monash University's Clayton Campus. Volunteering as member of the station's leadership committee was a critical step that changed the trajectory of Persephone's life. It was through this experience that she discovered her passion and love for radio. If they had not made this choice, they might have pursued a completely different career path, such as print journalism, instead.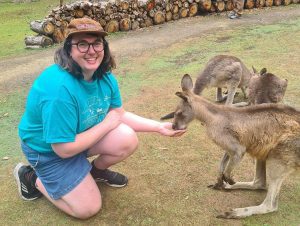 Another of Persephone's inspirations for pursuing a career in media was their older brother Nick, who volunteered at a radio station – Student Youth Network (SYN). Nick invited Persephone to appear on his program when they were just 13 years old, which had a profound impact on them. In late 2016 Persephone also joined Student Youth Network (SYN) where she held leadership positions on three occasions, including serving as an executive producer for the comedy program "In Joke". They also worked as the station's Digital Producer where they were responsible for overseeing the station's DAB+ network. 
Several years later Persephone took on the role of the TV program 1700's talks manager in affiliation with SYN. This position involved booking live performances and interviews. Alongside her practical experience in the media industry, their tertiary education at Monash University, where they studied film studies and journalism, provided her with the professional foundation necessary for her media career. Persephone's blend of practical experience and academic training has allowed them to establish a successful career in the media industry. 
Pros and Cons of Radio 
Persephone's favourite aspect of working in radio is the people. They enjoy interacting with volunteers in community radio, who are passionate about broadcasting and dedicate their time to creating content. Persephone feels that the volunteers she works with are genuinely kind and caring individuals, and she appreciates the camaraderie and sense of community that comes with being involved in a small radio station.  
On the other hand, the fast-paced and chaotic nature of community radio can be overwhelming. Persephone acknowledges that the high-pressure environment can be stressful and challenging to manage, and it can be difficult to maintain a work-life balance. Regardless, they hope that radio sticks around forever. There has been talk for decades that radio is dying, and that young people especially aren't engaged by it, but she thinks it will always be around.  
Into the future 
Persephone is also excited to see what other possibilities exist for them in the world of media. She has a big love of film, television and podcasting as well as experience in all these mediums. Subsequently, radio isn't the be all and end all for them personally. Having recently left her role at 3ZZZ, she is now at the Centre for Multicultural Youth as their Social Media and Content Officer. While the radio community will remain close to her heart, they are both excited and anxious to make the move to a new kind of organisation. 
In the future Persephone hopes to keep things fresh and try new things, as they don't tend to enjoy staying in one place for too long. Some advice she wishes she could give to her 17-year-old self and other young people is that they are valid. "The more emphasis you put on other people's ideas and thoughts about you, the more you are going to put yourself down…you are going to find a community of people who love you and cherish you. Don't care about what other people think about you, unless they're the special people in your lives." 
As Persephone looks back on their post-high school life, she realises how sheltered they were. School can be very regimented, with a tight schedule and the same set of people every day. On the other hand, adulthood offers diversity and plenty of new experiences, but it can be tough and challenging at times. While Persephone holds their time at Caulfield Grammar close to their heart, she is thrilled to have been able to enjoy life through such an open lens since graduation. 
Find Persephone: 
@perturbedperse and LinkedIn