PHOTO OF THE WEEK: CHEERING FOR WILSMORE HOUSE.
Since 1981 there has been a great tradition of house spirit at Wheelers Hill Campus. This photograph dates from the mid-1990's showing Wilsmore students cheering at the House Swimming.
Can you identify any of the students? Email archives@caulfieldgs.vic.edu.au
ARTIST IN RESIDENCE: MALVERN DREAMTIME, 1989.
In August 1989, Joe Geia, Indigenous visual artist, singer, and songwriter visited Malvern as an Artist in Residence for three days.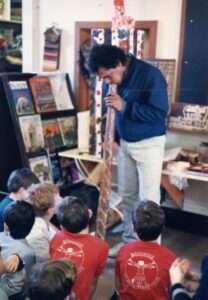 Artist in Residence, Joe Geia
Joe worked with Year 6 classes broadening their understanding of Aboriginal culture and life and teaching painting, songs, dance and tribal customs. A magnificent concert was performed for the whole campus by Joe and his brother-in-law, Bungy and Year 6 boys.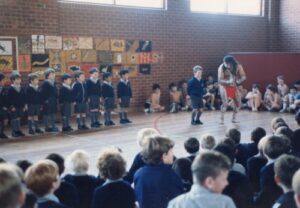 Joe Geia Artist in residence and Year 6 boys in August Indigenous visual artist
A special art exhibition on the theme of Dreamtime and the Body was curated by art teacher Cheryl McHugh bringing together pieces by every student. Some pieces were hung from the Valentine's balcony along with soft sculptures made with the assistance of textile artist, Jeanette McIntosh.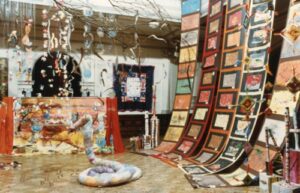 Joe Geia, Art exhibition of Dreamtime theme and bodies with Jeanette McIntosh soft sculptures
Recently our school marked National Reconciliation Week from May 27 to June 3, with the theme, 'Be Brave, make Change', and it is interesting to look back at this art activity and connection with indigenous Australia made from earlier days.
Thirty-three years later, Joe Geia, still tours nationally and internationally, as a singer and songwriter and visual artist sharing a message of education and reconciliation through music. And our school actively seeks ways to promote reconciliation and respect for, and recognition of Indigenous Australia, past, present, and future within the school curriculum, events, and life of the CGS community.
ARCHIVES OFFICE AND SERVICES:
If you have any memories to share, questions, reference enquiries or offers of donations of memorabilia, phone (03) 9524 6249 and leave a message or email, archives@caulfieldgs.vic.edu.
Judith Gibson
School Archivist