The CGA was pleased to host our First Reverse Mentoring Breakfast that was held on the 3rd of June at The Deck, Brighton. We had around 40 people who attended this networking event. CGA Reverse Mentoring Program is inspired by these articles featured in the Harvard Business Review and Association of the Heads of Independent Schools Australia and our desire to innovate in the mentoring space. By flipping the traditional mentoring relationship, we hope to give young alumni the opportunity to share issues and perspectives affecting the youth of today.
After a welcome from CGA Executive Director Linda Sprott, CGA Marketing and Events Assistant Holly Robertson introduced the YAAP Program to the attendees. CGA Career Coach Leah Lambart delivered a keynote speech reflecting on the benefits of Reverse Mentoring. All the attendees were paired into groups of two. The keynote speech was followed by Leah interviewing Gabby Coffey (Class of 2018, a proud Wiradjuri woman, Melbourne Vixens Training Partner, and Killara Foundation Mentor) who mentored Grant Poulter (Class of 2001, CGA Vice President/Chief of Staff, Minister for Multicultural Affairs, Community Sport and Youth at the Victorian Government) as a role model for the rest of the attendees.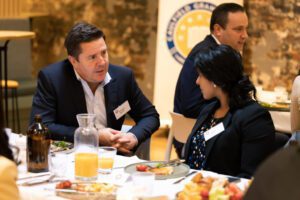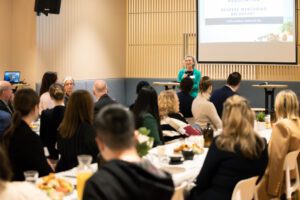 Young Alumni Ambassadors mentored CGS Stakeholders on themes around: Embracing authenticity, adaptability & innovation, personal brand & digital networking, using new technology, resilience & risk-taking. The emphasis was on learning from our young people and building mutually beneficial relationships by sharing different perspectives. Our Reverse Mentoring Program also aligns with our Strategic Priority of Active and Diverse Engagement.
We are very excited for our Second Reverse Mentoring Breakfast to be held on the 12th of August, 2022 where all the mentors and mentees will come together again and share their learnings.