From the Archives: 

Photo of the Month: Wheelers Hill Girls Football Team, c. 1996. 
As the AFL Season ends, it is timely to remember the annual girls' football match played between Caulfield and Wheelers Hill Campus. This image dates from 1996. Can you help with names? Contact,  archives@caulfieldgs.vic.edu.au 
 
Show time in September – The Royal Agricultural Show  
Do you remember going to the Melbourne Show? The excitement of the rides, show bags, junk food, agricultural and horticultural displays, and freedom to explore.  
 
When Mr R N J Bickerdike MA. (Oxon).) became the resident master in charge of Yarra Junction (Cuming House) In January 1956, he put into practice the aims of Cuming House to oversee the scientific development of the property and agricultural potential.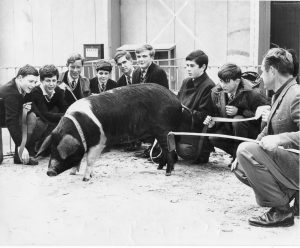 One activity enjoyed by Form Three students was preparing and staying with the Cuming house pigs at the Show. The 1960 School Magazine reports that fourteen pigs were entered. Most successful was Cuming Prince III, who won first prize for a 9–16-month boar and third prize in the breeders' group as well as awards of Senior Champion Boar, Best Wessex Saddleback Boar of the Show, and the Department of Agriculture Champion Certificate for a Wessex Saddleback of any age.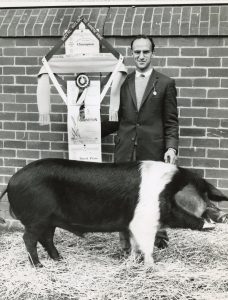 Mr Len McRae, Master in Charge of Yarra Junction (1961-79, continued the tradition. During the 1970s students entered art and craft works in various competitions and the 1977 Photography Group enjoyed a day excursion to take photographs.  

Making Contact:  
The CGS Archives and Heritage Collection spans 1879 to the present-day including Malvern Memorial Grammar School (Malvern Grammar) memorabilia. Any research queries or offers of donation are welcome by contacting The Archivist. Phone (03) 9524 6249 or email archives@caulfieldgs.vic.edu.au. 
Judith Gibson 
School Archivist