Getting out and experiencing what our country has to offer has been the cornerstone of Zach's post-schooling journey.
Having graduated in the class of 2020, Zach knew that it was time for a change. After spending the majority of the year stuck learning from home, Zach made the decision to commence a traineeship with Caulfield by joining the Remote Expeditions Team based in Jabiru, Northern Territory.
The Jabiru Program
The Jabiru Program is a new one for the Caulfield Grammar community and involves a 3-week experiential learning expedition, where students get to travel from Jabiru to Kakadu, Katherine, Litchfield National Park and Darwin. It was Zach's trip to Jabiru as part of the Year 10 Odyssey program that ignited his passion for this special place.
"It's a place of such diverse landscapes, and rich with cultural and historical significance."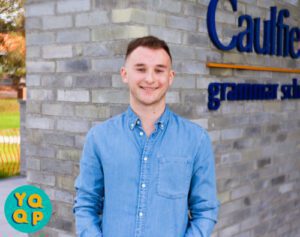 Zach sees the biggest impact from the program as being able to learn about Indigenous culture directly from Indigenous Peoples. Zach gained insight into their longstanding cultural, spiritual and personal relationship with the land and with Country and learned a great deal about the power and uniqueness of the diverse communities.
"Hearing their stories, witnessing their cultural practices, listening to their knowledge of Country and of Being is something that we cannot take for granted and something that we have been so fortunate to partake in".
Jabiru changed Zach's perspective on life greatly and for the better. Specifically, Zach loved his search of self-discovery and learning about who we are and where we're from. Zach has developed a greater passion for our Country and the environment and finds it hard to watch as it continues to deplete and some aspects of our connection with the land we live on are lost.
"Realising that we are not separate from it nor more important than it, but instead a part of it; our duty is to care, protect, and live harmoniously with it. Restoring the mindset that we are not above Country, we are one little part of this dynamic and complex system, is something that could greatly influence the way we operate in the future".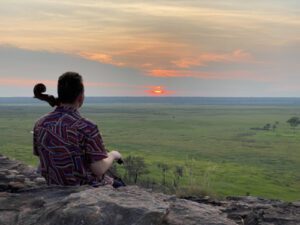 Jabiru Area School and the Clontarf Academy
On top of his work with Caulfield in Jabiru, Zach also got to be a part of the Jabiru Area School and the Clontarf Academy for Indigenous Boys. The Jabiru Area School and Clontarf Academy consisted of students from the local township as well as the surrounding Kakadu Homelands. During his time at the Jabiru Area School, Zach worked as a teacher's assistant in various classrooms and loved being able to work one-on-one with students, especially when the learning involved being out of the country. Tying in with another one of Zach's great passions, which is playing the Cello, Zach was able to perform for them on multiple occasions and teach the students about instruments and the benefits of music. Many of the students had never heard these instruments being played together and so seeing the way that it brought joy to them and lit up their faces was an absolute highlight.
Zach's time with the Clontarf Academy was also very special to him. The Clontarf Foundation exists to improve the education, discipline, life skills, self-esteem and employment prospects of young Aboriginal and Torres Strait Islander men. Zach was involved with running sports training, challenging the boys in Pool and Table Tennis as well as board games and cards, and got to spend time with them and learn more about their life and their families. The Academy brought boys from across the entire school and gave them a space to work as a team and create lifelong connections with one another.
"I saw the power and potential of what can happen when we bring people from all different backgrounds together, and mutual respect and engage in knowledge sharing and listening".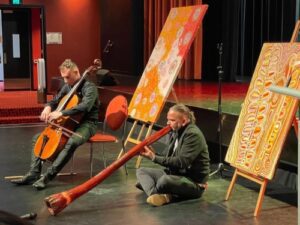 Tertiary Study
Outside of his learnings after spending great amounts of time with Indigenous communities, Zach's passions extend to his current studies of Law and Politics, Philosophy and Economics. After enjoying these subjects during his time at Caulfield, Zach wanted to further understand and investigate the intricate details of how societies operate and in a wider sense, learn more about how global communities interact with each other. Despite not knowing what he wants to be or where he wants to go in the future, Zach knows that he wants to continue along this journey and continue to bring people together.
Keeping reading about our Young Alumni Tell Their Stories Month ambassadors with our profile on Medika Bonney (Class of 2019), who works with Clothing The Gaps.
This profile was written as part of our Young Alumni Tell Their Stories Month – a month of content (including a social media takeover) by young alumni for young alumni. This initiative forms part of our broader Young Alumni Ambassador Program (YAAP).