Abbey Gallop (Class of 2015) reflects fondly on her time as a student at Caulfield. She attended the school from three-year-old kindergarten through to Year 12. Despite staying at one school for her entire education, Abbey doesn't feel that she missed out on a thing.   
Abbey participated in sport during her junior years and was heavily involved in the art and music departments during her senior years. She experienced personal success in the arts, with her band winning their division in the Generations in Jazz 2014 competition and her artwork receiving recognition at her Year 12 Art Show. Abbey was even commissioned to replicate her original artwork for the school after graduation. Despite the arts not being a significant part of her current career, Abbey still views these experiences as highlights of her schooling. 
Abbey believes that a specific part of her schooling had a direct impact on her career. Her mathematics teacher, Derek Kinsella, provided the necessary support and understanding to help her make it through the Year 11 course. As maths was not Abbey's strongest suit, she found the subject to be a chore. She is, however, forever grateful for the assistance and guidance her teacher provided that resulted in her pushing through and completing the Year 11 subject. This enabled Abbey to study nursing at university and eventually achieve her dream job as a neonatal intensive care nurse.  
After finishing high school, Abbey went straight into a Bachelor of Nursing at the Australian Catholic University (ACU) and worked casually at a homeware store. In what should have been her third year of nursing, she decided to take a gap year and travel through India, Nepal, Sri Lanka, and several European countries. Before leaving, she picked up additional jobs to fund her trip, including working within the boarding house at Caulfield. Abbey is grateful that she took a year off, as she knew that it was best that she completed the final year of the degree uninterrupted. 
Abbey's entry into neonatal intensive care nursing occurred through a stroke of luck. Her first preference for a graduate year at the Royal Children's Hospital didn't result in an interview, so the Royal Women's Hospital turned out to be her first choice. She was offered a 12-month position in the Special Care and High Dependency Unit of the Neonatal Intensive Care Unit (NICU) at the Royal Women's, which turned out to be an ideal situation for her and her dream job.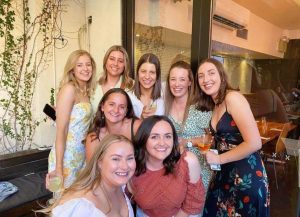 Abbey recognises that working in the healthcare system throughout the pandemic taught her a lot about getting work done, alongside the importance of having the courage to step away and do something for herself. She grew as a person more than she could ever have imagined and learned many valuable lessons early on.  
"Of course, financial stressors come into play, however I surprised myself in working a job and hours that suit me as someone who works to live, and doesn't live to work". 
 What surprised Abbey most post high school was that she didn't have to conform to what she assumed 'adult' life would be like. She realised that school holidays and university breaks wouldn't have to be the only extended periods of rest she took from work. 
Abbey considers completing her nursing degree as the first critical decision she made in pursuing her current career. Despite not having any interest in nursing adults, she had to complete 800 hours of placements in adult and geriatric nursing, which was a significant challenge. All Abbey wanted to do was work in paediatrics, particularly neonates (newborns), which wasn't available to sole nursing students. Temaining in special care and high dependency throughout the pandemic was also a decision that came with challenges every day. Ultimately, overcoming these hurdles allowed Abbey to pursue her plans in completing her postgraduate certificate. Despite the challenges, she is grateful for the invaluable experience and knowledge she gained from the program. Abbey is proud to have achieved her high school career goal of becoming a neonatal nurse by the age of 25, which she considers a significant achievement. 
Abbey's inspiration to pursue NICU nursing mainly resulted from her grandparents' involvement in foster care while she was growing up. Being around babies with disabilities or illnesses throughout her childhood helped develop a strong desire to support and advocate for such a vulnerable demographic. Her interest in health, how the body works, and the desire to make a difference in people's lives, alongside needing a solid career plan, were the main reasons that led her to focus solely on neonatal nursing. At the time, it was the only career that made sense to her. 
Today, Abbey works in intensive care within the neonatal sphere, caring for some of the most premature and critically-ill neonates in Australia. She says that her job provides many positives, including the excitement of adrenaline rushes, problem-solving that engages her mind, and the opportunity to collaborate with multidisciplinary teams to save the lives of the youngest patients and their families. Additionally, Abbey finds great satisfaction in helping families during their most challenging and anxiety-inducing times. She enjoys making the babies in her care as comfortable as possible, which has a positive impact on both the baby and their parents. Finally, Abbey loves working with like-minded individuals in such a specialized nursing field, having trust and confidence in her large team.  
Nevertheless, the pandemic brought added stress and pressure to healthcare workers and Abbey found it to be extremely challenging. Some of her dislikes include night shifts, holiday work such as on Christmas, and long weekend shifts. She hopes to see changes in her industry including better recognition and support for nurses, especially in terms of pay. She also advocates for staff retention plans and incentives to retain current nursing staff, to avoid even greater short staffing and the overreliance on junior workforces that she has experienced many a time.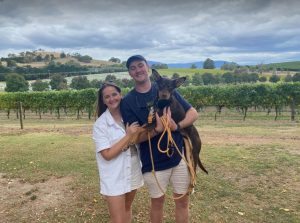 Although Abbey has a passion for working in NICU, but she envisions a career change in 5-10 years to suit a more family-friendly lifestyle. She plans on having children in the distant future and hopes to have established job stability before that. Despite this, she wants to maintain her nursing qualifications and work casually in NICU whenever possible. Caring for premature babies is something she will always hold dear to her heart, but the demands of the job mentally, physically and emotionally can take a toll because of the incredible amount of time and energy required.  
Outside of work, Abbey wakes up early most days and takes her 11-month-old Kelpie 'Wally' out for a run and a coffee. When they return home, she enjoys finding a creative or DIY project to work on while watching reality TV. If she has work, however, her entire day is consumed by it. She works 12.5 hour shifts in the NICU, and when she comes home, she spends some quality time cuddling with Wally before heading straight to bed to rest up for another workday. 
Reflecting on her career journey, Abbey imagines what her 17-year-old self would think. She feels proud of her accomplishments and knows that her younger self would be in awe of how quickly she achieved her goals. She imagines many young alumni will experience a very similar feeling.  
"Keep striving for what you want and where you want to be, and keep zoning out everyone else's opinions, especially those that believe that you're pigeonholing yourself in. It might just pay off!" 
Although she plans a career change in the future, Abbey is grateful for her career so far and excited to see where it takes her next. We look forward to seeing what Abbey can achieve in the future.