It has been an interesting and varied journey for Yvonne Kushnir (1995-2008) who was admitted to practise law at a ceremony at the Supreme Court on 19 September.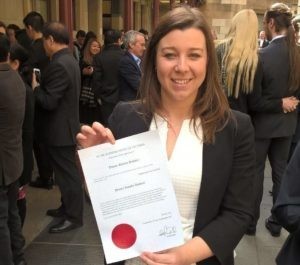 Yvonne graduated from Monash University in 2012 with Bachelor of Arts and Bachelor of Commerce degrees while working part-time.
The law beckoned and Yvonne began at the University of Melbourne's School of Law in 2014, graduating with the degree of Juris Doctor in 2016. In 2014, she did a short internship with a criminal defence attorney in Philadelphia. The following year, she volunteered with the Prison Legal Education and Assistance Program which involved speaking to prisoners about their rights and educating them on court procedures. At the end of 2015, she undertook a summer clerkship with solicitors Herbert Smith Freehills.
Not one to stand still for long, Yvonne went on a two-week study tour to the USA in 2016, visiting international human rights and legal institutions. Her principal areas of interest are international law, human rights law and criminal defence work. On her return to Australia, she volunteered with the Flemington and Kensington Community Legal Centre in its police accountability clinic. She is continuing her work there as a volunteer lawyer.
Yvonne completed her professional legal training in July, having done her placement with solicitors Stary Norton Halphen who handle some of the state's most serious criminal defence matters. Â She also undertook a two-week clerkship with Media Arts Lawyers.
But all is not law. Having been School Music Captain, Yvonne continued to play both the violin and saxophone, playing with the Melbourne Youth Jazz Orchestra, the Zelman Symphony Orchestra and now the Melbourne Lawyers' Orchestra.
Taking a year off study in 2013, Yvonne travelled extensively across Europe and the USA, visiting her family in the Ukraine and experiencing a ten-day program in Israel run by Taglit Birthright.
Indeed, it has been an interesting journey but, to be sure, there is lots more to come.