This year the Scholten family celebrate 75 years at Caulfield Grammar and are excited their youngest will commence at Malvern campus in Pre-Prep. To acknowledge this great tradition, Matthew Scholten (pictured above right) has joined our School Foundation's 1881 Bequest Society and continues to support our Foundation Scholarship program. The Caulfield Grammar School Foundation is honoured to have Matt's support. Here he reflects on his family's long association with Caulfield:
When my father William (Bill) Scholten commenced at Caulfield Grammar School as a fresh faced 11 year old in 1946 I imagine he had no inkling of the impact it would have on him and his family in the decades to follow. My Dad was adamant the best years of his life were those spent at Caulfield. His memories as a day student in Davies House stayed with him forever, and the lifelong connections he made sustained him throughout his life.
My own involvement with the School stretches back almost 50 years. I am immensely proud of our family connection and my passion for all things Caulfield Grammar is only strengthening as times passes. Starting at Shaw House in 1976, I quickly grew to love the School as my Dad did 30 years before. One of my very earliest school memories is walking across the 'sacred turf' of the Mills Oval knowing how much Dad had enjoyed playing First XI cricket there. It was brilliant to also have the pleasure of playing First XI for two full seasons. The memories of Dad coming to watch, and the Friday afternoon matches with the whole school watching are incredibly special. The sense of personal achievement and self-esteem that came from being part of that team were hugely important to me back then.
"Playing cricket right through school with my best mate George Jozsa was also very special. We remain great friends to this day. The wonderful experiences I had at school enriched my life. The terrific education, the quality of the people who taught me, the lifelong friendships combined with the community made it so valuable and important to my development."
Some of the challenges were ultimately the most beneficial or, in those days, 'character building'. Yarra Junction was an example, a place my father absolutely loved, and fondly remembered the potato paddock being cleared in 1940s early 50s. I was excited to get there, however, my own Year 9 camp at YJ was incredibly tough. Over the week I became very ill and was struggling enormously on the hike. I just would not have made if without the assistance of my friends. The disappointment inspired me to go back as a leader in Year 10, to do the hike successfully and to help others. It also motivated me to continue with school-organised bushwalking, leading to some amazing trips during school holidays, including Cradle Mountain in Tassie, the Bogong High Plains and Mt Feathertop. An uninhabited island trip in QLD off the coast of Townsville was another amazing trip. I can remember beer slabs being loaded onto the boat for the teachers, including George Mitchell and Graham Baker. Some of the teachers I had great respect for were Fred Royal, who was always full of enthusiasm and passion and Jack Leahy, who had a profound impact on me and was highly supportive, as was Katrina Ratner. My Chemistry teacher Robin 'Wally' Gray was also a wonderful Caulfield person. The relationship you have with teachers matures as you do, especially in the later years.
Like many of our more recent Grammarians, the School provided wonderful opportunities for me after finishing Year 12. Having just turned 19, I was appointed as one of the managers of the School cricket tour to England in 1986, an incredible opportunity and adventure that I now cherish. We all made lifelong friendships from that trip, and many friendships have rolled on through the years with the Grammarians' football and cricket clubs. Going on to play Grammarians' cricket with my son Cameron (who is now club President), was amazing and he, in his words, 'absolutely loves it'. The Grammarians football club continues to be a huge part of my life and the older I get the more I love being part of the club.
"In talking with Matt about Caulfield, it's clear leadership has been a key theme in his life. Yet like many other students Matt didn't see himself as a leader. He was not on the School Committee but nevertheless, was appointed Captain of the 2nd XVIII Football team. He then captained the CGFC reserves, aged 21 and at 24 found himself leading a team of 30 people in business. The impact of these opportunities has clearly had a strong and positive influence on his life."
On leaving school I was really interested in becoming a Veterinary Surgeon but, needing better marks, I started a Bachelor of Science at Monash Uni. I didn't really enjoy it and left early to enter the financial services sector.
Despite leaving Uni education early, I have continued to study doing many courses over my career – most recently the AICD Company Directors' course. It has been very satisfying and beneficial to connect my business (Scholten Collins McKissock Wealth Management) with Caulfield, and over the years we have employed more than 30 Grammarians. Two of our Partners, Chris Fagan (2000) and Luke Spiller (2006) are Grammarians and recent Uni graduate Max Canfield (2014) is part of the team. We are the beneficiaries of Caulfield Grammar producing so many quality young people.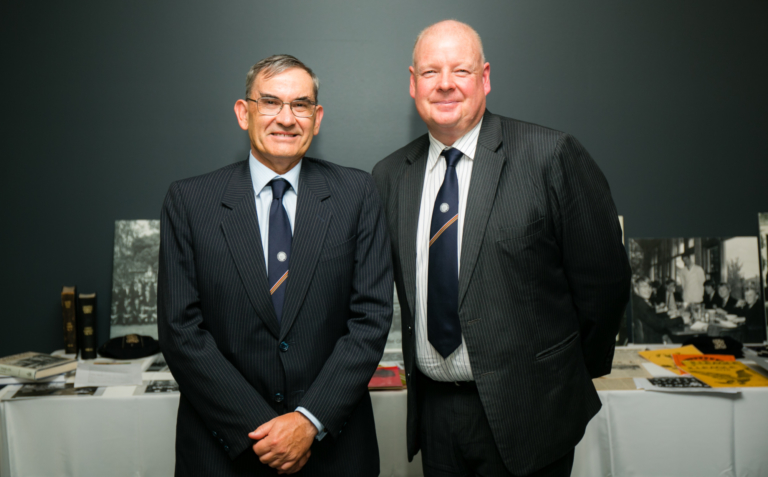 In 2018 the CGA recognised Matt for his service to the School and CGA with a Fellowship, an award that recognises service to the School and CGA over a prolonged period. Currently a member of School Council, Matthew served on the CGA Committee for over a decade before being elected President in 2010 and serving in that role until 2012. He played 240 games for the Caulfield Grammarians' Football Club during the 1980s and 1990s, and was the Club's longest serving president from 1998 to 2012. He has also made a significant contribution to the Caulfield Grammarians' Cricket Club over many years as a player, administrator and sponsor.
My father Bill was on the CGFC committee and involved with the CGA throughout his life. I came to realise the CGA is a fantastic place where you can assist in many different ways. I believe the CGA and the School do a wonderful job in building our community. Caulfield continues to produce quality young men and women who are equipped to move into life. Being CGA President led to joining School Council and it has been a privilege to be so closely involved in vital strategic decision making as Caulfield grows and evolves while still respecting the wonderful traditions we hold so dear.
"Through the CGA, Council, CGFC and CGCC I have greatly enjoyed the privilege of giving back to Caulfield. I see my support through the Foundation as a natural extension of this and many years ago I made a decision to support Caulfield Grammar in my will. The motivation comes from all the elements we have covered. Caulfield has greatly enriched my life and those in my family. It's another way to support our school community. I see the Foundation as something the School should have activated far earlier. It is great to see it is now up and running and already having such a positive influence."
I love seeing my children stay connected and involved with the School. It all started with my father who loved the school. We are all really excited Millie will be starting at Malvern this year and my wife Lyndall is also excited to become part of the Caulfield Grammar School community.
Want to connect with Matthew? You can find him on LinkedIn, and hear more via his website.
For more information on making a bequest and our 1881 Bequest Society please contact the Executive Director of the CGS Foundation:
Andrew Cole
andrewcole@caulfieldgs.vic.edu.au
caulfieldgs.vic.edu.au/foundation