VFLW
Australian Rules Football helps unite people across our nation from all different backgrounds and, with the growth of the women's game, Aussie Rules is now enjoyed by both female and male players. Playing professionally is a major honour, one Grace Buchan (Class of 2013) was granted following years of hard work and persistence. In 2018 Grace played in Collingwood's inaugural VFLW side and in 2019 she was co-captain of the team. Grace's devotion to her club, coach and teammates helped lead her team to premiership success last season.
In her football career, Grace loves leading by example and encouraging others to push their physical and mental limits on the field and in their everyday life. She knows that success comes as a direct result of making sacrifices both at training and in competition. One of her dislikes in football is having uncomfortable conversations with players about misconduct. Yet her willingness to hold others accountable is part of what makes her such a valuable and admired leader.
Caulfield Grammarian's Football Club
Before she moved to Collingwood, Grace Buchan was a key member of the Caulfield Grammarians' Football Club's (CGFC) inaugural women's team in 2017. She played in 12 games for the Grammarians in 2017, kicking four goals and being named amongst the best players in all but one game. She was also a member of the inaugural Victorian Amateur Football Association's (VAFA) Big V women's side that defeated AFL Goldfields and she finished eighth in the VAFA's Premier Women's Best & Fairest Award. At the CGFC, Grace was the inaugural winner of the Liz Wilson Medal for the best and fairest senior woman player. Grace played two games for the CGFC in 2018, when not required by the Collingwood VFLW team, and another three games in 2019.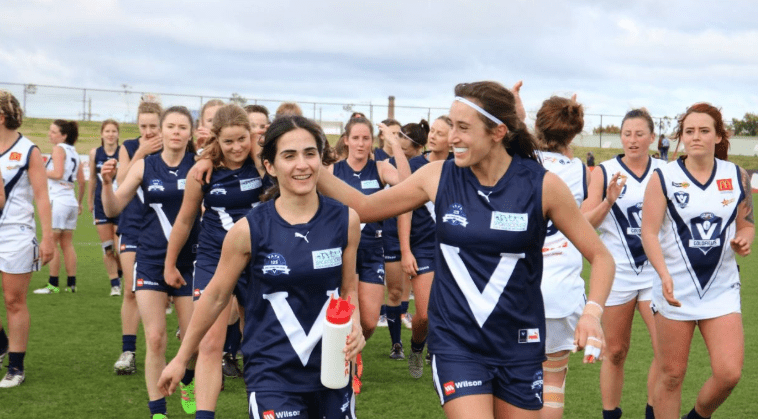 Coaching Leadership
Despite having moved on to play for the Casey Demons, Grace is still inspired by her old Collingwood coach and fellow Caulfield Grammarian, Penny Cula-Reid. Penny was a leader in the fight to create a football pathway for girls so they could play through their teenage years and then move up to the senior level. In fact, Penny was a pioneer in helping to bring about the greater opportunities for women that now exist in football. Grace continues to be motivated by Penny's relentless commitment, leadership skills and the passion she brings to both her sport and the community.
Looking back, Grace wishes her teenage-self cared less about societal norms and what people think. "There isn't a sport, job, career path or life that is specifically for women or specifically for men". She believes that one can create their own opportunities and make their own decisions, even if they seem unattainable.
Caulfield sporting star
Grace's grit, determination and love of sport was fostered during her time at Caulfield Grammar School, which she attended from 2003 until 2013. While at school she gained triple colours in tennis, soccer and athletics, and was captain of the girls' tennis team in 2013. Initially Grace's dream was to become a professional tennis player and travel the world. She got a small taste of what that might be like while a member of Caulfield's UK/France Tennis and Cricket Tour in 2011.
Grace also benefited from the numerous friendships she formed at school, many of which she maintains today. These connections, and the many opportunities the School provided her, make Grace feel that Caulfield Grammar is much more than a school.
Looking forwards
Currently, Grace Buchan spends her time as a sports podiatrist helping people achieve their health goals. Her aim is to ensure that athletes, and everyday active people, are happy and moving without pain or discomfort.
Outside work hours, Grace is either training and playing with her VFLW side or running sessions with her AFLW team. Going the extra mile to fulfil these 'extra-curricular' commitments is extremely important to Grace as it helps her grow as an athlete and as a person. Nevertheless, Grace finds it important to strike a balance in her life between work and sporting commitments, and spending time with her partner, family and friends. She loves to disconnect from work and the city by going on road trips outside Melbourne to the Great Ocean Road and Otway Rainforest.
In the future, Grace hopes to have her own podiatry business (in partnership with osteopathy) and continue to focus on helping athletes and everyday people move pain-free. She hopes to continue playing football and be strongly involved in the game, assisting and supporting both her professional teammates and up-and-coming players. She is a true example that dedicating yourself to your passions is a fulfilling way to live one's life.
Want to connect with Grace? You can find her on LinkedIn.
Read more stories about VFLW players such as Caulfield boarder, Louise Bibby.
Feature image courtesy of Grace Buchan