Bruce Lumsden, who was the sixth Head of Caulfield Grammar School, served as a Flight Officer in the 195 Squadron of the RAAF during the Second World War. He became a Prisoner of War in late 1944.
Born in June 1917, Bruce grew up in an evangelical family, his father conducting missions and his mother running a hostel for the Melbourne Bible Institute. After attending a private school called "East Leigh", he was enrolled at Caulfield Grammar School in 1929. In his final year at Caulfield (1935) he was a prefect, house vice-captain, leader of the Crusader Union, captain of the football and athletics teams, and equal Dux of the School.
Bruce completed an Arts degree at the University of Melbourne and then spent a year at the Melbourne Bible Institute before accepting a post as an English teacher at the South Melbourne Technical School. When war broke out, he felt that it was his duty to offer his services to his country. Teaching was a reserved occupation, however, and his superiors at the South Melbourne Technical School refused to free him to join the armed services. Following advice from a  recruiting officer that the reservation would not apply if he volunteered for service in an air crew, he apply to join the RAAF and was accepted.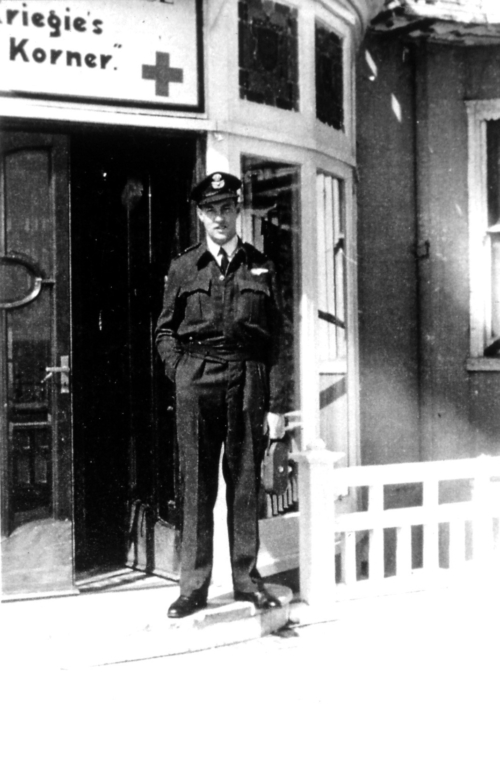 After air crew training in Australia Bruce was sent to England for further training that led to his involvement in massed bomber raids on targets in Germany. He had completed 20 day and night operations over Europe as a navigator when he found himself in a Lancaster A4H flying in daylight on 2 November 1944. The target was an oil refinery on the Rhine near Duisberg but the mission soon ran into problems with Bruce's plane eventually flying alone toward the target. They reached their target and dropped their bombs but the plane was hit a number of times and close to the Dutch border the crew was ordered to jump. Bruce reached the ground safely but was behind enemy lines and was soon taken prisoner by the Germans. He spent some time in Dulag Luft before being imprisoned in the notorious Stalag Luft III at Sagan, where he remained until the prisoners were marched to Stalag IIIA at Luckenwalde, near Berlin, ahead of the advancing Soviet army.
Bruce arrived at Luckenwalde both ill and exhausted, and the prisoners there experienced even worse conditions than those at Sagan. Then, on Sunday 22 April, 1945, they awoke to find that they were in sole possession of the camp, the German guards having withdrawn during the night. Russian troops soon arrived but disputes between the Russian and American authorities lead to frustrating delays in the departure of Allied prisoners. It was not until 20 May that Bruce and his fellow prisoners were handed over to the Americans and he eventually reached England via Belgium. He completed a short course in education in London before sailing for Australia.
After leaving the RAAF, Bruce worked for the Scripture Union in Sydney where he renewed his friendship with Honor Moss, a nursing sister in Katoomba. They were married in January 1947. In late 1946 Bruce had visited Caulfield's Headmaster, Frank Archer, who had offered him a job as a teacher at his old school. Bruce taught at Caulfield from 1947 to 1954, during which time he completed a Diploma of Education. In addition to teaching duties, he was involved in a variety of school activities, including being coach of the first eighteen football team.
Bruce left Caulfield at the end of the 1954 school year to take up the position of General Secretary of the Scripture Union in New Zealand. After eight years he moved to Sydney as General Secretary of the Scripture Union of Australia.
When Caulfield's fifth Head, Stan Kurrle, decided to accept the position of Headmaster of The King's School, Parramatta, commencing in 1965, Bruce applied for the Headmastership at Caulfield and was appointed as Kurrle's successor. He served as Caulfield's Head from 1965 to first term 1977, guiding the School through challenging and exciting times. New subjects, teaching methods and administrative structures were trialled as Bruce favoured engagement with new ideas over strict adherence to the educational practices of the past.
After his retirement from Caulfield, Bruce became a part-time consultant with the Commonwealth Schools Commission and served as a member of its Victorian Planning and Finance Committee, which was set up to assist disadvantaged country schools with funds for essential capital works. He and Honor moved to Launching Place, not far from Yarra Junction, and for 15 years Bruce was a voluntary community tutor at the Yarra Junction High School.
Bruce died in 2004 and Honor in 2011. They had three daughters – Rosalyn, Margaret and Catherine. Their son, Alister, attended Caulfield from 1965 to 1973, with his daughter Kate completing her secondary studies as boarder in 2006. Bruce's brother Ewan attended Caulfield from 1930 and 1937, and was a member of staff in 1948.
This article was written by CGA Staff Member and Grammarian Ian Wilkinson (Class of 1975). Sources include: The Caulfield Grammarian 2004 (p. 6), the chapter on Lumsden in the School's centenary history – Years May Pass On… and Outside the Square – 125 Years of Caulfield Grammar School.