Proud Wiradjuri woman and Grammarian Gabby Coffey (Class of 2018) is making her first years post-high school her own, determining her own pathway and following all her passions. An up-and-coming netballer, Media and Communications student, and Mentor with the Killara Foundation, she splits her time between multiple different fields.
Caulfield Grammar Days
Originally from Alice Springs, Gabby moved over to Melbourne to attend Caulfield Grammar's Caulfield Campus as a boarder. The opportunities available were ones Gabby felt opened her world in a way that was exciting, having access to major training facilities and studying subjects she hadn't previously experienced:
"It was a massive culture shock to say the least! The experiences in both areas must be almost polar opposites. But I wouldn't change it for the world. I learnt so much about myself and it opened up so many doors of opportunities".
Pursuing Netball
Since moving over to Melbourne, Gabby has been chasing any and all netball opportunities that have been made available to her. However, it was her experience in the Northern Territory that sparked Gabby's initial passion:
"NT built my netball from the very beginning. The coach's pure determination and love of the sport was what shaped me to play the way I do today. We didn't have many facilities, but we had great community support and pride in all sport". 
Prior to covid, she was able to represent Victoria in the Australian National Championships and had the chance to represent the Northern Territory at the National Netball Championships.
Post-lockdown, Gabby has continued to go from strength to strength. 2021 gave her an immense opportunity to sign on as a Training Partner with the Melbourne Vixens, marking her first Suncorp Super Netball contract: 
"The Vixens was a whole flip. The facilities, coaches, support staff and everything else that came along with netball was just incredible. I developed so quickly, and my netball had taken on a whole new level, credit to how professional and well supported the Victorian pathway is".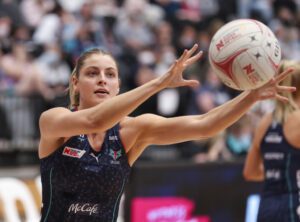 2022 gifted her another professional opportunity to jump on court with the Collingwood Magpies against Giants Netball under the Suncorp Super Netball League's COVID-19 Contingency Framework, making Gabby their #35 debutant.
It doesn't stop there; Gabby also currently plays for Melbourne University Lightning and was recently selected in Netball Victoria's Vic Fury team for the Deakin University Australian Netball Championships in Traralgon in August.
Throughout her career, Gabby has looked up to both the strong women that have come before, and the ones that are rising alongside her. Being surrounded by many amazing, capable athletes from different walks of life has been an instrumental source of inspiration for her.
Media and Communications
Whilst honing her netball skills, Gabby also took the dive into full-time tertiary study. Gabby studies Media and Communications at the University of Melbourne, a pathway she hopes will lead her to work in sports journalism amongst athletes and sporting companies, a great combination of her internet in news and passion for sport. She also aspires to eventually study and work as a teacher.
The Killara Foundation
Currently, Gabby works for the Killara Foundation, an organisation that assists Aboriginal and Torres Strait Islander people in maintaining sustainable employment. For Gabby, she works together with Indigenous girls and women to help break down barriers to enable them to get to work and assists them with their overall career and life development. She has come to learn that, in mentoring, there is a profound power in just listening:
"A good mentor is definitely someone who just listens, a really good listener. A lot of my mentoring has just purely been listening but also affirming their feelings, understanding where they're coming from".
Witnessing powerful stories of strength and resilience from the young girls Gabby has developed connections with has truly shaped her outlook, offering Gabby a different perspective:
"Life is so much bigger than probably what's happening right now. You look at these young girls and what they've gone through and where they are, I think it's just reminding yourself there's so much more to life".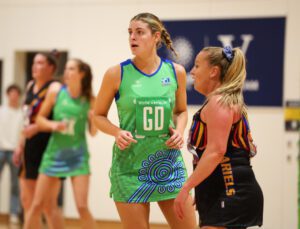 The Future
Gabby's most cherished aspect of life post-Caulfield Grammar has been the freedom that comes with embracing your passions and choosing your own pathway:
"It has to be the opportunities that pop up through networking, but also that with further study and exploring your passions you are provided with the freedom to immerse yourself in whatever you want. This made life after school so exciting!".
The future looks bright for the young netballer and those around her, as she continues to follow her sporting, media, teaching and mentoring passions. No doubt will her perspective and insight be an instrumental one in all areas.
Want to connect with Gabby? You can find her on LinkedIn.
Catch up with more of our young alumni with our profile on Grammarian Medika Bonney (Class of 2019), who works with Clothing The Gaps.
This profile was written as part of our Young Alumni Tell Their Stories Month – a month of content (including a social media takeover) by young alumni for young alumni. This initiative forms part of our broader Young Alumni Ambassador Program (YAAP).