Languages have been part of the Caulfield Grammar curriculum since establishment and were taught as part of a classical education. From 1881, French, German and Latin were taught by School Founder, Rev J Henry Davies with an emphasis on grammatical rules, rote learning, and translation of literary texts.  
A transformation in language teaching at Caulfield took place in the 1960s when the modern Language Laboratory room was established in 1963 with 40 individual booths, audio tapes and headsets (as pictured above).
An Esperanto Club for Form 3 was formed in 1962 by teacher, Marcel Leereveld. The success of the lunchtime club led to the international language being taught to Form 1 and Form 2 and Matriculation.  
The formation of the 'International Understanding Group' allowed students to try languages and learn aspects of culture and history. The 1969 magazine reports that some students in this group studied Chinese, Japanese and Italian.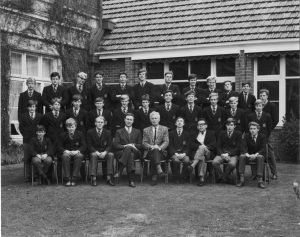 Mr. Leereveld taught French, German, Indonesian and Esperanto at Caulfield Grammar School from 1961-81. In retirement he promoted the Esperanto language in the community until his death in February 2023, aged 105 years old.  
Other languages mentioned in the school magazine include Latin, Indonesian, Greek or Modern Greek and Mandarin Chinese from 1989. In 2022 language options include Chinese, German and French, re-introduced in 2022. 
Making Contact:  
The CGS Archives and Heritage Collection spans 1879 to the present-day including Malvern Memorial Grammar School (Malvern Grammar) memorabilia. Any research queries or offers of donation are welcome by contacting The Archivist. Phone (03) 9524 6249 or email archives@caulfieldgs.vic.edu.au. 
Judith Gibson 
School Archivist