"Everything is awesome!" — The Lego Movie. Fully aware that I am somewhat biased about this group, I think it's true to say that everything really is awesome for the Grammarian Singers. This year kicked off with great energy and enthusiasm; the group feeling it had established that it truly can create great music.
The first performance for the year came at the CGA's Founder's Day Dinner in April; the warm reception and interest from the attendees left the ensemble on a musical high and feeling like an established part of the CGA community.
The 2018 Winter Concert in May produced a spectacular collection of sacred works. Entering the auditorium in procession, singing a 13th century plainchant and finishing with the vibrant and inspiring Halley's Freedom Trilogy, the Singers were overwhelmed by the sincere enthusiasm and enjoyment of the audience. It was a group that has become tighter, more certain and beautifully blended that sang on the anniversary of its inaugural concert.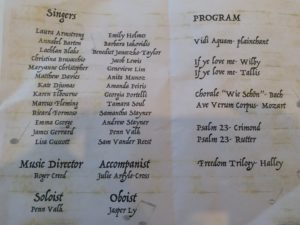 The choir wondered what we could possibly do next to follow on from the excitement of that Trilogy. Without hesitation, musical director Roger Creed announced the Spring program will be sung to the theme of Broadway musicals. Needless to say the ensemble was pleased! Rehearsals are already underway for a concert that will celebrate the best of musical theatre from Les Miserables through to Oklahoma. I encourage anyone in the Caulfield Grammar community who likes a show tune to join us for this event; details will be announced by the CGA.
Any ex-madrigal singer from Wheelers Hill Campus who wishes to join the Grammarian Singers can direct enquiries to [email protected].
Anita Munoz