On 20 June this year, the School and the Australian Athletics community lost one of its greatest coaches in Neville Sillitoe OAM. At 96, just before his death, Neville was still as wily and erudite as ever, constantly thinking about how Australian Athletics could be improved and providing suggestions to the powers that be. He would have greatly enjoyed the recent Olympics, especially with the emergence Australia's new breed of athletes. Neville was still coaching from his wheelchair until his final months, before succumbing to septicaemia. A large gathering of ex-CGS students, fellow coaches, school representatives, and former Australian champions and Olympians came to a graveside service to pay tribute to this iconic Australian.
Athletics Career
Neville was himself an impressive performer on the track. His career began with Coburg AAC where he was placed second in the 1943 Victorian under 18 440 yards title and third in the 100 yards. He competed until early 1952 and was twice a finalist in the Victorian 440 yards championships with a fifth placing being his best result.
After hanging up his own spikes, Neville turned to coaching sprinters (mostly at the East Melbourne AAC), which he did virtually until his passing. Guiding some of the best sprinters in Australia became his life's work and passion.
Coaching Peter Norman
Perhaps Neville's most noted success was with Peter Norman, who claimed a silver medal in the 200 metres at the 1968 Mexico Olympics. Neville understood, better than most, the significance of that run – which extended well beyond Peter's time of 20.06, which remains the Australian national record over 50 years later.
Arguably, what has become even more famous is the photograph of Peter standing on the victory dais with gold medallist Tommie Smith and bronze medallist John Carlos, both African Americans. Smith and Carlos were shoe-less and wore black gloves on their hands. When the US National Anthem was played, they bowed their heads and raised their clenched fists into the air as a "black power" salute to highlight the poverty and oppression experienced by African Americans in the United States. To show his support for Smith and Carlos, Peter wore an Olympic Project for Human Rights badge borrowed from a member of the USA rowing eight.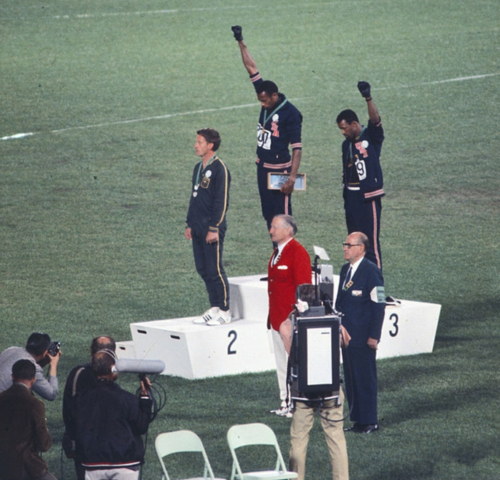 Neville was relentless in pursuing a broader public understanding and recognition of that iconic moment, particularly after Peter's premature passing in 2006. That there now stands a bronze statue of Peter Norman near the entrance of Melbourne's Lakeside Stadium is testament to Neville's drive and persistence – qualities that he showed throughout his 96-plus years.
Olympic and Commonwealth Games Athletes
There were many other Olympians, Australian representatives and national champions in Neville's stable including Denise Boyd, Maxine Corcoran, Laurie D'Arcy, Bruce Frayne, Gary Holdsworth, Richard James, Greg Lewis, Colin McQueen, Marian O'Shaughnessy, Tamsyn Manou (née Lewis) (CGS 1994-96) and Aaron Rouge-Serret (CGS 2001-06). Almost all were sprinters, but Neville also coached Commonwealth 880 yards gold medallist, Noel Clough.
Between 1961 and 1983, five Sillitoe athletes – Holdsworth, Norman, Greg Lewis, McQueen and Frayne – won 16 of the 23 national 200 metres titles contested. In addition, Holdsworth, Lewis, D'Arcy and James won nine of the national 100 metres crowns during the same era. As a result, Neville served as a team coach for the 1982 Commonwealth Games in Brisbane.
Coaching at Caulfield Grammar School
Flush with success from the Commonwealth Games, in a major coup, Caulfield Grammar School managed to secure Neville's services as a PE teacher and Head Coach of Athletics in 1982.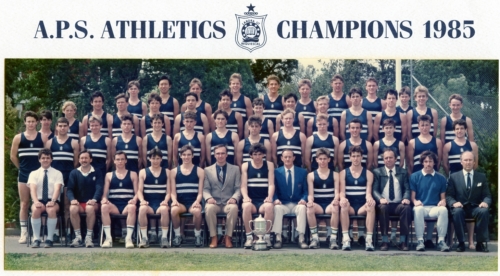 In his 16 years of service as a teacher at Caulfield Grammar School, Neville proved to be dedicated, thorough and utterly reliable.  There was, however, more to Neville than efficiency and common sense. According to long-serving CGS staff member Paul Lindsay, a friend and colleague;
"Neville was tougher than he looked. Any student who thought this nice man was a 

pushover

 was in for a 

shock

: he took no nonsense; he followed up malingers ruthlessly; he knew what he wanted from his students, and he got it."
Throughout his association with our School, Neville's meticulous, careful, and considerable administrative skills ensured that the needs of the students and staff were always met. To whatever task he was allocated, Neville would always bring his exemplary organisational capabilities to bear and produce an excellent result.
Head Coach
After his retirement from teaching, Neville continued in the role of the Head Coach for Boys' Athletics. He played an instrumental role in establishing athletics as an important sport for boys and girls in our school and, more broadly, within the Associated Public Schools.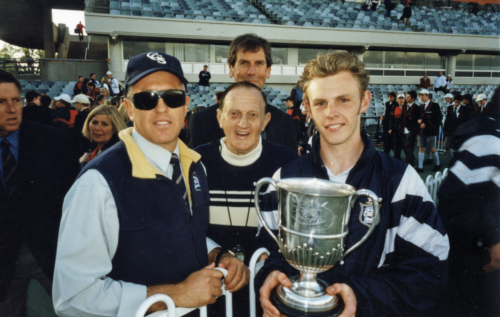 Those who knew and worked with Neville have always admired his energy, his single-minded love of athletics and his passionate commitment to encourage this love in our students. Known to all simply as "Nev", he was generous with his time, always good-humoured and professional in all he did. A humble man to the end, he was approachable and willing to listen to alternative opinions, even though, according to Paul Lindsay, he was not always accepting of them.
During his tenure, Caulfield Grammar School won 16 athletics premierships. In fact, the School still holds the APS record for the most consecutive premierships, with our boys winning 12 years in a row.
After 31 years' of association with Caulfield Grammar, Neville certainly left a lasting legacy!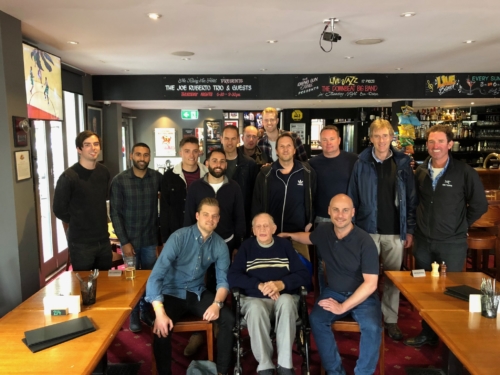 Mentoring Young Athletes
Beyond CGS, Neville always endeavoured to encourage young athletes from country areas. He often visited potential athletes and their families, accompanied by his champion athletes of the day. In addition, every year for 25 years he took young athletes overseas for six weeks to compete in the UK to experience top competition. Neville remained until his passing a constant in the lives of so many of the athletes he coached, embodying the special bond that draws coach and athlete together.
Accordingly, Neville was rightly recognised with life membership of Athletics Victoria in 2001 and Athletics Australia in 2007, and with the Medal of the Order of Australia in 2018 for "service to athletics".
The CGA thanks CGS staff member Gary Tyler for providing this tribute to Neville. Gary's original article was adapted slightly for use on the CGA website by CGA Projects Officer Ian Wilkinson.