Time at Caulfield Campus
Maysen Duffy (pictured above in front row third from right) attended Caulfield Campus from 2014 (Year 7) to 2019 (Year 12). A member of Davies House, she was one of the senior leaders of the house in her final year. She was involved in a variety of sports at both the house and inter-school level and received a number of awards for academic achievement. 
A talented skier, Maysen received triple school colours for snowsports and has competed successfully in inter-school, Victorian and national championships. She has also been a member of the Australian junior team.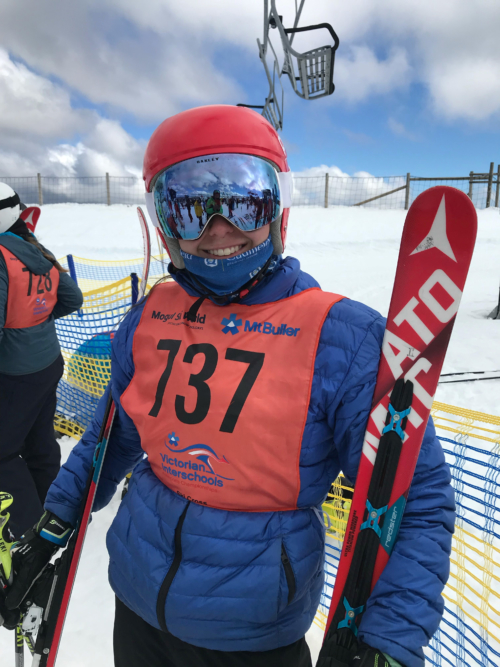 The Caulfield Grammarians' Football Club
Maysen Duffy was a member of the Caulfield's undefeated girls' football teams in both 2018 and 2019, captaining the team in 2018 and being awarded triple colours. After leaving school, she joined the Caulfield Grammarians' Football Club (CGFC) and during 2021 was a member of its senior women's team that made the finals. She played in all 11 games that were possible in 2021 (ten regular season and one final), kicking one goal and being named amongst the best players four times. She was voted best-on-the-ground in the team's round 6 win over Old Trinity. Unfortunately, the season was shortened by Covid lockdowns and abandoned completely before the finals could be completed. The Caulfield team finished in third position. 
"Maysen says that "becoming a member of the CGFC has allowed me to maintain my connections with my peers from school and foster new relationships with those involved in the club." She adds that after exceeding expectations and finishing third in 2021, it is "only fitting to make the goal to be better next season and aim for the premiership."
The CGFC is keen to maintain close ties with the school's football program. To this end, it has tasked players who are alumni, such as Maysen Duffy, with helping to build the affiliation that currently exists between school and CGFC teams. Maysen is pleased to be involved "because continuing these efforts well into the future will allow CGS alumni to have the same opportunities I have received". She sees developing a close connection between the school and CGFC as being particularly important in ensuring that more female past students join the club. 
Pursuing law
Maysen is currently studying law and commerce at university. While her face-to-face interactions at university have been severely curtailed so far and the workload is high, she "loves the opportunities" her degree provides, including being able to help people in the future through her special interest in the law. In five to ten years' time she hopes "to be solidified somewhere within the legal profession" but also hopes she "will maintain her relationship with all aspects of the CGS community". 
"Maysen's best memories of CGS are "the people I met and the opportunities I was given". She likes the fact that Caulfield is "an inclusive and welcoming place that provides opportunities for all students, staff and families to be part of the community". She says that she is inspired by "the people in my life who support me and my aspirations to excel in whatever path I choose."
We wish Maysen every success with both her football and legal careers, and hope that the CGFC will soon be able to achieve its goal of a Premier Division premiership.
Matt Davies is another young Grammarian involved with our affiliate clubs. Hear him talk about how the CGA has provided him the opportunity to exercise his love for singing.