Bruce Waxman was student at Caulfield from 1961 to 1967. On his Caulfield 'journey' he remarks: 
It was Bill Sayers, my Year 8 teacher, who saw potential leadership skills in me at Yarra Junction and set me on a course in cadets leading to senior CUO [Cadet Under Officer] in my last year at school. And what a year that was! I deferred a place at Monash University on the advice of Headmaster Bruce Lumsden, who offered my parents a half scholarship for me to gain extra leadership experience. I was a prefect, a member of the first rowing crew and seconds football team, organiser of the school dance and gained better academic results than in 1966. That year Caulfield won the APS cricket and football competitions. The same group of footballers contributed to an A Grade premiership for the Caulfield Grammarians' Football Club in 1970 and I was a member of the squad! How lucky I was to be surrounded by such a high achieving bunch of blokes. I have son, a granddaughter and my late brother who are Grammarians. 
Bruce was born with a hole in the heart, which required surgery when he was in Year 7. That inspired him to become a surgeon and the vertical scar on his chest led then Headmaster Stan Kurrle to call him, "Zipper".
Following graduation from Monash with honours in 1974, Bruce trained in general and colorectal surgery, both in Australia and overseas. He wasn't drafted while at university but later joined the Royal Australian Air Force Specialist Reserves, with deployments to Bougainville and East Timor as a military surgeon, and to Banda Aceh as civilian surgeon. 
After a 30-year career as a colorectal surgeon, he transitioned to medical administration and now focuses on the education of medical students and junior doctors as Clinical Dean, Monash Rural Health, Monash University, Wonthaggi Hospital, and Clinical Lead, Accreditation Team, Postgraduate Medical Council of Victoria. Over 33 years, he held many executive positions with the Royal Australasian College of Surgeons and the Colorectal Surgical Society of Australia and New Zealand, organising several international conferences. 
A Board Member of the Royal Flying Doctor Service of Australia (Victoria) for 22 years, Bruce was also a Group Leader with Scouts Australia (mainly at 1st Malvern) for 15 years and Medical Director of the Victorian Contingent at five Australian Jamborees.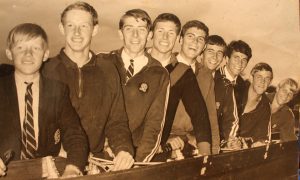 Bruce says that "making a difference" has been the credo of his professional and volunteer work but having to spend long periods away from family has been an unfortunate consequence.
In addition to his roles in medical education, Bruce now manages the family wildflower farm at Kalympa Park, growing a variety of Proteaceae on the Mornington Peninsula. 
Awarded an OAM in the 2014 "for service to medicine as an administrator, educator and clinician", Bruce has made an outstanding contribution to the Victorian community. He is currently a member of the Caulfield Grammarians' Rowing Club and is often up early for a row with his Caulfield mate, Rock Watson. He is a regular attendee at CGA and School functions and is a donor and supporter of the Caulfield Grammar School Foundation.