Education at Caulfield
Bernard Everett Bardwell, the eldest son of Everett and Fanny Bardwell was born on 8th September 1881 at Emerald Hill in Melbourne. He was first educated privately, then at East Malvern Grammar School, before being enrolled at CGS in 1892 aged eleven and at Speech Night that year gained second place in both the Form II Arts prize and the Mathematic prize. His year of leaving is unknown, but likely to be 1896 as his father, a lawyer, took up a position at Mosman in Perth, West Australia in 1897. On 20th December 1899, the Western Australian Government sanctioned the formation of a second company of Mounted Infantry for service in the Boer War and amongst the eight officers, 97 men and 125 horse that sailed from Fremantle on 3rd February 1900, was Lt Bernard Bardwell. Coincidentally also a member of this unit, the 2nd West Australian Mounted Infantry (2nd WAMI), was a fellow Caulfield Grammarian, Private Stanley Spencer Reid who was later promoted to Lieutenant on 8th March 1901.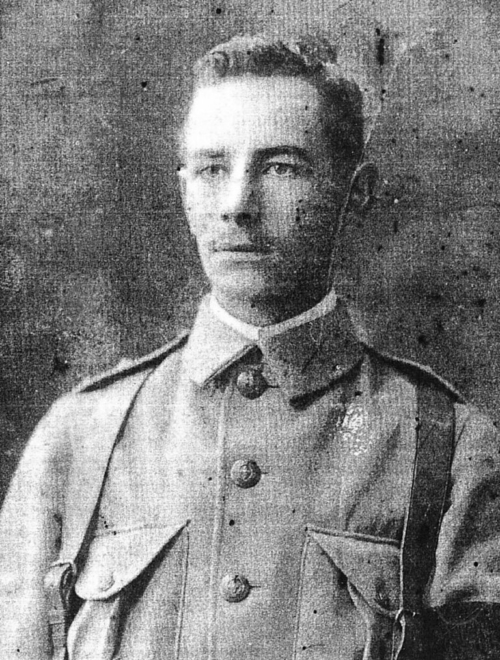 Arrival in Cape Town
The 2nd WAMI arrived at Cape Town on 24th of February and according to the Official Records, during their time of service took part in dealing with 'organised disaffection' amongst the civilian population and arrived at Blomfontein in time to part in the advance to Pretoria in May 1901. They were then attached to general Pole-Carew's 11th Division where they served until October and during this time participated in action at such places as Vet River, Johannesburg, Silverton and Diamond Hill. Lord Roberts in his telegram of 16th June said,
'Botha's army has retired, believed to Middelburg. His rear guard was surprised and thoroughly routed by Ian Hamilton's Mounted Infantry, chiefly West Australians and the 6th Battalion.' [1]
A brief return home
Eventually in late July, the 2nd WAMI took part in the advance from Pretoria to Komati Poort and took part in fighting around the Belfast District and in late September were also successful in recovering a large amount of captured railway material and other stores. The unit ended its days in South Africa on 7th November 1900 when they sailed for Fremantle, landing on 8th December and being disbanded on 7th March 1901.
Durban
Not long after Bardwell and Reid returned the 5th and 6th West Australian Mounted Infantry Contingents (WAMI) were formed and both men joined these units signing on with the 6th WAMI. This Contingent left with from Fremantle on 10th April 1901 with 14 officers, 214 others and 237 horses, arriving at Durban on 29th April. The 5th and 6th WAMI united forming one strong battalion and first served with Major-General F.W Kitchener's Column in the Eastern Transvaal, Natal and Orange Free State. This column operated mainly in the Lydenburg district and in April in the Middelburg district. The Official Records stated about these actions that,
'On 13th May, Kitchener's Column crossed to the south of the railway and made for the Ermelo district to take part in another sweeping movement towards Ermelo, under the direction of General Bindon Blood, and back towards the Ermelo-Bethal district. Captain Campbell (6th WAMI) was complimented by General Kitchener during operations at Farm House. On the 15th, there was a severe fight at Grobelaar recht, near Carolina in which the 5th had Lt Forrest and Sgt Edwards and Corporal Bollinger killed and four men wounded; and the 6th had four men killed, Lt SS Reid and four men wounded, one of whom subsequently died.' [2]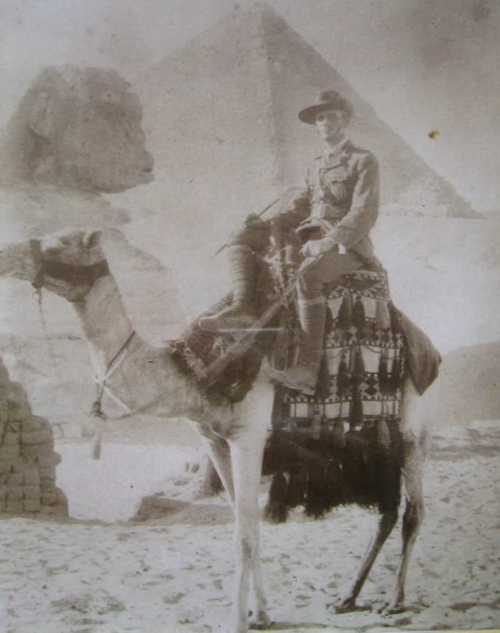 Repatriation
Subsequent fighting saw the WAMI involved in actions at Brakpan, where a VC was won and then on 23rd June at Renshoogte there was serious fighting which saw Lt Stanley Spencer Reid mortally wounded in action. Bardwell and the remainder of the WAMI returned to Middleburg and then moved further into the Eastern Transvaal to act for the rest of 1901 under the command of General Hamilton. Light casualties were sustained as the Contingent undertook many arduous marches in pursuit of the Boer, but to little avail. Eventually both Contingents embarked for Australia on 7th April 1902 arriving at Fremantle on the 29th and being disbanded on 17th May 1902. Due to contracting enteric fever late in the campaign, Bardwell appears to have been repatriated later than the main Contingent as he received a letter written by a former member of his unit.
'Perth. May 15, 1902. Dear Sir, I write on behalf of the non-commissioned officers and men of No.1 Division 'B' Company of the Sixth West Australian Mounted Infantry. I wish to express to you their appreciation for the very capable and pleasant manner in which you carried out the duties and responsibilities as their divisional officer, whilst on active service in South Africa., and I beg to hand you herewith a framed photo of the members of the division, who returned to Western Australia. Our only regret is that you were not able to be present to complete the group. Trusting that are now thoroughly recovered (from an attack of enteric fever) and wishing you every success. I remain, yours very faithfully, H.E. Blumenthal. (late Private Sixth WAMI) [3]
The Great War
Bernard and his younger brother Beresford both moved to Broome in West Australia after the Boer and purchased two luggers and established a successful business in the pearling industry. On the outbreak of the Great War, Bernard enlisted as a Lieutenant in the 16th Battalion and served on the Western Front before being promoted to Captain in the 48th Battalion. After being wounded in the leg in July 1916, he was later admitted to hospital in November with heart disease and was eventually repatriated to Australia, being discharged in July 1917. After the war he married and then resumed his operations in the pearling business and in 1920 the brothers landed a large pearl worth about £4000 or $700,000 in todays value. Whilst his brother Beresford became the Broome Harbour Master, Bernard became a Fisheries Inspector, eventually passing away in 1955.[4]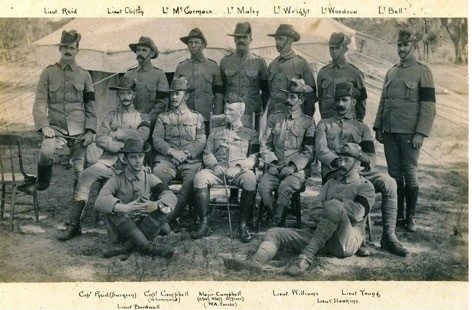 Officers of the 6th Western Australia Mounted Infantry
Lt Bernard Bardwell is seated on the ground at left in this photo of the officers of the 6th WAMI. It is undated but might have been taken to mark the death of Queen Victoria on 22nd January 1901, as they are all wearing black mourning arm bands on their left arms. Standing at the left is another Caulfield Grammarian, Lt Stanley Spencer Reid who was killed in action on 23rd June 1901. His older brother, the Unit's Medical Officer, Surgeon Captain Francis Reid who treated Stanley for his mortal wound, is seated at the far left. [5]
Read about other Grammarians who served in the Boer War such as Charles Reginald Handfield here.
Researched and written by Dr Daryl Moran (CGS 1966-70; staff 1981-93; current CGS Archives Volunteer).
[1] Murray, P.L. Official Records of the Australian Military Contingents to the War in South Africa, pp, 403- 404
[2] Murray, P.L. Official Records of the Australian Military Contingents to the War in South Africa. p, 418 – 419.
[3] nla.gov.au/nla.news-article33212201
[4] http://broomeanzacs.broomemuseum.org.au