Anna Skarbek (Class of 1993) is the CEO of ClimateWorks Australia, working to develop the low carbon economy. 
Anna attended Wheelers Hill Campus and has many fond memories of her time at school such as Yarra Junction, going horse riding and skiing, debating, lunchtimes in the Year 12 common room, watching her friends in musicals and house sports and arts competitions involving everyone. 
A member of Langley House, she was Co-Vice Captain in her final year at school and was awarded school colours in debating and drama. At Speech Night Anna was awarded the Dr George B Bearham Prize for the Dux of the School. She was the first female to be Dux of Caulfield Grammar School.
After graduating from Caulfield, Anna completed her surf lifesaving Bronze Medallion with a school friend and studied at Monash University, receiving a Bachelor of Commerce/Law double degree with honours. Anna worked hard to 'get her foot in the door' by doing internships with law firms and banks during university. She also joined volunteer environment groups and made her interest in the environment known to work colleagues and friends who worked in public policy roles.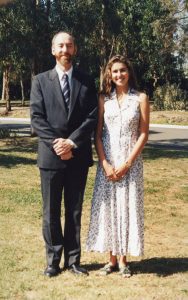 Early in her career Anna worked as an investment banker with Macquarie Bank's energy and utilities team, and solicitor with Mallesons Stephen Jaques. She served on the boards of The Big Issue and Amnesty International Australia, including as national treasurer. Anna also worked in carbon markets in London as a specialist investment adviser and as a policy adviser to the Deputy Premier of Victoria. 
In 2009 Anna accepted her current position as inaugural CEO of ClimateWorks in Melbourne. Co-founded by The Myer Foundation and Monash University, ClimateWorks adopts an independent and non-partisan approach to analysing emissions reduction opportunities and partners with business and government to unblock barriers to their implementation. In this role Anna works with multiple federal and state government departments as well as large corporate businesses, and other stakeholders including investors, business, environment and civil society leaders. 
Anna is a true advocate for environmental protection and comments that: "The natural environment keeps us safe and healthy so we must do more to protect it". 
"I love solving problems that matter and bringing good ideas to life and working on common goals with people who also care about making the world more sustainable. There is always interesting content to learn more about! I love learning about new environmentally positive solutions emerging all the time. In the future, I'll be learning about circular economy solutions and how to scale up fast, and how to embed soft skills of solving shared challenges into the core skills of all leaders." 
One of the downsides of her job is that "it can be hard saying no to too much work when there is so much to do and the challenge is big." 
In addition to her other roles, Anna was one of the founding directors of Australia's "green investment bank", the Clean Energy Finance Corporation, serving as a director from 2012 to 2017. She is a director of the Sustainable Australia Fund, the Impact Investment Group, the Green Building Council of Australia and of the Centre for New Energy Technologies. She is also a member of the Blueprint Institute's strategic advisory council and the Grattan Institute's energy program reference panel.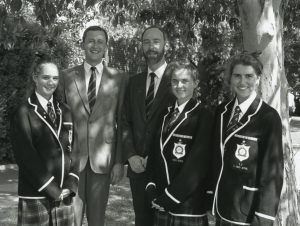 In 2020 Anna was the Mission Innovation Champion for Australia. She is a former director of the Carbon Market Institute and the Linking Melbourne Authority. She was a member of the Australian Government's Energy White Paper reference panel, Land Sector Carbon and Biodiversity Board and NGO Roundtable on Climate Change, and of Victoria's Independent Review of the Climate Change Act and South Australia's Low Carbon Economy Expert Panel.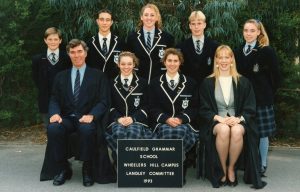 In addition to advocating for an environmentally friendlier tomorrow, Anna has her hands full with her two daughters aged 6 and 10. Anna and her family are often busy going for bike rides, orienteering, playing sport, being outdoors and playing board games.  
Recently Caulfield Grammar School named a new house at Wheelers Hill in Anna's honour, recognising her contribution to our School as a student and her subsequent contribution to the climate and clean energy sectors during her working career. The creation of Skarbek House provides a nice symmetry with houses at Wheelers Hill, the School's first co-educational campus, now honouring both the first female and first male (Wilsmore) Dux. 
The motto of Skarbek House is Strive to nurture people, passions, and the planet. Anna reflects on the motto by saying: "This is about encouraging a focus beyond the self, striving to think of the bigger picture and helping others make a difference to the future of the planet we live in". 
Anna's last piece of advice for future generations is to "say yes to as many opportunities as you can, pursue what lights you up, keep good friends around you and the rest will work itself out."