This is Alice's world, and we are all just living in it. From the Army to the AFLW and even appearances on RBT, Alice has put her foot forward to experience everything life has to offer.
Life After Caulfield Grammar
It's been 6 years since Alice graduated from the Caulfield Campus and for her, the time has flown. In Alice's first year out of school, she decided to join the Army as part of the Army Gap Year program. After coming back home at the end of that year, Alice had her first big break into the footballing world when she joined Richmond's VFLW side. In her early days at Richmond, Alice was still heavily involved in the Army Reserves which also included various deployments within Australia.
Alice was thrown into the deep end with her move to Townsville as part of her role with the Australian Defence Force. Although she was only there for six months whilst she completed all the initial training, Alice found it a massive first step in her post-school journey. This was Alice's first taste of living independently and working full time, but Alice has said that she aimed to make the most of the opportunity and learned a lot along the way.
The Path to AFLW
Back to her sporting endeavours, Alice spent most of her junior sporting career playing basketball and didn't start playing footy until much later than many of the girls around her. Alice has said that playing both sports at the start of her career was beneficial as she was able to implement different skills from each sport into the other and continue to improve in both.
Alice made her AFLW debut for Richmond in the opening round of the 2020 season against the old enemy Carlton at Ikon Park. From there, Alice continued her fine form and played every game of the 2020 season. Alice quickly became a crowd favourite and was never short of support from the sidelines. Come to the end of 2021, changes were made, and Alice found herself at a new club, the Western Bulldogs.
"Moving is always tricky, but it was exactly what I needed in that stage of my career, and it's been really beneficial to my footy and also my personal life. I'm extremely grateful the dogs gave me a second opportunity and I've really enjoyed my time there".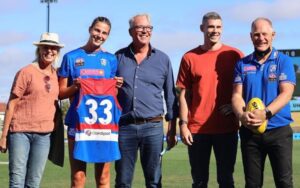 Western Bulldogs
Since her move to the Dogs, Alice has loved every minute of it. Initially signed as a replacement for an injured player, Alice has taken the opportunity with both hands and managed to play 9 games throughout the 2022 AFLW season.
Alice has one message for both younger and mature-aged girls wanting to play footy; give it a go! Alice has said it to be one of the best opportunities to make a whole new group of friends as well as a great way to stay fit and healthy. Along with this, if you don't enjoy it then you don't have to keep playing but you might end up loving it, like Alice did. When Alice started playing footy there wasn't a VFLW or AFLW league. Over the last 4 years since the AFLW competition first started, we have seen monumental steps in women's footy and although there is still a long way to go, Alice believes that if there is continued support and the skill of the game continues to improve then women's footy and the AFLW will continue its rise.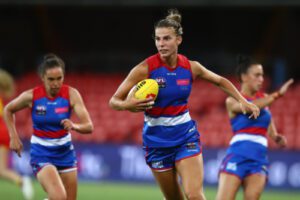 A Career Outside AFLW
Outside of her football endeavours, Alice also continued her army passion and has since started working for Victoria Police.
"It's obviously very challenging at times but I like that every day is different, and you are exposed to such a diverse group of society".
Alice regularly has packed days that include starting her work as a police officer at 4:30 am, working a full shift, and then heading to footy training in the afternoon, and not arriving home until after 9:30 pm. Some of you may have even been lucky enough to spot Alice on Channel 9's RBT, where she put her policing skills to action and gave us further insight into what her time working for the Victorian Police looked like.
During her time off, Alice has a passion for travel and loves making the most of each day. Alice has explored parts of Australia that very few get to go to and loves getting amongst the wild and the Australian outback. Alice also just loves having time to focus on work as well as spending more quality time with family and friends without having to juggle footy with it all.
We thank Alice so much for sharing her story with us and we wish her the very best for wherever her path takes her!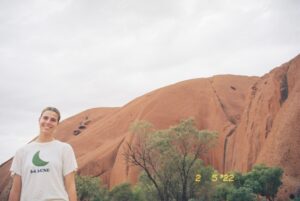 Keeping reading about our Young Alumni Tell Their Stories Month ambassadors with our profile on Issy Grant (Class of 2019), a fellow AFLW player for the Western Bulldogs alongside Alice, with a strong passion for female representation within the sporting world.
This profile was written as part of our Young Alumni Tell Their Stories Month – a month of content (including a social media takeover) by young alumni for young alumni. This initiative forms part of our broader Young Alumni Ambassador Program (YAAP).