Photo of the Month: Judo Club 1957
Do you have memories of the CGS Judo Club? This photograph printed in 1957 Caulfield Grammarian is captioned, 'Palmer and Holthouse practise a throw while the Judo Club look on'. The club continued into the 1960s and later in the 1990s a Taekwondo Club was active at the Caulfield Campus. Can you help, name the boys standing in the back row of this 1957 photo? Email your suggestions to archives@caulfieldgs.vic.edu.au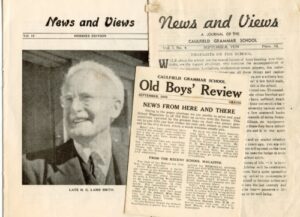 Forthright Journalism – News and Views – A Magazine Journal of Caulfield Grammar School.
An ongoing activity from 1939-1960 was the weekly production of "News and Views," comprising about four pages of school news completely set up and printed by students using the letterpress process on a treadle powered platen press. Starting in 1939, the editors had 3 aims, firstly to keep students informed, secondly to get students contributing and assisting in the production and thirdly, to provide a medium where opinions can be shared and to foster a healthy public opinion in the school.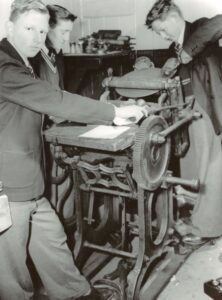 Editions varied in size due to the availability of paper and budget! Usual articles were Letters to the Editor, reports on house and sports results, film reviews, poetry and opinion articles, activity reports on hiking, form plays, hobbies, and inter-school sports. During WW2 regular updates were enlistments, casualty lists and advice on air raid precautions. Many students learnt valuable skills in writing, budgeting, using the press and meeting deadlines. 
Did you know that a Coronation Edition (June 1953) of "News and Views" was sent to Her Majesty Queen Elizabeth II and a letter of acknowledgement, received by the CGS editorial staff?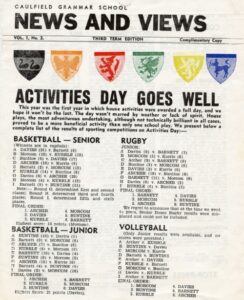 In my role as an Archivist, I find myself regularly examining these journals as a representation of every conceivable aspect of school life. How fortunate we are to have these N&V editions and later publications expressing student opinions, creative writing, and photography, such as Demos, extempore and Miscellany.
Archives Office and Services:
Term One 2022 has been memorable as students and staff have returned full-time and lived with COVID without the necessity for lockdowns. Many thanks to the past students and staff who made contact helping to name the Year 3 Malvern students with Mr Adam Heath at Yarra Junction featured in the March CGA Online news, named as Claire McMorrow, Evan Friedin (left) and Annish Tiwary (right). 
As always If you have any memories to share, questions, reference enquiries or offers of donations of memorabilia, phone (03) 9524 6249 and leave a message or email, archives@caulfieldgs.vic.edu.