The Caulfield Grammar School community was saddened to learn of the death of Anthony William (Tony) Johnson on 4 March 2021.
Tony was born in Malaya on 4 July 1940. His parents were living as expats in Kuala Lumpur at the time but his mother (Kathleen) and 18-month-old Tony were forced to flee after Japanese forces started bombing. His mother was heavily pregnant with her second child (Tony's sister Margaret) and could only take what she could carry. His father (William) enlisted with the volunteer forces and, after months of fighting, managed to escape Singapore and was reunited with his family in Melbourne.
Dux of the School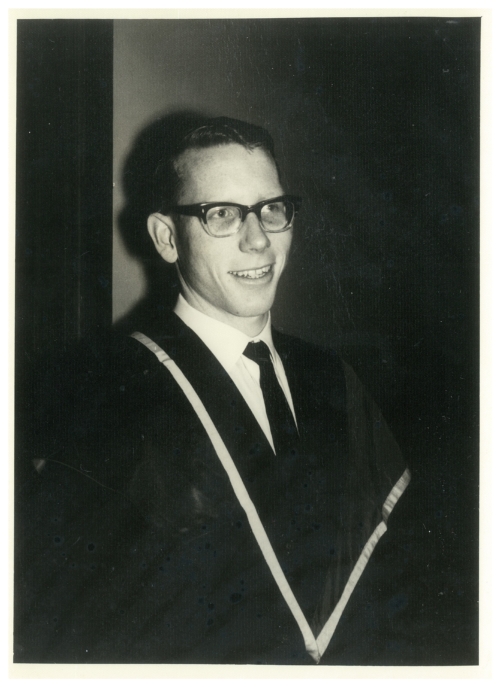 William Johnson had attended Caulfield Grammar School from 1924 to 1929 and Tony commenced as a second-generation Grammarian in 1950. He enjoyed his time at school, achieving outstanding academic results that culminated in him being Dux of the School in 1957. He also made many friends and participated enthusiastically in games.
CGFC & CGA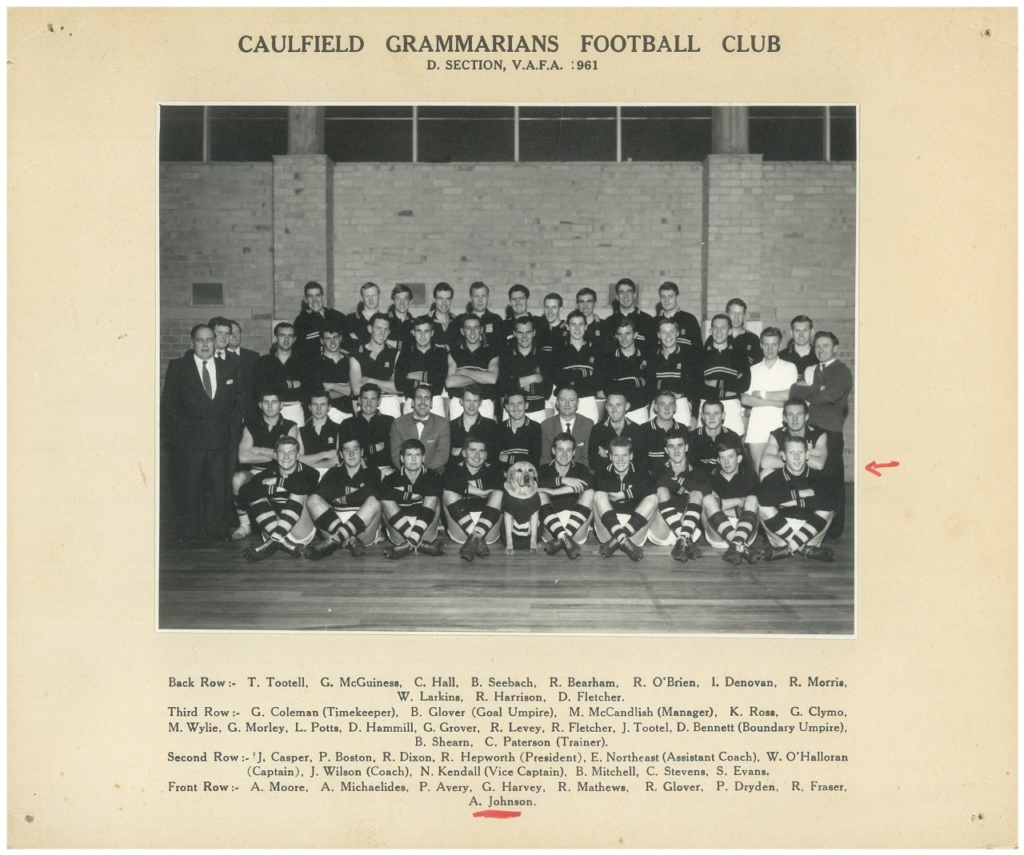 After leaving school, Tony began playing for the Caulfield Grammarians' Football Club. He played 76 games for the Club over six seasons and was involved when it won the 1961 D Grade premiership. Tony's eyesight was poor, and the fact that he often played without glasses or contact lens, led to a few accidents including running into the fence at Oval 3, Albert Park, during one game. He continued his involvement with the Club following his retirement as player, acting as a runner and boundary umpire, joining the Committee and generally being a loyal supporter of "The Fields". His service was recognised by Life Membership of the Club.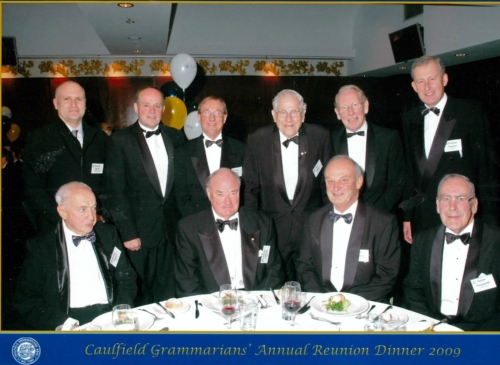 Tony also became actively involved in the Caulfield Grammarians' Association (CGA), being a member of the Committee for a number of years before being elected President in November 1985. While serving in that position for two years he was also a member of School Council. In 2009 Tony was made a CGA Fellow in recognition of his more than 50 years' service to the Association and the Caulfield Grammar School community.
A tough litigator
Following his secondary education, Tony entered the University of Melbourne, graduating with the degrees of Bachelor of Arts and Bachelor of Laws. Having decided to practice as a lawyer, he served his Articles with the respected firm of Gillot Moir and Ahearn (now the national firm known as Minter Ellison). He was admitted to practice in March 1964.
Whilst at Gillots, Tony struck up a friendship with Morven Bond and together they acquired the firm of Ronald Stewart McIntosh & Co. in 1966. Shortly after this, Tony finished third in the prestigious Solicitors' Prize (awarded annually). In late 1969 Tony and Morven were joined by David Williams (CGS 1954-61) and, by June of the following year, Ronald Stewart McIntosh & Co. had merged with the well-established firm of Purves & Purves.
Tony's skilled as litigator really came to the fore at Purves & Purves, where he was exposed to some of the firm's prized clients including AMP, the TAB, the City of Brighton and the Victoria Racing Club (VRC). Tony loved racing and gained great satisfaction from acting for the VRC, particularly in a number of cases where jockeys and trainers were prosecuted for breaches of the Rules of Racing. In 1995 Tony's ability and experience was recognised when he became a LIV Accredited Commercial Litigation Specialist. He went on to become an accredited mediator in 1997.
Tony left Purves & Purves (by then Purves Clarke Richards) in October 1997 on the same day as David Williams. David said at Tony's funeral (held on 12 March) that he could vouch for the fact that Tony was "a tough litigator and black letter lawyer, who would have made his clients very comfortable and his opponents decidedly uncomfortable!" Tony then worked as a consultant for Tress Cocks & Maddox and O'Donnell Salzano before his distinguished legal career was cut short by the onset of Alzheimer's disease.
The great outdoors
Away from work, Tony took great pleasure in being outdoors. In his younger days he enjoyed his involvement in the scouting movement and later re-engaged with the scouting community when his sons joined the 8th Brighton Brigade. He loved hiking and camping with family and friends, and used to tell his children that he knew the Victorian High Country like "the back of his hand". He also enjoyed swimming, cycling and running, completing many marathons over the years. Golf was a game that he invested a lot of time in and he loved being on the golf course with friends.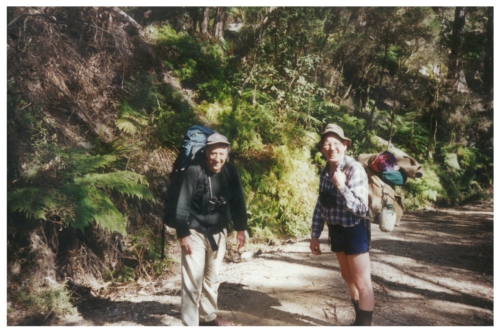 Tony's love of travel started at university and he worked hard to fund his trips. A self-confessed Grecophile, he visited Greece more than any other place outside Australia – enthralled by the history, culture and landscape. He really enjoyed the trip he made there with best friend and Grammarian Tony Michaelides, who he affectionately called "The Greek".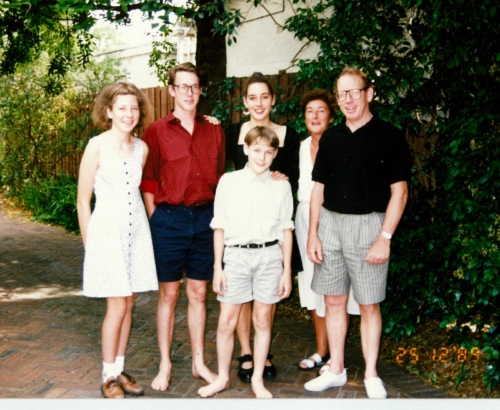 Vale
Diagnosed with Alzheimer's disease when he was 67, Tony fought a long battle with the disease. He is survived by daughters Claire and Fleur and sons Neil and Ross (both Caulfield Grammarians). At his funeral Fleur, who looked after Tony for more than seven years before the family made the difficult decision to move him into care, said that he was "extremely committed to family and instilled his strong values and work ethic in all of us, as well as a love for the outdoors, nature and travel". He liked to recite Caulfield Grammar School's motto Labora ut Requiescas – "work hard that you may rest content" – as a lesson to his children and Fleur said that he was determined lived this motto to his last breath.
Tony will be missed by his many friends in the Caulfield Grammar School community.  We extend our condolences to his family.
(Thanks to Fleur Johnson, Neil Johnson and David Williams for their assistance in preparing this profile.)