Roger Rayson attended Caulfield Grammar School from 1947 to 1957, following in the footsteps of his father Max who had been at the school in 1926 and 1927. Like Max, Roger was a member of Caulfield's first cricket team and later went on to play for Victoria. Max's father, Bill, although not a Caulfield Grammarian, was also a Victorian cricket representative. All three were leg-spin bowlers.
Roger played under-age cricket at school until 1956 when he gained promotion to the firsts. He took 21 wickets during the 1956 season, including 6/68 against Haileybury. The following year he was the leading wicket-taker with 37 dismissals at an average of 9.7 and was awarded school colours.
After gaining the Intermediate Certificate at Caulfield, Roger moved to the Caulfield Technical School (CIT) to study mechanical engineering. Having played Dowling Shield (under 16) cricket with Melbourne he moved up to their colts team, and then to their third and second elevens.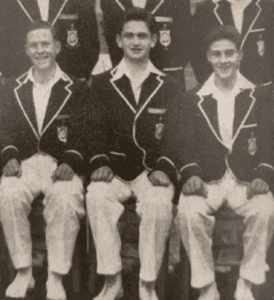 Roger (centre) in 1957 Caulfield cricket team.
Roger broke into Melbourne's first eleven during the 1963/64 season and was included in the state squad the following season after being spotted by Victorian selector, Jack Ryder. He played his first game for Victoria against Western Australia in November 1964 and went on to play 17 further games for his state over the next three seasons. Roger played over 100 games for Melbourne in its senior elevens from 1963/64 to 1974/75. A right-arm wrist spinner, his best bowling figures for Victoria were 6/97 and 4/91 in a drawn match against South Australia during the 1965/66 Sheffield Shield season.
Roger spent six years working in the ball and roller industry after completing his four-year course at CIT. He and wife Sue then moved to Canada in 1968, where Roger spent a further five years working in the same business in the technical and marketing areas. Returning to Melbourne in 1973, he was employed for the next 20 years by the US corporation Raychem, which produced specially modified heat shrinkable polymers. Most of this time was spent in the Oil and Gas Division and involved considerable international travel.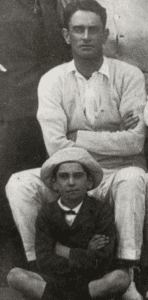 Max sitting on ground in front of his father who was playing for East Melbourne. This photograph was taken in 1921 during one of the last games at the teams famous ground before it was taken over by the railways. 
During his time in Canada, Roger played cricket for the Toronto Cricket, Skating and Curling Club in the local competition that comprised about 40 teams. He also toured the UK with the club, playing against county and local sides, and represented Ontario against in a match against Quebec and Toronto in a game at the Marion Club in Philadelphia.
Roger went back to playing for Melbourne after returning from Canada, finishing his cricket career in 1982 at the age of 40. He retired from the business world in 2006 and moved to a property near Castlemaine. He has been a long time member of the Vintage Sports Car Club of Victoria and a member of the Melbourne Cricket Club for over 65 years.
Max Rayson was one of the leading wicket-takers in Caulfield's 1927 first cricket team that finished equal second in the competition behind Brighton. His coach, Billy Morcom, reported that he was "an aggressive left-hand bat" and commented that his bowling had improved considerably from the previous season: "He turns the ball both ways with the same action, and has great possibilities".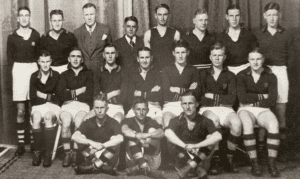 Max (far left, back row) during the period spent playing with the Old Grammarians.
After finishing school, Max played a couple of seasons with the Melbourne Cricket Club before moving to Collingwood. He also played for the Caulfield Grammarians' Football Club and the Melbourne baseball team. At Collingwood his captain was the legendary Jack Ryder and he enjoyed his cricket there. He played three games for Victoria during the 1937/38 season, taking 16 wickets.
War service curtailed his sporting career. He joined the Army during the Second World War and did Intelligence work in New Guinea. This meant going behind enemy lines and in addition to the risks of such operations, he contracted malaria.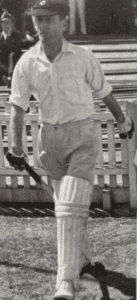 Max opening batting for Collingwood.
After the war, Max returned to his job as a cost accountant with H H Webb & Co. and transferred from Collingwood to the Prahran Cricket Club because he and his young family were living in the Prahran area. He became the club's captain and coach in 1951/52. When he finished his District Cricket career he moved to the sub-district club Caulfield as captain/coach.
Max lived in the Caulfield area in retirement and played lawn bowls for Caulfield Central RSL. He died in 1993, aged 80.
Roger's brother, Ian, also attended Caulfield (1952-63) and was a member of Caulfield's first cricket team, being the leading wicket-taker in the 1963 season. The Rayson family's association with Caulfield continued when Roger's children Caroline (1988-91) and Gregor (1990-94) attended the Wheelers Hill Campus. Gregor (Greg) was a member of the first cricket and basketball teams in 1994. Roger is pleased to report that his two grandsons, aged eight and 12, are currently playing under-age cricket at local clubs.
[Major source: Dennis Carroll, The Associated Grammar Schools of Victoria. A Sporting and Social History, Dennis Carroll, 2009 (profile on Max Rayson, p 46 and profile on Roger Rayson, p 126)]