Members of the CGA's Marsden Chapter were saddened to learn of the death of Michael Macgeorge in September, aged 93.
Michael attended Malvern Grammar School from 1936 to 1941. He was the fifth of five brothers to attend the school. In his final year Michael completed the Intermediate Certificate and was a member of the first cricket team.
Eager to pursue a career in journalism, at age 15 Michael seized the first opportunity available to join the Age newspaper, where his grandfather (Jack Stephens) had served as chief sub-editor from 1885 to 1935.
Michael started work as a junior clerk in the original Collins Street offices of the Age in 1942 and became a cadet journalist with the paper 18 months later. He was transferred to Canberra in 1951, where he spent six years as a political reporter, gaining wide experience and an interest in federal politics.
Returning to Melbourne, he became Chief of Staff at the Age in 1960 and after six years in the job, was moved to London, where he managed the paper's office there for five years. Back in Melbourne, he became the first industrial manager for David Syme and Co (the publishers of the Age for many years) in 1975.
John Tidey, a colleague of Michael's at the Age for more than 25 years, commented that "this last appointment was an extremely challenging role dealing with a range of unions at a time of great technological change in the newspaper industry". Nevertheless, John writes: "It was a job he went about with his trademark calm and thoroughness."
Tidey quotes the former managing director of David Syme and Co, Ranald Macdonald, as saying that Michael's "influence in the vital areas of personnel management and industrial relations extended beyond the Age. He was held in high regard by all and enjoyed the unwavering support of his loving wife, Nina."
Michael retired from the Age in 1991 after 50 years of distinguished service. He continued as a consultant for a while and for 12 years, from 1993, edited and produced the newsletter of the Victorian Industrial Relations Society.
Entering the voluntary world after retirement, Michael was introduced to Probus in 2007 and soon became assistant secretary, secretary and then president of his local group.
Michael always maintained an interest in his old school. Following the affiliation of Malvern Grammar School with Caulfield in 1961, all past students of Malvern became eligible to join the Caulfield Grammarians' Association (CGA). In 1992, the Marsden Chapter, a special chapter within the CGA for past students of Malvern Grammar, was formed under the presidency of David Lauritz (a student at Malvern from 1942 to 1955). Michael was a member of the original Marsden Chapter steering committee and was a wonderful supporter of the Chapter from its establishment. He rarely missed a Marsden Chapter function and supported the efforts made by past students, particularly Graham Farley ad Brian Frost, to maintain and develop the Malvern Grammar School archives collection. This collection remains part of the Caulfield Grammar School's archives collection under the care of School Archivist Judith Gibson.
Michael was particularly interested in the history of "Valentines", the magnificent 40 room, heritage registered, Italianate mansion that became the home of Malvern Grammar in 1924 and is now part of Caulfield's Malvern Campus. Valentines was built in 1892 for Victorian Cabinet Minister and Attorney-General, Sir John Mark Davies. The Davies family lived there until Sir John's death in 1919. Michael's book, The Lives of Valentines, published in 2004, provides a wonderful insight into the early history of the building and into the Davies family.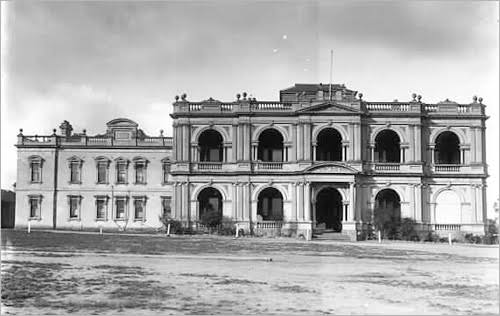 Six of Michael's nine grandchildren have attended Caulfield Grammar. These are daughter Greta Hawke's three children Ed (Class of 2009), Tess (2010) and Will (2013), all boarders, and daughter Sue's three children Georgia (2016), Kate (Year 12 in 2019) and Harry (Year 9), who each began at Malvern Campus. Sue's husband is Paul Runting, Deputy Principal – Head of Wheelers Hill Campus since 2005.
Michael is survived by his wife Nina (they were together for 63 years) and daughters Jenny, Greta and Sue. Jenny has three children – Sam, Charlie and Pip. Michael will be missed by his many friends in the Marsden Chapter.
Feature photo: Michael Macgeorge (2nd from the right) with fellow Marsden Chapter Members at the 2019 Combined Chapter Luncheon.