Lachlan ('Lockie') Kellaway was a student at Wheelers Hill Campus from 1984 to 1989 (Years 7 to 12). He was captain of the first eighteen football team and vice-captain of the first eleven cricket team in his final year, and was awarded a number of prizes for sport at Speech Night. A member of Lumsden House, he served on the School Committee in 1989.
Wheelers Hill days
Of school days, Lockie remarks: "I think friendships are borne from shared experiences. The sport, the camps, the house competitions (as well as the general schooling) helped me to make friendships that continue to this day. I try not to overly reminisce about the past, but an APS cricket premiership in Year 11 and a shared football premiership in Year 12 are certainly fond memories."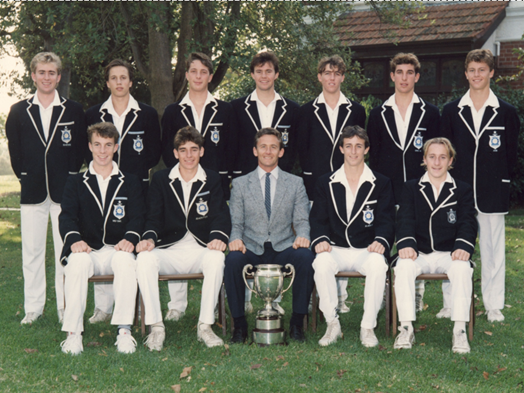 Moving into physiotherapy
After summer of fun and some hard pre-season football training following graduation from Caulfield, Lockie launched himself into physiotherapy studies at university. He graduated as a physiotherapist form La Trobe in 1994 and spent the first seven years of his career at Croydon Sports Medicine Centre, his first job coming following a recommendation from a university tutor who worked at the Croydon Centre.
Lockie completed a post-graduate diploma in occupational, health and safety in 2001, and moved to a physiotherapy/injury prevention role at Holden's headquarters at Fishermen's Bend. He has worked at Parkmore Physiotherapy Centre since 2002. He says that he chose physiotherapy as a career because he was interested "in the human body and how it performs physically". He adds:
"I also liked working with people and trying to help them. My vocation has its positives and negatives (like any job), but these interests continue and give me the feeling that I am in the right sort of job for me. I am always learning more about general medical/health conditions."
He continues: "As a physiotherapist it is very important to have a broad understanding of many medical/health conditions and use this understanding to tailor your physiotherapy interventions and refer on to other health professionals appropriately".
Starting his own practice
Lockie believes that his decision to buy an existing practice at Parkmore, that he thought had potential, was a good one because it is still working there nearly 20 years later – now together with a business partner. The practice has proved successful but Lockie works long hours and hopes that he might be able to reduce his time commitment to some extent in the future. Nevertheless, he says that:
"It is always very hard to recruit experienced physiotherapists to come and work in a suburban private practice like ours and this has become near impossible with the addition of Covid."
Marriage to Robyn has led to "a happy and fulfilling life", according to Lockie. Away from work he spends most of his time involved in family and sporting activities. He regularly watches or practises cricket, football, netball or touch rugby with his children (Campbell, Eliza and Christopher) or tries to squeeze in some time for golf or fitness work himself. He enjoys the "vagaries" of golf because just when you think you've "got it" you quickly return to feeling like you're a "hack".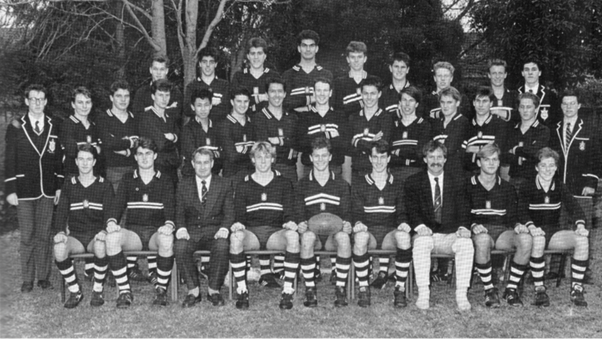 The Kellaways and their lasting impact
After leaving school Lockie represented Collingwood at under 19 and reserves level before moving to VFL club Sandringham where he won two best and fairest awards and was a premiership player. He continues his interest in football through providing physiotherapy to local players and coaching junior teams. He also did some coaching at the Caulfield Grammarians' Football Club for a time.
Lockie's younger brothers Duncan and Andrew, who also attended Wheelers Hill Campus, both had successful AFL careers at Richmond. Duncan played 180 games for the Tigers from 1993 to 2004, while Andrew played 172 games from 1998 to 2006. Duncan had a season with the Caulfield Grammarians after retiring from the AFL.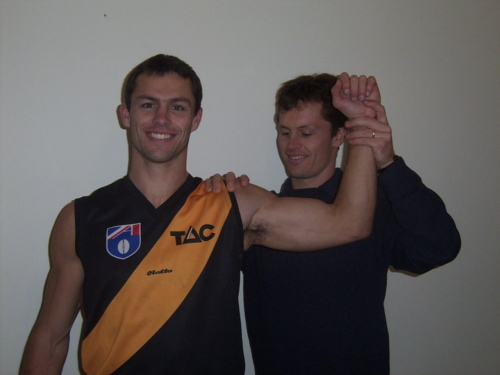 Caulfield's parent support group for football is named the Kellaway Club in recognition of the contribution that Lockie, his brothers and his parents (Peter and Annette) have made to football at the School over many years.
Lockie's children have all attended Caulfield Campus, Campbell completing his Year 12 studies in 2020. Eliza is currently in Year 11 and Christopher in Year 9. Lockie's advice to current Year 12s and young alumni is:
"Aim to find a balance in life – study, work, career, friends, family, hobbies, fun, fitness, hard work, relaxation – they can all be a part of life and too much or too little of any one can be dangerous."
Keep reading about our Wheelers Hill graduates with our profile on Tessa Wallace, who is dedicating her days to working on organic farms.