Born in Bendigo on 18 November 1881, Herbert Humphreys Hunter was educated at Caulfield Grammar School before completing his final year of schooling at Melbourne Grammar School. He was an outstanding schoolboy athlete, who later won a double blue in football and athletics while studying at the University of Melbourne. After gaining a qualification in dentistry from Melbourne, he continued his studies at the University of Pennsylvania, receiving a Doctor of Dentistry from that university in 1906. He was registered to practice dentistry in the State of Victoria in December 1907 and opened a surgery in Bendigo in 1908.
VFL – Essendon
Herbert Hunter made his VFL debut for Essendon in 1900 while still at Melbourne Grammar. His first game was in Round 4 against Collingwood and he played the following two games against Carlton and St Kilda. All these games resulted in wins for Essendon. After his first match the Australasian reported that: "Hunter did artistic and very valuable work about the centre." Nevertheless, his three games in 1900 were his only VFL appearances as he bowed out of league football, presumably to concentrate on his studies and on athletics.
Herbert Hunter won a number of schoolboy athletics championships in both sprinting and the long jump. Later, he was prominent on the national athletics scene, winning the Australian championship in the long jump in 1902.
Landings at Gallipoli
Having enlisted early in the war, and having been granted a commission with the rank of Captain, Hunter sailed from Australia on October 19, 1914, and took part in the original landings at Gallipoli. In early May he was shot in the foot while taking part in the assault of Krithia. He was subsequently carried out of the firing lining and when it appeared that he was in a position of safety, the bearers lay the stretcher down so that they could dress his wound. While they were doing this a stray bullet landed between them and shot Hunter in the head, killing him.
Clunes Mathison
In his book Farewell, dear people: biographies of Australia's lost generation, Ross McMullen notes that the circumstances of Hunter's death were similar to those of Clunes Mathison, who had attended Caulfield Grammar at the same time. A brilliant scholar, who became a noted physician and medical researcher, Mathison was appointed the first director of the Walter and Eliza Hall Institute for Medical Research but died at Gallipoli before he could take up the appointment. Mathison's story is told in some detail in McMullen's book.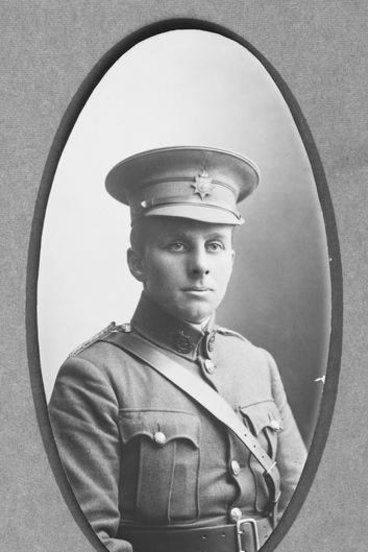 Hunter remembered
Of Hunter McMullen writes: "Herbert Hunter was a striking example of the outstanding men that Australia could ill afford to lose. It was not just his sporting feats – playing VFL football as an 18-year-old schoolboy, winning the state sprint title, and becoming Australasian long-jump champion. He was a leading dentist and a popular community identity in his native Bendigo. …"
Following Hunter's death, a shield was presented to the Victorian Amateur Athletics Association (VAAA) in his memory for annual competition at the Victorian Championships. It was carved from Australian blackwood by prominent South Yarra artist Robert Prenzel. The "Hunter Shield" is now presented to the club that performs the best in the Open Victorian Championships.
Want to learn more about Grammarians who served at Gallipoli? Read about Captain at Gallipoli – Andrew Percival Rowan.
Researched and written by Dr Daryl Moran (CGS 1966-70; staff 1981-93; current CGS Archives Volunteer).