Frank Valentine Weir was born at Deniliquin, NSW, on February 14th 1878. He was the son of Joseph and Mrs Weir of 'Ashton' Canterbury Road, Warrnambool and attended Melbourne Grammar School in his primary years and then entered CGS (no. 400) in 1893 aged 15. This was the same year that fellow Boer War veterans, Edward Arthur Duncan and Tom Stock also enrolled at CGS. The following year, 1894, he returned home to complete four years of secondary schooling at Warrnambool College. The school magazine makes mention of his Boer War and Great War military career in its issue of December 1916 and states in part;
'Captain Frank V Weir, was at CGS in 1893. When the Boer War broke out in 1899, he was one of the first to volunteer, and went out with the (NSW) Bushmen's Contingent'.
This is the first mention in CGS records of Weir having served in the Boer War and his name is not included amongst earlier lists compiled by the school. Perhaps having joined an interstate unit, his service was not prominently recognised. Nonetheless he undertook two separate periods of service in South Africa and as the record shows his first period was with the New South Wales Contingent of Citizens' Bushmen which was raised in the first instance by public subscription; hence the name. The object was,
'… to enrol a regiment of countrymen acquainted with the vicissitudes of bush life, good shots, good riders and of sound physique – such a class of men, in fact as would be fitted to cope with the enemy, according to the methods of the latter. Preference, therefore would be given to men who had previously served in South Africa and/or those having experience of country work in Australia, management of horse and bush travelling.'
Ideally suited for this work, Weir enlisted (no. 15) in A Squadron of this unit and was listed in its original roll as being aged 22 years and 10 months old, of height 5 feet 8 ½ inches, and a station overseer of North Yanco, near Leeton in NSW. The Australian War Memorial noted that, the New South Wales Citizens' Bushmen was the third contingent sent by New South Wales to the war in South Africa and consisted of 30 officers and 495 other ranks, with 570 horses. The unit left Sydney on 28 February 1900, on board the transports Atlantian and Maplemore, and arrived in Cape Town on 2 April. The ships then proceed to Biera, where they disembarked on 12 April and proceeded to Bulawayo, Rhodesia (now Zimbabwe).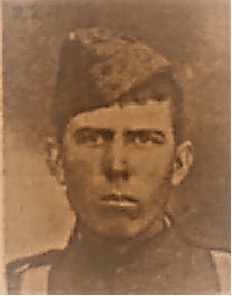 The regiment was divided into four mounted rifle squadrons and the regiment's staff along with A Squadron and Weir, served under General Plumer and participated in the relief of Mafeking in May. At one stage the Bushmen were left behind as garrison troops to carry out patrolling, scouting and other general tasks. Weir commented in his diary that they had been left behind,
'Owing to our Regiment being so small and our officers not in favour. Our work is added to by the Division leaving 56 of their sick horses to attend to and the work is so heavy that (even as a Sergeant-Major) I have to take a patrol myself in the morning.'
Still under Plumer's command, they subsequently also served as part of General Baden-Powell's column in the relief of Rustenburg in July. The rest of the regiment, B, C, and D Squadrons, took part in a heavy engagement at Koster's River on 22 July 1900, in an attempt to relieve the Eland's River garrison. A Squadron, with Weir present was part of a force which defended the Eland's River post against a Boer force of about 1,000 men for 13 days until they were eventually relieved by Lord Kitchener's force on 15 August and Lord Methuen's column also arrived three days later. In 1901 the bushmen continued to serve under Plumer, operating in the Transvaal and the advance on Pietersburg. It was in one of these actions when Weir was to figure prominently.
'On January 12th 1901 when the small convoy escorted by West Riding Infantry and Citizen's Bushmen detachments was about to be attacked, the wagons were halted and drawn up on the open veldt and the only cover was the long grass. The small force was dispersed as best it could be and Sergeant-Major Weir took over command of the right front sector with a section of twelve men. The infantry soon began to run out of ammunition and a Corporal volunteered to run back to the wagons to get some more, but was immediately wounded. Sgt-Major Weir dressed the Corporal's wound under fire, but was himself shot in the face. Sgt Major Weir continued firing until he fainted from blood loss. The infantry had no ammunition left, men were being wounded and the Boer fire was coming from only about 150 yards away.'
In a report about the action to the Chief Staff Officer on January 18th 1901; Lt. Colonel H.B Jeffries, Royal Horse Artillery mentioned,
'The distinguished conduct of Sergeant-Major F.V Weir, 1st Australian Bushmen, appears to have behaved with great gallantry. He was twice shot in the face and continued firing until he fainted.'
A letter to Weir's mother at Deniliquin on 6th May 1901, from Sgt Charles Druitt, (No.14) and also from A Squadron recalled the incident.
'He was hit through both cheek bones, causing the mouth to be slightly stiff and as an operation was necessary he proceeded to England to Netley (Military) Hospital on 7th March 1901. He and I have been great chums all through the campaign.'
Sergeant-Major Weir was mentioned in C-in-C's despatches on 8th May 1901. In the meantime the regiment had embarked at Cape Town and returned to Australia on 9th June 1901, disembarking in Sydney two days later.
After treatment and convalescence, Frank Weir returned to Australia and promptly enlisted in the 1st Battalion of the newly formed Australian Commonwealth Horse. This was a mounted infantry unit of the newly constituted Australian Army formed for service during the Second Boer War in South Africa in 1902. It was the first expeditionary military unit established by the newly formed Commonwealth of Australia following Federation in 1901.
Battalions of a representative character were formed, with squadrons from different States with the first made up of three units from New South Wales, one  from Queensland and one from Tasmania. The men selected were required to be good shots and good horsemen; men of previous experience having preference, if medically fit. Only single men were taken and unmarried officers had preference.
The 1st Australian Commonwealth Horse (ACH) (New South Wales units) with 21 officers, including Weir and 354 soldiers embarked at Sydney on the transport "Custodian" on 18th February, 1902, and disembarked at Durban on 19th March, 1902. They eventually joined the Column under the command of Colonel De Lisle, which formed part of Thorneycroft's brigade.
The Column was employed clearing the district north of Klerksdorp, and took part in a drive which commenced on 7th May, moving westward to the Kimberley – Mafeking railway blockhouse line. In this, 251 prisoners, including General De la Rey's brother, were captured, also 300 horses, 144 riders and bandoliers, 6,000 rounds of ammunition, and a large quantity of stock. Colonel De Lisle, who was leaving for England, handed over his command to Colonel Williams. The Column then returned to Klerksdorp, reaching that place on the 21st May, where the regiment remained until the declaration of place, when they were ordered to Elandsfontein to prepare for return to Australia. Having seen only two months of active service, the 1st ACH were luckier than many other units which were still sailing for South Africa when peace was declared. Twenty-one officers and 330 others returned by transport 'Drayton Grange' which left Durban on 11th July, and arrived at Sydney on 11th August, 1902, having called at Albany and Melbourne on the way. Frank Weir's two periods of active service were acknowledged by the awards of the QSA and 4 clasps and the KSA and two clasps.
Upon the declaration of war in 1914, Frank Weir enlisted in the Australian Light Horse and saw action at Gallipoli, where he was wounded and also with the Egyptian Expeditionary Force where he was again wounded twice. He married Dorothy Isherwood at St Anne's On Sea, England on 2nd October 1916 and then as a Major was posted to the First Light Horse Brigade HQ. He saw action on the Western Front and was awarded the Distinguished Service Order (DS0) on 25th July 1918, for acts of gallantry and devotion to duty in the field. After the war he resumed his farming activities in the Deniliquin area and died in February 1966.
This profile was researched and written by Dr Daryl Moran (CGS 1966-70; staff 1981-93; current CGS Archives Volunteer).