Claude Terrell Crowl died at Gallipoli on 25th April 1915. He was born at Stratford in Gippsland on Boxing Day 1892, the son of Richard Terrell Crowl and his wife Jane.
Boarding at Caulfield
Crowl was brought up on the family property at Poowong and enrolled as a boarder at Caulfield Grammar in 1903 or 1904. He was a member of the Chorister Class from the Holy Trinity Church and left at the end of 1905.
Although he was too young to make his mark on the football field while at Caulfield, Crowl won the under 14 athletics cup in 1905 and then represented the School in the 1905 School Championship of Victoria at the MCG. Crowl finished third in the under 14 100 yards and helped Caulfield to win the championship ahead of Brighton Grammar.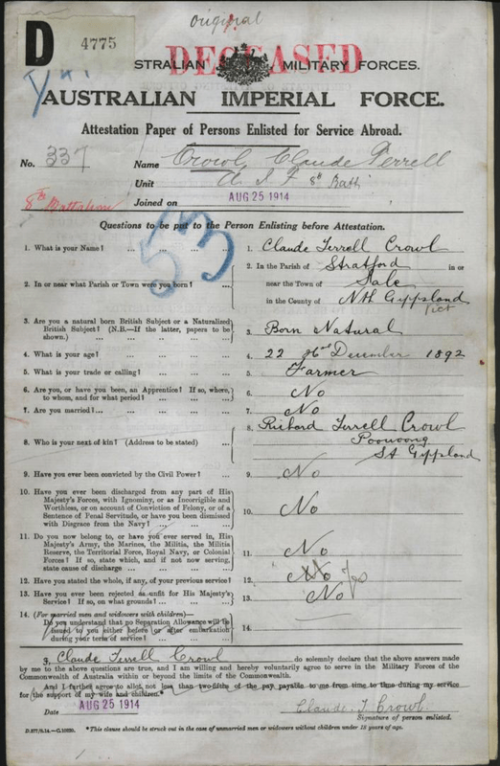 Footballer at St Kilda
Crowl was a talented young footballer and signed with St Kilda in 1911, playing three games for the club. He made his debut in the back pocket against Carlton in Round 15, held that position for the next round against Essendon and then played at centre half-forward in Round 17 against Richmond. Crowl disappeared from the football scene after 1911, returning to the country where he was living at the outbreak of war.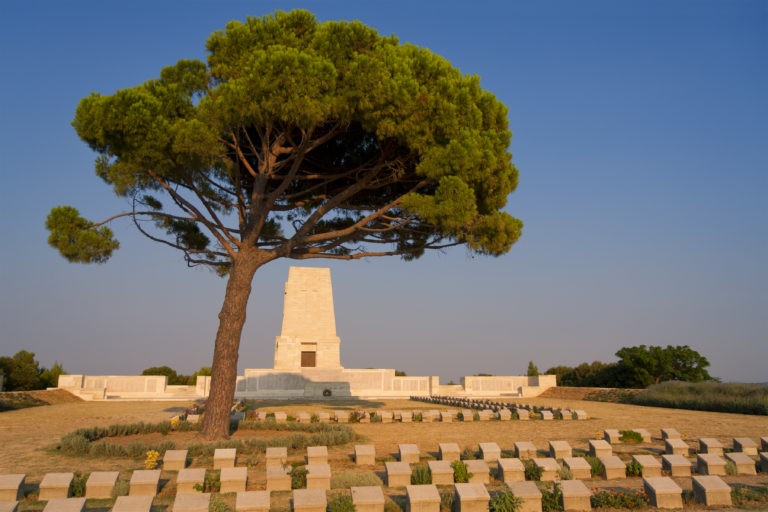 Private Crowl
Crowl became a private in the first AIF in the 8th Battalion and departed Melbourne on October 19, 1914 on the Benalla. It is not known precisely how he met his death, although it can be assumed he was one of the many Australians hit by Turkish bullets or shells that fateful day. On his passing his family received a brown paper parcel with his personal effects: a handkerchief, a gift tin purse, a metal watch and strap (damaged), a strop (razor strap) and a metal ring. Crowl has no known grave, however his name is commemorated on the Lone Pine Memorial at Gallipoli as one of Australia's honored dead.
Perhaps a strange coincidence in Crowl's story is that he made his AFL debut against another debutante, Fenley 'Fen' McDonald, who later fell with him on the first day of the Gallipoli landings. They are among six League footballers killed that same day – April 25, 1915. Both McDonald and Crowl were honored on the 100th Anniversary of Gallipoli at the 2015 Anzac Day Centenary match between St Kilda and Carlton with a special medal named in their honour awarded to the best player on the ground.
Read more of our alumni ANZAC profiles here.
Researched and written by Dr Daryl Moran (CGS 1966-70; staff 1981-93; current CGS Archives Volunteer)