FLAG RETURNED TO SOLDIERS FAMILY AFTER 75 YEARS.
"It might have been a flag to us but you sent his spirit home" Masako Sakamoto
Sometime late in World War II an Australian soldier, Ashie Garrard from the small Riverina town of Berrigan captured a Japanese Friendship flag in Borneo and sent it home to the children of a family friend as a souvenir.
A Friendship Flag was a Japanese Flag signed by the soldiers family and neighbours as a token of good luck prior to the embarkation of the soldier to war.
The name of the soldier was Shinji Takeda.
The children who received the flag were the three Abbott brothers and their sister who were the children of then local solicitor in Berrigan.
For many years the friendship flag has been in the possession of William Abbott who tried to find a way to repatriate the flag or find a suitable place for it to be retained.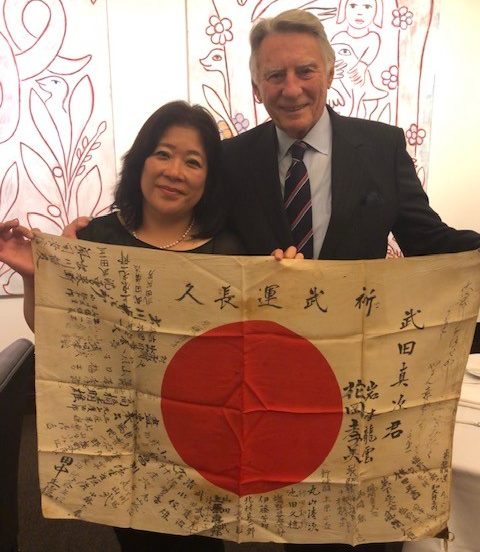 On the arrival of the flag in Berrigan Mrs Abbott washed the flag and hung it on the clothesline to dry.
Berrigan is some 30 kms from the town of Tocumwal. At this time Tocumwal was the base for the RAAF No.7 Operational Training Unit where RAAF personnel were trained to operate Liberator Bombers supplied by the United States having taken the base over from the US Army Airforce who, prior to this had something like 22,000 US servicemen based there. The RAAF conducted regular training flights mainly in the Liberator bombers. The fact that the wife of the local solicitor, who was also a Sergeant in the Volunteer Defence Corp was flying a Japanese Flag came to the attention of the Military Police who arrived at the Abbott house to interrogate Mrs Abbott, much to her embarrassment.
In 2019 William Abbott discussed the dilemma of the flag with Masako Sakamato who has lived in Melbourne for many years and is the wife of a local businessman. Masako undertook to make enquiries when she was next going to Japan. This trip was almost abandoned as she ran into a typhoon. However she was able to ascertain that the Japanese Government had set up, as part of the Ministry of Health an Office for the Recovery and Repatriation of Remains of War Dead and Masako was able to visit the office with a photograph of the flag.
The Office was not only able to track down the village Shinji Takedo came from but located his sister in her 90's.
On her next visit Masako took the flag with her with a letter from William Abbott which she delivered to the Ministry who subsequently presented them to the sister.
The Flag and spirit now has now returned home.
By William 'Bill' Abbott.
Feature image by Judith Salecich on Flickr.