Nigel Kendall and his wife Annette are both members of the CGA's lawn bowls team. The team plays regular matches against teams from other APS schools and the Melbourne Cricket Club (MCC) during the summer season (October to March) each year, culminating in the annual APS Past Students' Bowls Tournament in late March.
Nigel attended Caulfield Grammar School from 1946 to 1955, following his brother David, who attended from 1943 to 1953. During the early 1950s Caulfield achieved considerable success in sport, winning a number of Associated Grammar Schools of Victoria (AGSV) premierships. Nigel was a member of the premiership cricket teams in 1953 and 1954 and of the premiership football teams in 1954 and 1955. The 1955 football team was one of the strongest to ever represent the School, including future VFL players such as John Schultz, Ron Evans and Ron Cabble.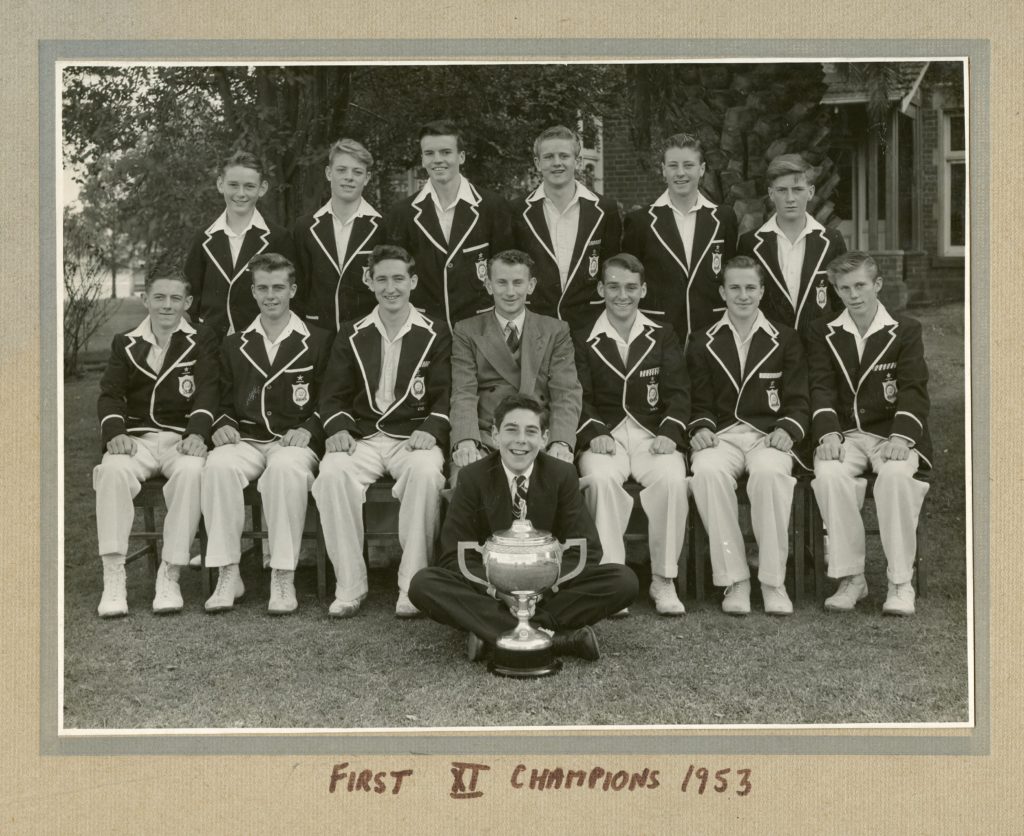 Nigel was a School Officer in 1954 and a Prefect in 1955. He was Captain of Buntine House in 1954 and 1955. He passed the matriculation examination in 1954 but returned to school to complete further studies in 1955, gaining first class honours in geography in the 1955 examinations.
After leaving Caulfield, Nigel completed a commerce degree and Diploma of Education, also playing cricket with University and football with the Caulfield Grammarians.
When a teaching position with the Victorian Education Department fell through, Nigel accepted a one-year contract to teach at Ivanhoe Grammar School. He was given a permanent position at Ivanhoe the following year and his involvement with the school was to last for nearly 60 years, despite an earlier plan to return to his alma mater at some stage. He eventually served in a number of executive positions, culminating in him being Deputy Principal from 1994 to 2005. He also coached many successful sports teams, being in charge of the first eleven from 1963 to 1965 and the first eighteen from 1976 to 1978 and in 1984.
Nigel was appointed Secretary of the AGSV in 1972, a position in which he served for the next 18 and a half years. During this time he and Associated Public Schools (APS) Secretary Ewen 'Ginner' Davidson established the AGSV/APS Joint Sports Committee, which administered joint competitions in sports such as basketball, soccer, hockey and cross country.
Nigel was subsequently Chair of the AGSV Sportsmasters' Committee from 1997 to 2006. While the joint AGSV/APS competitions in boys' sports were discontinued in the 1990s, combined AGSV/APS girls competitions in a number of sports were introduced in the late 1990s and these competitions continue to this day.
In his profile on Nigel in his book The Associated Grammar Schools of Victoria. A Sporting and Social History (2008), Dennis Carroll comments that: "With an abiding enthusiasm for school sport, and a meticulous approach to detail, Nigel was perfectly suited to the role of (AGSV) Secretary." Dennis continues:
Given the length of his service to the AGSV, and the quality and range of his contribution, Nigel Kendall stands alongside W S Morcom …, the latter (perhaps not coincidentally), having taught Nigel during the last decade of Caulfield Grammar's membership of the AGSV.
As mentioned earlier, Nigel Kendall played for the Caulfield Grammarians' Football Club in the 1950s and 1960s, and now represents his old school as a member of the CGA lawn bowls team. He and wife Annette enjoy both the competitive and social aspect of the lawn bowls season, the emphasis being on friendly competition on quality greens, most matches being played on the MCC's home greens at Swinburne Avenue and Glen Street in Hawthorn. Past students, past parents and grandparents, past staff members and their spouses are eligible to play for the CGA team. For more information please contact the CGA on [email protected].