A couple of years ago, a water pipe burst in the roof of Morcom House causing damage to the ceiling. On the face of it, this was a fairly straightforward job of plumbing and plastering…but it uncovered a mystery. Found in the roof was a suitcase. Aside from being rather dirty and with corroded metalwork, it was a high quality case in reasonably good condition. It was also empty save for a piece of red ribbon fastened with drawing pins to the inside of the lid in the shape of the Star of David. On the outside of the lid was the name BICKERTON in black letters about five centimeters in height.
In 1919, a young lad, Hugh Geoffrey Bickerton, was enrolled on his sixth birthday at Caulfield Grammar School to start the following year. He had been born in Brisbane at Eagle Junction on 12 September, 1913, to Emma Isabel Bickerton (nee Moore) and James Geoffrey Bickerton, a stockbroker. Caulfield was just a brisk walk from where his family now lived at 6 Selwyn St in Elsternwick.
Beginning in Prep 1a, Hugh made a good impression right from the start. His reports describe him as a very conscientious student who achieved high grades. At the end of his first year, he was presented with a prize at Speech Night for achieving the second highest marks across the year.
Hugh kept up his good record as a student and, in IVb (Year 6) in 1925, he had "shown good work in all subjects throughout the year." His highest grades were in Spelling, Dictation, Science and French.
The last day of the school year in 1925, 17 December, was Hugh's last day at Caulfield. He entered Melbourne Grammar School's Grimwade House at the beginning of 1926 and moved on to the senior school in 1928 where he remained until 1930. He was now living at 6 Hopetoun Rd Toorak.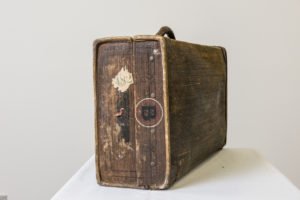 Hugh was working for his father's stockbroking firm when war broke out in 1939. He was commissioned in the Royal Australian Air Force and rose to the rank of Flying Officer. Hugh was based at the Wireless Telegraphy Station on Goodenough Island, off the coast of New Guinea, an important strategic base in the war against Japan. Repatriated home in 1944, he died at the Heidelberg Military Hospital on 27 August 1944, and was buried at Springvale Military Cemetery on 29 August following a funeral ceremony at the chapel of B. Matthews in Toorak Rd, South Yarra.
Death notices were placed in The Argus by his parents and by two aunts who lived in Elsternwick. He is commemorated on the Honour Rolls at Caulfield Grammar School, Melbourne Grammar School, at the Australian War Memorial in Canberra and on the Melbourne Cricket Club Roll of Honour. In 1946, his parents donated ten guineas to the fund to build the War Memorial Hall at Caulfield Grammar School which was completed in 1958 and a cot was funded in his honour at the Royal Children's Hospital.
Did the suitcase belong to Hugh Geoffrey Bickerton? It probably did. As he was not Jewish, the Star of David was probably the product of a small boy simply making a star pattern with a piece of ribbon and some drawing pins. How and why did it come to be hidden in the roof of Morcom House? Therein lies the mystery.
Please contact Judith Gibson, School Archivist, if you have any questions or have items to donate, or wish to know more about the history of Caulfield Grammar or Malvern Grammar School. Contact (03) 9524 6249 or email [email protected].