Nothing denotes 'belonging' as much as wearing the uniform of a school. Not only is our Caulfield Grammar School uniform a known emblem with visibility, but the familiar colours and styling symbolise tradition and membership.
As our School launches a new transseasonal uniform range it's a unique opportunity to consider the evolution of student attire. It's believed that school uniforms date from the 16th century in England at Christ Church School in 1552, when students were given a long blue coat and yellow, knee-high socks.
Our distinctive colours of blue and white and motto, 'Labora ut Requiescas' were chosen in 1882 by School Founder, Joseph Henry Davies (1881-88). Such was the pride for the 'blue and white' that the original School Song of 1919, written by teacher Arthur Lormer (1920-58), exhorts, "We're here to greet the grand old School, That's known by blue and white."
Earliest evidence of school attire is specified in the 1883 School Prospectus. A clothing list for residential boarders recommends one "Best Suit" and two "Common Suits", a "Topcoat" and neckties, day and night shirts, under flannels, boots and slippers and 12 pocket handkerchiefs!
It was new Headmaster Walter M Buntine (1896-31) who designed the school badge for use on uniform and printed items such as letterhead. He was assisted by teacher A C Goulden (1883-96) who sketched the ideas into an emblem that placed symbols of education at the centre, with an open book or Bible surrounded by a belt of knowledge and a football, cricket bat, stumps and tennis racquet on the lower belt edge, signifying sport as an essential contributor to the development of a young person.
The first photographic evidence of our distinctive navy flannel braided blazer is seen at the 1898 Annual Sports Day at the St Kilda Cricket Ground. Amidst a crowd of parent spectators are two senior boys in sports attire – a white singlet, knickerbockers, navy sports blazer and cap or boater. Today the navy blazer with white trim remains an emblematic garment; in fact, some students keep their Senior blazer shield pocket as a souvenir because it displays awards or emblems earned for high levels of achievement or sports and team participation.
In the long history of our uniform, it's often overlooked that the uniform wasn't regularised until the late 1950s. Past student, Herbert McDonell Shaw (1914-23), commenced when eight years old and reminisced in a newspaper article in the 1980s that students weren't expected to wear a uniform, only knickerbockers and a shirt or jumper. Senior boys wore a suit, and the Sports Blazer was only worn on match days.
Headwear such as the School Cap were grudgingly worn daily to and from school. New boys in the 1930s-50s recited a pledge promising to work hard and to respect the School emblem, cap and badge as a symbol of membership. Boys in leadership roles wore caps with extra trims such as a white button, fabric insert or enamel badge to show roles of Form Captain, School Officer or Prefect. The traditional flannel cap was removed for Forms 3-6 at the end of 1967 by Headmaster Bruce C Lumsden (1965-77).
First evidence of an active wear jersey or a collared navy pullover with a wide white stripe dates from around 1923 when Mr Buntine established a Kindergarten class. By 1934 the Prospectus detailed boys to wear School colours and either a cap or hatband, which were supplied at the School. For Physical Training a singlet or sweater, white knickers and sand shoes were required.
It wasn't until after 1956 that the School uniform was regularised with rules for day wear, sports uniform and appearance by new Headmaster Rev. Stanley W Kurrle (1955-64). Uniform items were purchased at stores such as Buckley and Nunn, The Myer Emporium or Hattam's store at Elsternwick, on the presentation of an authorised order form. Banned items in 1959 were "ripple soles, which detract from the School uniform and are not to be worn", and "excessively long hair or a flat-topped cut, the square cut or the crew cut".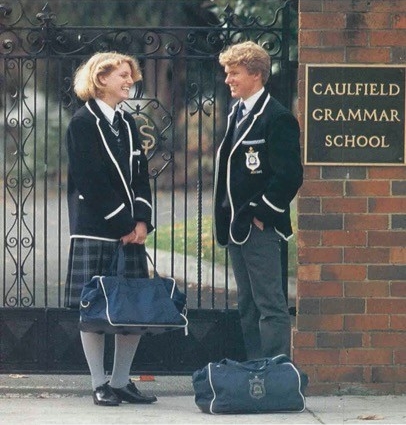 Designs for the girls Summer and Winter uniform were prepared by a committee of parents in 1980 for the girls commencing at the new co-educational Wheelers Hill campus in 1981. Signature items were a regulation light blue striped frock worn with school pullover or blazer. Winter ensemble garments included a junior navy-blue winter pinafore with pale blue and white check, blouse, pullover, necktie worn with stockings and black leather shoes. Since then, the girls uniform range has evolved, adding a tailored long trouser pant and a knee length short in 2018.
Fittingly, the new uniform range for students has been named the "1881 Collection" in honour of the founding year of our School. The coordinated wardrobe will offer choice and comfort and its launch is a timely celebration of our 40th year of co-education in 2021, and continues the proud tradition of "Blue and White".
Judith Gibson
Archivist – Caulfield Grammar School