James William Christie came from Cheltenham and was born in 1870 and enrolled at CGS in 1885 aged 15 and stayed for the following year, winning the Fifth Form prize for Writing and second prizes Euclid and Algebra. After matriculating from CGS he left CGS after Christmas 1886 and transferred to Melbourne Grammar School for the years of 1887 – 8 and upon leaving there commenced work as a surveyor's assistant with the Melbourne Metropolitan Board of Works.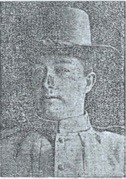 He enlisted as a Private (491) in the Third Victorian Bushmen and sadly died of enteric fever at Rustenburg on 7th December 1900. His death notice in the newspaper read as follows.
Death. CHRISTIE – On 7th December 1900, at Rustenberg, South Africa, of enteric fever, Trooper James William Christie) Bushmen's Contingent), only and beloved son of Catherine and the late William Christie, Grafton, and step-son of the late Captain John Muir, Manning River, aged 30 years.
He was formally remembered in three memorials, the first of which was noted in a school magazine article by Melbourne Grammar School.
'The Rev. A Caffin, Vicar of St Matthew's Cheltenham, solicits subscriptions to a memorial window to be erected in his parish church to the memory of J.W.Christie, an Old Melburnian who entered the school in 1884. (incorrect date) Christie was the only son of a widowed mother and was a surveyor under the Metropolitan Board of Works. He was a private in the Bushmen's Contingent and died at Rustenburg on the 30th November last year. The amount required is £20 and the local subscriptions to date are £11/3/6.'[1]
But the plans appear to have been changed and a later news article in July 1901 noted that;
'A most interesting military service took place last Sunday afternoon at St Matthew's Church, Cheltenham, when a memorial tablet was unveiled to Pte. Christie of the Bushmen's Contingent.'[2]
Another newspaper article published in 1904, outlines in some detail a second memorial which was unveiled in 1901 in Cheltenham which mentions James Christie and is pictured below.[3] Under the heading, 'Cheltenham Memorial to the Moorabbin Volunteers Unveiled,' the article read in part;
'On one side are inscribed the words – 'Erected by the residents of Moorabbin to perpetuate the noble deeds of our Moorabbin boys whose names are inscribed heron, who volunteered and fought for the Empire in the South African war, 1899 – 1902.' On another side the record is made – 'Unveiled by the Hon. T Bent, Premier on May 7th 1901.' High up on the column are the words: 'In Memoriam – Trooper W Christie, died at Rustenburg, 1900;'
The article then goes on to list other deaths and the names of every local Moorabbin man who had served and returned from South Africa.
Finally, Melbourne Grammar School marked the Boer War service and deaths of some of its former students in the following manner:
'The windows which have been placed in the chapel of the Melbourne Grammar School in memory of the late Professor E F Morris, headmaster from 1875 – 1882, and of the Old Melburnians who fell in the Boer War were dedicated yesterday by Archbishop Clarke. The following old boys of the Melbourne Grammar School were either killed in action or died in South Africa during the Boer War. Messrs J W Christie …'
(In addition to Christie's name, another seven names are listed)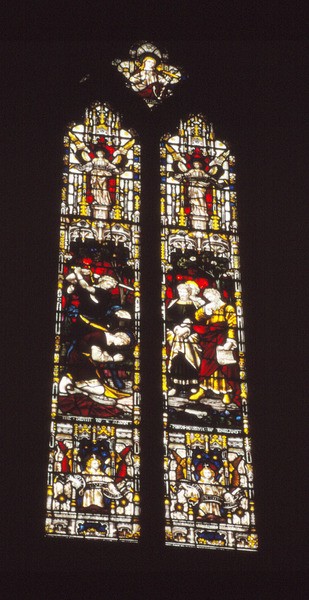 Image courtesy of the Virtual War Memorial Australia.
It is interesting to note that although James Christie spent two years at CGS, his name and death has never been noted by Caulfield on its Roll of Honour.
Researched and written by Dr Daryl Moran (CGS 1966-70; staff 1981-93; current CGS Archives Volunteer).
[1] Leader. Melbourne. Saturday 5th January 1901. Page 26.
[2] The Melburnian. 1901. No. 26. Page 15.
[3] Brighton Southern Cross. 13th July 1901.
[4] Mornington Standard. 21st May 1904.
Feature image courtesy of The Australian Family Historian.