We wish all members of the Caulfield Grammar School community (students, teachers and support staff) a safe and enjoyable return to face-to-face learning and other school activities during term 4. In particular, we wish the members of the Class of 2021 every success in the VCE examinations and welcome them as the newest members of our great Association.
Unfortunately, ongoing lockdowns meant that our activities were restricted to online for nearly the whole of term 3.
Given the requirement that people be vaccinated to attend face-to-face events we have decided to delay all our class reunions until next year so that as many Grammarians as possible will be able to participate in them. Many of these will be combined events so that those who missed out in 2020 or 2021 can attended. Please check out the events page on our Website for details of upcoming class reunions.
We do, however, look forward to welcoming past boarders to our Boarders Reunion Dinner on 12 November 2021 and Grammarians in general to our Thank You Function on 1 December.
Our inaugural Young Alumni Tell their Stories Week was a great success. You can still watch the video interviews on our YouTube channel or read the written profiles on our website.
The Reverse Mentoring Breakfast, held online during this week, was a truly inspiring event, providing young alumni with the opportunity to share issues and perspectives affecting young people with older Grammarians and other members of the school community, including senior members of staff. In addition to a keynote address from career expert Leah Lambart, all attendees heard from members of two Young Alumni panels, who shared their experiences since leaving CGS.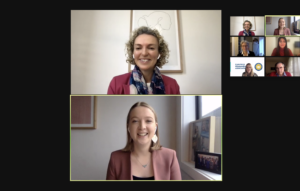 Our Young Alumni Ambassador Program (YAAP) continues to offer career coaching, mentoring and networking opportunities to young alumni (18-30 years). The fourth session –'Preparing for a formal job interview'– will be held on 19 October.
On 8 September we hosted a special webinar – 'Building Your Digital Presence – at which the CGA's SEO expert, Doreen Brown, founder of elevate your case, was the presenter. More than 50 members of the CGS community enjoyed this very informative session.
Unfortunately, the Golden Alumni Luncheon, scheduled on 1 October, had to be cancelled but a virtual Coffee Conversations was held instead. The next Golden Alumni Society event is the annual luncheon to be held on 24 February 2022 at Quat Quatta in Ripponlea.
We held an Affiliates Catch-Up on 15 September and hope that all our affiliate groups will be able to return to something like their normal activities either toward the end of 2021 or in 2022.
We look forward to your involvement in our activities during the remainder of the year.