Following on from the disappointing 1997 season that culminated in relegation from D to E Grade, considerable effort went into correcting a number of deficiencies within the club. The aim was to not only return to D Section but to achieve the ultimate prize, a senior premiership. It had been 15 years since the club won the 1983 C Section Senior Flag. Although there were some finals' appearances in the interim, ultimate success had not been achieved and the reserves' teams had been consistently unsuccessful. This 'down' period had been punctuated by the U19 Section 3 premiership in 1990 but any impetus emanating from that team had not been realised.
A promise made by Hawthorn premiership player and former Caulfield Grammar School Football Captain, Dean Anderson, to one day play in a team with his school and footy team mate, Trevor Royals, came to fruition in 1998. Behind the scene activity led by Matt Scholten resulted in Dean accepting the offer to captain the CGFC senior team. This coup not only brought Dean's playing ability to the club but his experience and astute knowledge of what it takes to be successful as a group was also a key to the club's progressive planning. Dean's leadership and ability to display by example was instrumental to the team's success throughout the 1998 season. We also retained the services of immediate past club captain, Nigel Brohier, an inspirational leader over previous seasons and a highly regarded player in VAFA circles, as part of the leadership group.
I had been appointed as Senior Coach of the Club in 1997. The Club Executive accepted that relegation in that season had been due more to lack of resources and unfortunate injuries during the season. They re-appointed me and assured me that every effort would be made to improve all areas of the club's operations to support my assurances that we could turn it all around. There was much to be done in the area of recruitment, improvement in training facilities and to gain total commitment from the playing group to strive to achieve total satisfaction for the season ahead.
In contrast to the 1997 season when, on the first night of pre-season only a dozen players turned up and none of them in great condition, the pre-season in 1998 was exceptional in terms of attendance. I had been assured we had an U19 team in 1997 but it turned out there was no coach and no sufficient numbers to form a team. In 1998 Mark Donovan was appointed to coach an under 19 squad with healthy numbers of past students keen to play. Mark was highly enthusiastic and fully supported the aims of the senior teams and his team was to finish with 8 wins in a commendable performance.
I was also able to provide additional experience to the coaching staff by gaining the support of Steve Nicholson as Assistant Coach and our position was buoyed by recruiting others, who had enjoyed success in A Section in my past football life, including former Australian Amateur representative, Paul Schuhkraft as our runner and member of the match committee. We were well placed to succeed as long as the commitment remained at a high level.
The season opener was a disappointment. We travelled to Peninsula Old Boys' distant ground, first time as I recall for any of us. We didn't handle the situation well, players arriving late and the preparation on the day was poor. Some harsh words flowed and the training during the week after was tough, but warranted and to the players' credit and especially the more experienced ones, fresh commitments made. Oakleigh in round 2 were to suffer from our disappointment of the first round result as we won by 18 goals with Mark Liddell and James Farmer each with 7 goals and Ando, Darren Lowe and Brent Baxter in great form.
Swinburne Uni by 20 goals, Power House by 18 goals and Glenhuntly by 24 goals all suffered as we continued to build a strong, regular back six and exceptional forward options with Andrew Will now a key marking forward and excellent in front of goals. The ability of the on-ball brigade was never in doubt and we were blessed with numerous options in the middle of the ground.
We were challenged by Chirnside Park who were sitting just outside the top four but came from behind to win in the second half with Dean Synman, Anthony Beauchamp, Will Bowes and Marc Cassidy consistently solid in the back half. Blair Hall had strengthened our forward set-up as another goal kicking option and the challenges were coming thick and fast at the selection table with the Reserves' playing well.
We blew Elsternwick away on their frustratingly small ground with 'Ando' demonstrating the ability to be able to follow his own kick to the next contest and Synman, Cox and Horton marking almost everything everything in the back half.
We finally met top of the ladder Old Camberwell and completely demolished their plans for the day with a fantastic display in front of our home crowd that was growing by the weeks. The 16 goal win certainly sent a message to other in the section. It was important to convince all team members at this stage that flexibility was a key to our game and that players had to be able to embrace different positions in the line-up as the norm and that goal scoring was not restricted to key forwards. The reserves were in second position and had major goal kickers John Margerison and Justin Holloway and plenty of others trying to 'knock down the door'.
In the return match against Peninsula we had a point to prove and came from behind at three quarter time with 6 goals to zero in the final term, Anderson, Brohier, Will and Co leading from the front after an 'honest spray' at three quarter time. The 'Ressies' also defeated top team Peninsula to secure second spot. The top four (CGFC, Peninsula, Camberwell and Oakleigh) looked fairly settled but Chirnside Park and Power house were not without a chance and Oakleigh gave us a fright in round 11 but mainly through our poor kicking.
Our goal kicking options were proving to be a strength and rotation of some of the flanking positions was, I felt, important at this stage of the season with Swinburne being 'put to the sword'. In a very strange game, although in very poor conditions at Power House, we failed to kick a goal in the first half and trailed 0.5 to 4.4 at half time. With persistence and good play by Nick Lubransky, 'Butch' Cassidy, Sammy Stevenson, Nigel Cox, Warren Horton and Michael Millard we managed 4 goals in the third term to win by only 3 points (4.9 to 4.6).
Goals came from everywhere against Glenhuntly at our shared Oval. Our undermanned opposition were smashed 37.24 to 2.6 in round 14 but at Chirnside Park in round 15 we put in a shocker after leading by 5.5 at half time. The home team kicked 14 goals to our 3 in the second half in an unexplainable effort and only Synman, Millard, Foster, Keown and Willsy able to put up their hand as winners on the day. Was it the wake-up call we needed? I don't believe in that theory! We gave up top position to sit in second place behind Peninsula on percentage.
Elsternwick were no match for us in round 16 with a great display from the Anderson/Royals brotherhood a highlight and a visit to Old Camberwell's home ground was a key match in round 17. Camberwell got off to a good start with 4 goals to 2, maintained a 7 point lead at half time before we drew level at the final break. Our defence held up really well as Camberwell pushed hard in front of their home supporters but a great last quarter effort with Brohier and Stevenson in attack and Synman, Bowes and Cossart-Walsh in defence provided us with a really telling win, 15.13 to 10.12.
Round 18 was a walk in the park against St Mary's and not exactly what I wanted in the lead up to the final series but 32.21 to 5.2 probably showed that everyone was keen to impress with almost a full list to choose from. Jimmy Farmer (8), Blair Hall (7), 'Texan' Cowlishaw (5) were all hot in attack.
The finals were greeted with practically full lists and both seniors and reserves in second semi finals.
In a really tight game against Old Camberwell, the Reserves won 9.9 to 5.6. The main game was also low scoring and only our inaccuracy worrying with 3.6 to 2.1 at half time. As usual, the back six were working hard and combining superbly. A 4 goal lead at three quarter time was significant in a low scoring final and the final winning score of 10.8 to 4.4 was pleasing. It was a good 'team-effort' on the day – Royals, Synman, Anderson, Bowes, Horton and Stevenson awarded the best six players.
It was a tough, tight grand final against Old Camberwell and our Reserves went down to Old Camberwell 9.8 to 12.6, not the ideal scenario but Matty's boys had enjoyed a terrific season. The main game saw us kicking with the wind but not making use of it in the first quarter although with a lead 2.4 to 0.1. Camberwell kicked 5.3 to our 2.1 in the second quarter to hold a 5 point lead. We had not combined as planned, Dean Anderson had been 'belted' deliberately and was off the ground for a time. 'Spud' Cossart-Walsh had evened up appropriately and 'Ando' was able to return after half time to play a pivotal role. With a 17 point lead at three quarter time, everyone lifted and the defence was outstanding led by Synman and Bowes. Nigel Brohier sacrificed his own game to go to full back on the leading goal kicker and blanketed him entirely. 'Ando' and 'Choco' Royals were fantastic and everyone else joined in. Blair Hall's 5 goals in a grand final was fantastic and there were no weaknesses. There were some inspiring goals from Martin DiCrosta, Darren Lowe, Hayden Vella, 'Ando' and 'Bowesey' and Brent Baxter. It was a sensational, team performance resulting in a non-negotiable victory.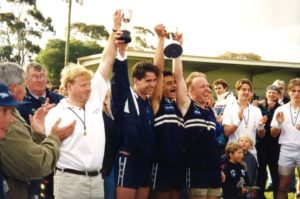 There were many highlights for me during the season but the main one was after the second semi-final win when I went straight to that wonderful pair, John and Liz Wilson and we embraced. JA and Liz had been amazing people for the Club over such a long time and had never wavered from their devotion to the club. John, as a former A Grade Premiership Coach in 1970 and his wife Liz were two of the most respected and loved people within the VAFA. Their devotion during the Club's recent, troubled years in the mid nineties were deserving of the special moment. Matt Scholten, his Executive and committee also deservedly shared in the celebrations.
As the years go on, the memory of certain events fades but the special moments remain. I like to think this was the start of the club's resurgence after some years in the wilderness. The coaches after me, and they contain some great football people, continued to work hard to ensure that CGFC has become respected in the higher levels of the competition. Hopefully the next entry into Premier Section will be one of longer sojourn.
The opportunities and acknowledgments afforded me since 1998 have not been forgotten and it is my pleasure to still contribute in a small way each Saturday and to make life a little easier in some way for arguably the greatest club member, Scott Williams.
Go Fields!
Geoff Reilley
Article courtesy of Caulfield Grammarians Football Club – for more information about CGFC visit their website.