At the CGA Annual General Meeting held on 21 May, Andrew Aitken was elected President following the retirement of Chris Mathieson, who had completed two years in office. Emily Davis was elected Senior Vice-President while all other office-bearers were re-elected to their positions. We welcome Sarah Connell and Lachlan Van Styn as new members of the general committee for 2018/19. Both attended the Wheelers Hill Campus of our School. Sarah has served previously on the Committee, while Lachlan joins us for the first time. We look forward to their input over the next 12 months.
At the AGM outgoing President Chris Mathieson proposed a motion to change the CGA insignia. Members were asked initially to vote on whether to change the insignia and the motion for change was approved with very strong support received from those present. Members were then asked to vote for their preferred design from two options (which had been circulated prior to the AGM). The design below was favoured by the majority and will become the Association's new insignia.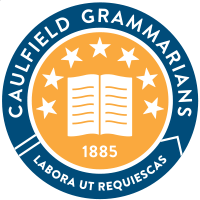 The new insignia was introduced in late July 2018 to coincide with the launch of the CGA's new website. We would like to thank everyone who attended the AGM, as well as those who provided the Association with valuable feedback during this twelve-month undertaking. The involvement of our community in the project has contributed to making it a very meaningful and worthwhile process. We look forward to continuing to work with our members to increase alumni engagement and provide an inclusive, welcoming and supportive alumni experience.
On Friday 27 April over 140 past students and guests joined the celebrations at our annual Founder's Day Reunion Dinner. The dinner served as a reunion function for the Classes of 1963, 1968 and 1973. Guests were entertained by the Grammarians Singers and we were delighted to welcome The Honourable Neil Pope AM (1963-67) as guest speaker. Neil had a distinguished career in Victorian politics that included serving as Minister for Labour and Minister for Youth Affairs, and later concurrently as Minister for School Education. He left politics in late 1992 and established his own a conflict resolution/workplace relations company which he ran for 20 years. The Governor General appointed him as Administrator of Norfolk Island in 2012 and he served in that position for two years. In 2017 the Attorney General appointed him to a judicial position on the Administrative Appeals Tribunal. In addition to providing a couple of amusing stories about incidents that occurred when he returned to Caulfield Grammar after leaving school, Neil provided a wonderful insight into life on Norfolk Island during his term as Administrator and commented on some of the challenges that he faced in that position. His talk was accompanied by a PowerPoint presentation that included photographs taken during the time he and his wife were resident on Norfolk Island.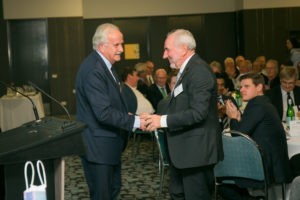 Another highlight of the night was the awarding of prestigious CGA Fellowship Awards to Matthew Scholten (1976-84) and Ian Wilkinson (1964-75). Currently a member of School Council, Matthew served on the CGA Committee for over a decade before being elected President in 2010 and serving in that role until 2012. He played 240 games for the Caulfield Grammarians' Football Club during the 1980s and 1990s, and was the Club's longest serving president from 1998 to 2012. He has also made a significant contribution to the Caulfield Grammarians' Cricket Club over many years as a player, administrator and sponsor.
Ian was a member of the CGA Committee in 1983/84 and from 1996 to 2001, serving as both Honorary Secretary and Junior Vice-President. Since 2001 he has worked as in the part-time position of Projects Officer in the CGA Office. He is the author The Fields at Play, a history of sport at Caulfield Grammar from 1881 to 1996. In addition to providing the CGA with outstanding service as a member of the Office staff, Ian has undertaken countless hours of voluntary work on various CGA and School projects. He has an extensive knowledge of the history of our School and played a significant role in the development of the School's Archives Collection over the years.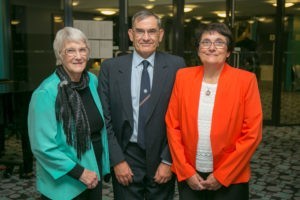 Soon after the Founder's Day Dinner, we hosted an international reunion in Hong Kong on 3 May at the Aberdeen Marina Club. This function, which formed part of the celebrations to mark the 20th anniversary of our Nanjing Campus, was a great success with those in attendance including a wonderful blend of past students, current and past parents, current and past staff members, future families and School Council members. Guests enjoyed a Chinese banquet and heard from recently-appointed Principal Ashleigh Martin.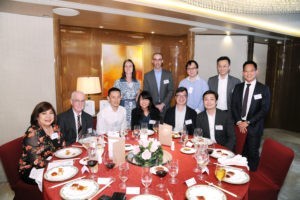 Following the CGA event many of those present travelled on to Nanjing to attend the School's official celebrations at Newton Hall — Caulfield's Nanjing Campus. It was fitting that Stephen Newton, who was Principal when the Nanjing Campus was established, was able to be present at these celebrations. They provided a fantastic opportunity for the CGA representatives (Linda Sprott and Chris Mathieson) to connect with the broader school community and promote our Association Twenty years is an incredible milestone for the School's international program and it is pleasing to report that soon after the anniversary celebrations it was announced that the Campus had won The Business Excellence Award for Sustainability, Diversity and Social Responsibility at the 25thAnnual AustCham Westpac Australia-China Business Awards.
During second term, CGA also hosted successful reunions for the Classes of 1988, 2003 and 2013. We encourage you to look at the reunion news and photographs on our website and read the reports from our affiliate groups. We look forward to Grammarians joining us at the reunions (and other CGA functions) still to come this year and to your continued support for our affiliates.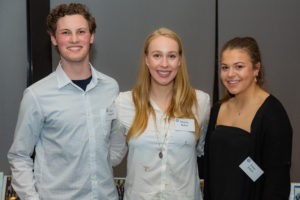 We would like to thank Principal Ashleigh Martin and Director of Community Engagement Sue Sonego for their outstanding support of the CGA. Please remember to keep us up-to-date with your contact details. We want to stay in touch with you so that we can keep you informed and connected to the Caulfield community and your CGA.
Andrew Aitken (President) and Linda Sprott (Executive Director)