Balancing a career in farming whilst also initiating change within local government is no simple feat. However, it is one Bill Bott AM (Class of 1962) has tackled, shaped around a lifetime spent attached to Caulfield Grammar.
Days at Caulfield Grammar
Bill has a lengthy history associated with Caulfield Grammar, shaping not only his life, but many of his family members:
"My family involvement with CGS commenced in 1917 when my Grand Mother, herself a teacher, searched for a school for my father to attend to complete his education. She chose CGS because it demonstrated, in her words, good Christian values".
In 1957, Bill joined the Caulfield Grammar legacy his family began, moving to the VIC metro school alongside his brother Ted as a boarder. Bill is extremely grateful for the education he received and the ability to be independent and think with clarity that he gained.
Upon leaving Caulfield Grammar in 1962, Bill was deservingly awarded a Commonwealth Scholarship for Law at Melbourne University. However, Bill needed to support his family at the time, and returned home to work in partnership with his brother Ted and younger brother Bernie on the family farm.
Passion for farming
Following in the footsteps of his father, who held land in areas including Deniliquin and Cobram, Bill returned home and began his career in farming. These days, he now farms both dry land and irrigation at Coreen within the West Corurgan Irrigation area to the north of Corowa with his son, David. His work is focused on the breeding and selling of border-cross young ewes, and Bill is well renowned for his incredible sales.
As climate change and the need for renewable and clean energy become ever-present, Bill sees an array of innovative technologies changing the face of farming:
"For the future in farming we are already seeing the first driverless tractors entering the Australian market and there will be a cleaner energy than diesel. Whether this will be solar, electric or hydrogen, or a hybrid I am uncertain, but change is certain".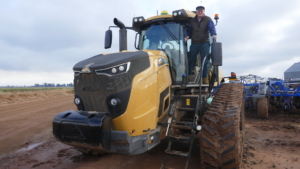 A career in local government
Agriculture practices have not been the only area of the Riverina impacted by Bill. His influence has also been felt within local NSW government across his 35 year-long contribution.
Bill was first elected to the local Corowa Shire Council in 1977. He joined the Executive NSW Shires Association in 1991, where he was later President from 1997 to 1999.
Bill's contribution to the community has been felt far and wide. He has held positions on various advisory councils and committees, including those overseeing roads and traffic, native vegetation, water resources and regional development, and he has served on the Western Division Regional Planning Panel. His work has ranged from backing the growth of regional cities to initiating important changes for local community members, such as the development of an all-abilities playground in the border town of Corowa.
Years of hard work culminated in Bill being awarded a Member Order of Australia AM in 2003, in recognition of his service to Local Government in NSW. No doubt, an incredibly fitting title.
Bill's greatest achievement, however, was marrying his late wife Anne Bott:
"The greatest blessing in life has been to meet and marry Anne. My life became Anne life and her contribution to my public life, family and farm has been enormous".
Anne unfortunately passed away in 2016. The CGA sends Bill our deepest condolences, and we wholeheartedly respect the beautiful admiration Bill retains for his wife.
A full circle Caulfield Grammar experience
Bill is proud to be a Grammarian and considers CGS his family's school. Bill's father, his brothers Ted and Bernie, and his sons David and Edwin all attended Caulfield Grammar. His nephews John, Alex and Charlie Finlayson, and his brother Ted's granddaughters Chloe and Lucy are also in attendance.
Bill is most thrilled to see his grandchildren William and Charlotte Bott attend the School, bringing Bill's CGS experience full circle:
"They have been privileged and indeed blessed to have received or are receiving a secondary education at Caulfield Grammar School".
Keen to hear more about alumni working in government? Jami Kliaris (Class of 2010) was Stonnington's youngest Mayor, elected in 2017, at just 24 years of age.
Tessa Wallace (Class of 2008) is another alumna involved in farming, passionate about organic techniques and harnessing a deep respect for the land.