The 2018 APSOC Season is well underway and our team of dedicated runners continue to achieve many outstanding team and individual results. We're delighted to report that our Division 1 women's team placed third in the Frank Dyson Relay event at the Tan in May. Our Division 1 men's team performed admirably at the same event, achieving a very respectable top 10 place. The event featured many Commonwealth Games and Diamond League Athletes competing for other schools. Rick Whitehead (Class of 2011) ran a remarkable individual leg at the relay, recording a time of 12:13 for his lap.
In addition, there have been many exceptional individual results achieved in the non-points events this season. Mark Frater (1992) has continued his winning ways, taking out the half marathon held at Westerfold Park at the beginning of June.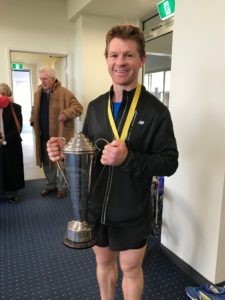 It has been the improvement of Marc Cassidy (1992), though, that has been truly wonderful to watch, Marc achieving his first podium finish in the Hare and Hounds handicap event in mid-May. At the Ken McPhail 8 km handicap he went one better, taking first place to become the second CGA runner to win the trophy in the past three years. This event is quickly becoming a CGA favourite!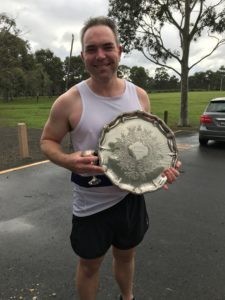 Many of our other runners have also been performing strongly in individual events this season, including Anne Martin, Jake Malone, Tamzin Hall, Georgie Macdonald and Natalia Vanzo, who have all placed in the top 10 for their age category. At the time of writing, with the season building to a close, Mark Frater is placed second in the APSOC Athlete of the Year (Open Division). He is in clear first place in his age category and we hope that he will achieve the CGA's first open win!
Remember, it's never too late to register and become a part of our fun-loving group of runners! If you would like to find out more, please contact me via email at [email protected].
Sarah Somes