Our annual Combined Chapter Luncheon was held on Friday 1 March at The Gables in Malvern East. The usual venue for the luncheon — the Function Room of the Lindsay Thompson Sports and Physical Education Centre at Caulfield Campus — was not available this year due to the construction work on the new Aquatic Centre. More than 90 chapter members and guests attended what proved to be a very enjoyable function.
CGA Executive Director Linda Sprott welcomed everyone and then handed over to CGA President Andrew Aitken, who provided the CGA Report. In his report, Andrew congratulated Archer Chapter member Dr David Burke on receiving an AM in the Australia Day Honours for "for significant service to medicine, particularly to brain injury rehabilitation, and to professional medical bodies".
In his School Report, Principal Ashleigh Martin commented on the excellent VCE results achieved by members of the Class of 2018, including scores of 99.95 by the 2018 Duces Jerry Mao and Emmy Sawires. He also provided an update on the progress of the new Aquatic Centre and the extensive capital works program that was completed at all metropolitan campuses over the recent Christmas holidays.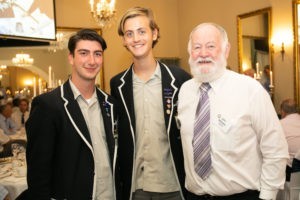 After lunch Ashleigh and Director of Community Engagement Sue Sonego introduced the seven Year 12 students who were guests at the luncheon; all are members of the School Committee at Caulfield Campus. Emma Vanvzl, Brady Wilson, James Hally, Carla Costa, Stephanie Alexiades, Corey Pym and Darcy Burke spoke passionately about their individual journeys at CGS and about what they felt were the distinctive features of a Caulfield Grammar education.
In addition to the Principal and Director of Community Engagement, the CGA was pleased to welcome Vice-Principal Andrew Strooper and Director of Advancement Andrew Cole as guests. Another very welcome guest was Past Principal Stephen Newton, who was attending his first Combined Chapter Luncheon since retiring as Principal at the end of first term 2011. It was during Stephen's time as Principal that the practice of inviting Year 12 students to the Luncheon was first instituted.
Our thanks to Year 11 students Aidan Younane, Alice Wingrove and Owen Chen for providing some wonderful music during the afternoon. Thanks also to School Archivist Judith Gibson for setting up a splendid Archives display and for supplying the images shown on the screen during breaks in proceedings.
Please note you can find a full suite of event images here.