Our October Archer Chapter Luncheon was held at the Caulfield RSL with over 50 Chapter members and guests in attendance. CGA Executive Director Linda Sprott and President Andrew Aitken welcomed us, with Andrew providing a comprehensive report on current CGA activities.
We were honoured to have Principal Ashleigh Martin in attendance, along with Jim Hayman (President of School Council), Andrew Strooper (Vice-Principal), Sue Sonego (Director of Community Engagement) and Andrew Cole (Director of Advancement). In addition to providing an update on current school activities and plans for the future, Ashleigh departed from the usual script and provided Chapter members with an opportunity to relate some stories from their school days. A number of humorous anecdotes were the result. We also heard from Chapter members Denis Hyland and Lindsay Cuming, following the presentation of their 1881 Bequest Society pins.
Past CGA Executive Director, and current archives volunteer, Daryl Moran provided a memorable Toast to the School in which he used the connections that were made by members of the then school community with past students who served in the Second World War (prisoners of war, in particular) as an example of the strong community feeling that has always been, and continues to be, present at CGS.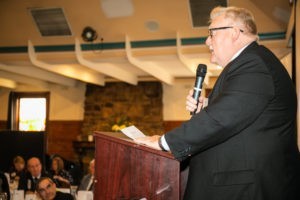 We very much enjoyed the jazz music that was provided by current Caulfield Campus students — Will Lord, Toby Bottrall, Tim Farrell, Christian Doquile and James Sampson— during the afternoon. Our thanks to School Archivist Judith Gibson for the display of memorabilia that focused on Grammarians who served in war.
The next function will be the Combined Chapter Luncheon on Friday 1 March 2019.